What is a travel notebook?
What is a travel notebook?


---
This week we launched our brand new Hinoki brand which includes our new traveler's notebook! If you're new to travel journaling, you might be wondering what it's for… In this blog post, I will be walking you through the basics of travel journaling and everything you need to know to get started.
What is a travel journal for?

Travel journals are used to keep recordings and documentation of the experiences people have during their trips. There are no rules to travel journaling but most people like to include written descriptions of the places they've visited, their itinerary, some special receipts and photos from the trip. There are absolutely no limitations, you can keep it very simple or get really creative!
Top 5 reasons to keep a traveler's notebook

---
Travelling can be quite overwhelming especially if you're on a tight schedule. Keeping a travel journal is a good way to keep on top of your travel plans and stick to a loose itinerary! Keeping your flight and accommodation information in one place is super useful for traveling. You can even write in advance to plan your trip, I suggest making checklists, a list of places to visit and foods to try. It can help you get really excited about your trip as well!
---
2. Look back on your memories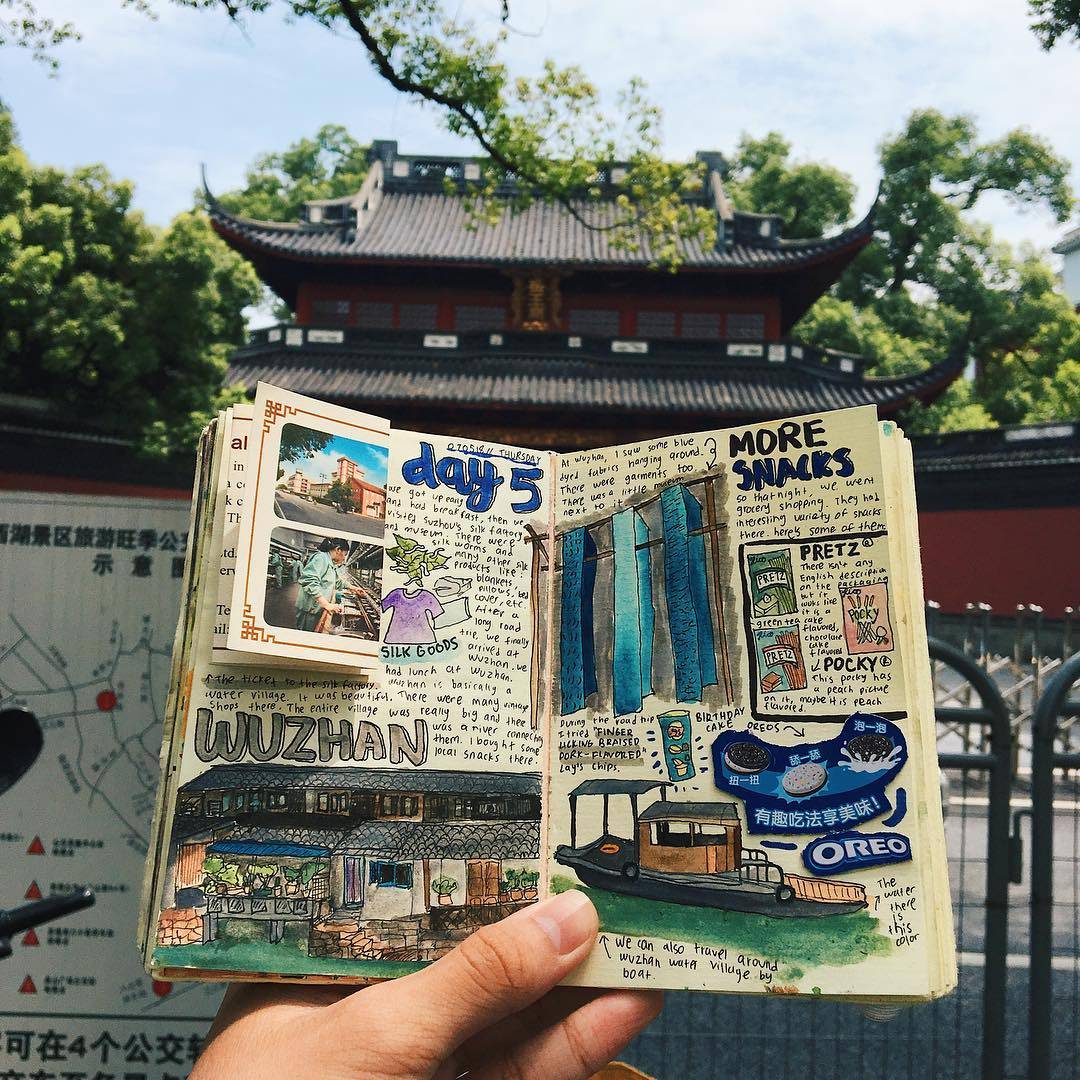 There's just something different about looking at a printed photo with your own handwritten text than simply looking at a photo on your phone. Writing your experiences can really help you remember them and you can even reflect on your days and learn more about yourself in the process. Whenever I write, I like to really think about how I felt in the moment and it helps me keep in touch with myself. Also, keeping all your travel memories in one place can be really handy when you are needing some travel inspiration.
---
3. Saving your favourite spots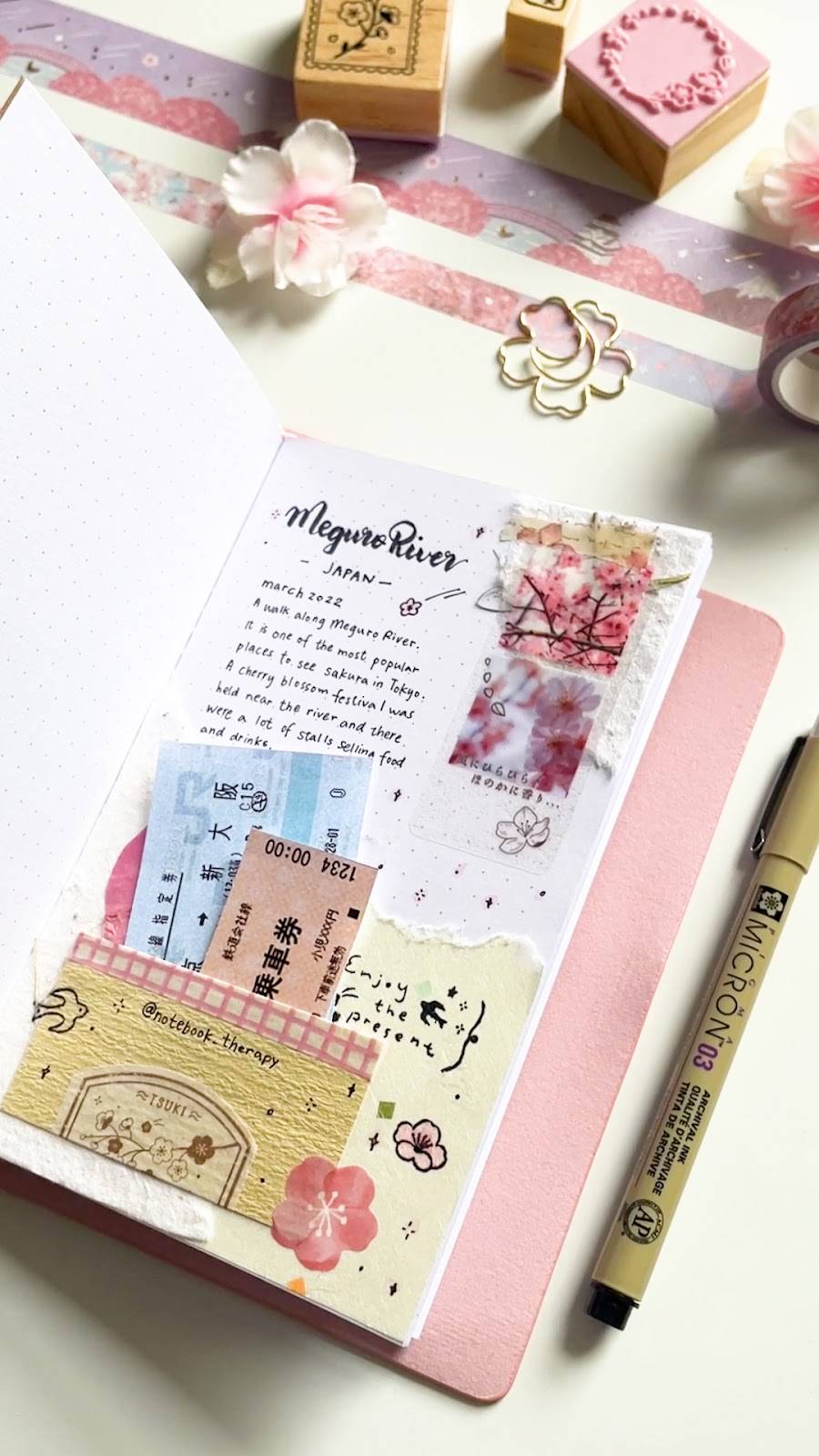 I don't know about you but when I travel, I like to remember all my favourite restaurants, cafes and shops! Keeping them in your travel journal makes it easier for you to find them later on when you are thinking about going back to visit the same place. It's also a good way to keep them for recommendations to your friends and loved ones.
I really enjoyed creating this spread to remember my trip to the Meguro river and creating a little pocket for tickets and other bits I wanted to keep for memories.
---
Sometimes when you are travelling you can get overwhelmed with all the new information and new things to remember. It's soo exciting but sometimes it can also be really tiring. If you are lucky enough to find some down time during the evening or even in the day when you are visiting a peaceful place - whether you are visiting a national park, hiking the mountains or chilling at the beach, you might want to spend some time reflecting on your travel journal to relax and get creative. It can be so therapeutic just sitting and decorating a page inspired by your travels.
In this spread, I painted some of my favourite flowers that I found on a walk!
---
5. Fun activity with your friends!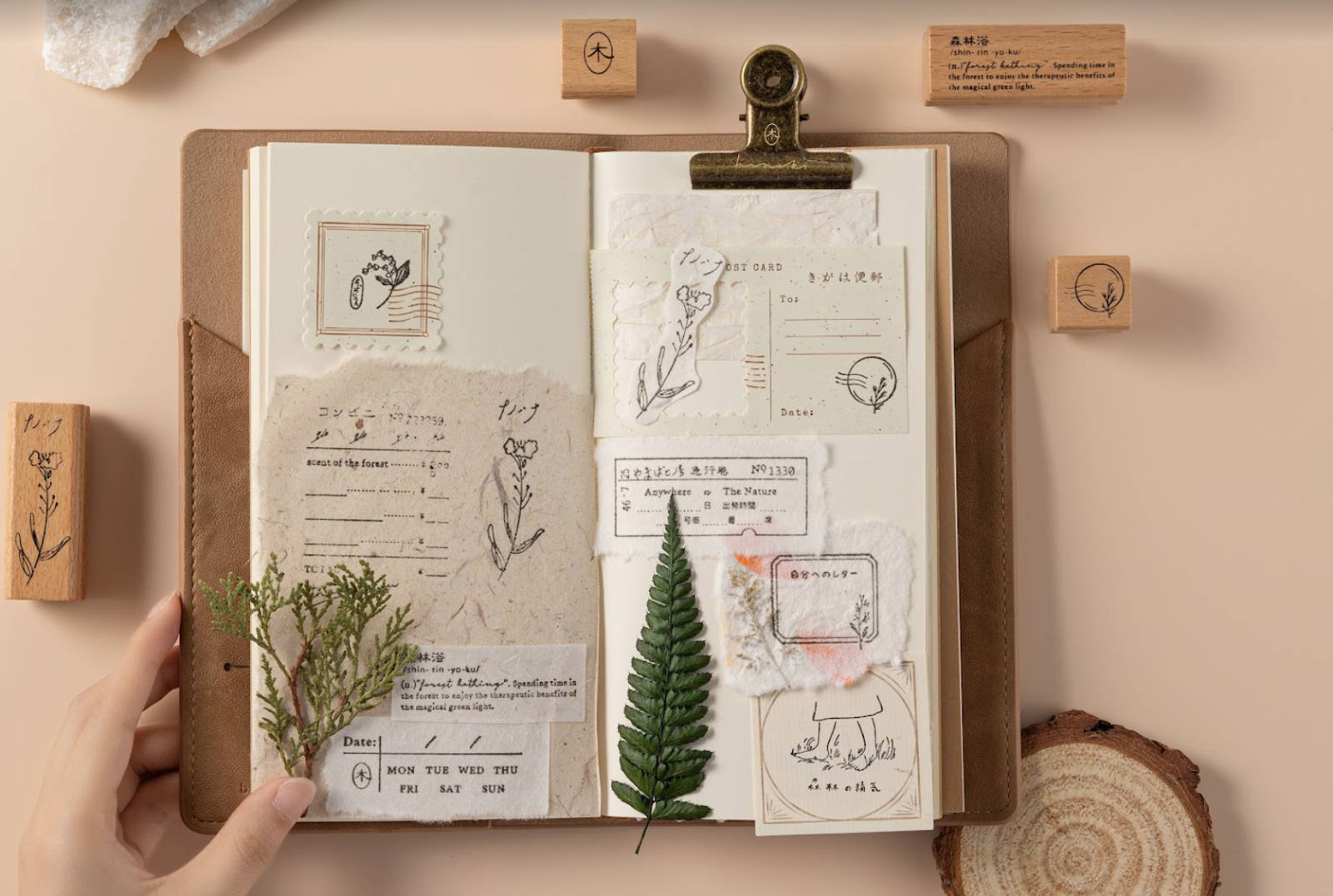 Honestly, just like the last point, it's just fun to keep something whether it's to keep you relaxed or entertained. A fun suggestion I have is to keep a travel journal with your friends and pass it on each time someone travels. Think 'Sisterhood of The Traveling Pants' but with a travel journal!
I hope this has given you some inspiration for travel journaling. If you do end up keeping one, please share it with us on Instagram by tagging @notebook_therapy and using the hashtag #hinokitraveljournal
---
---