Top 10 Fall-themed Bullet Journal Spreads
Top 10 Fall-themed Bullet Journal Spreads


---
Ready for autumn? 🍂 I don't know about you, but journaling in autumn just hits different! I love lighting my favourite candle, making a hot drink and sitting in my coziest jumper while filling in my bujo spreads. To get you into the autumn spirit and to give you some inspiration for your next autumn themed bullet journal spreads, I've gathered my top 10 fall-themed bujo spreads!
---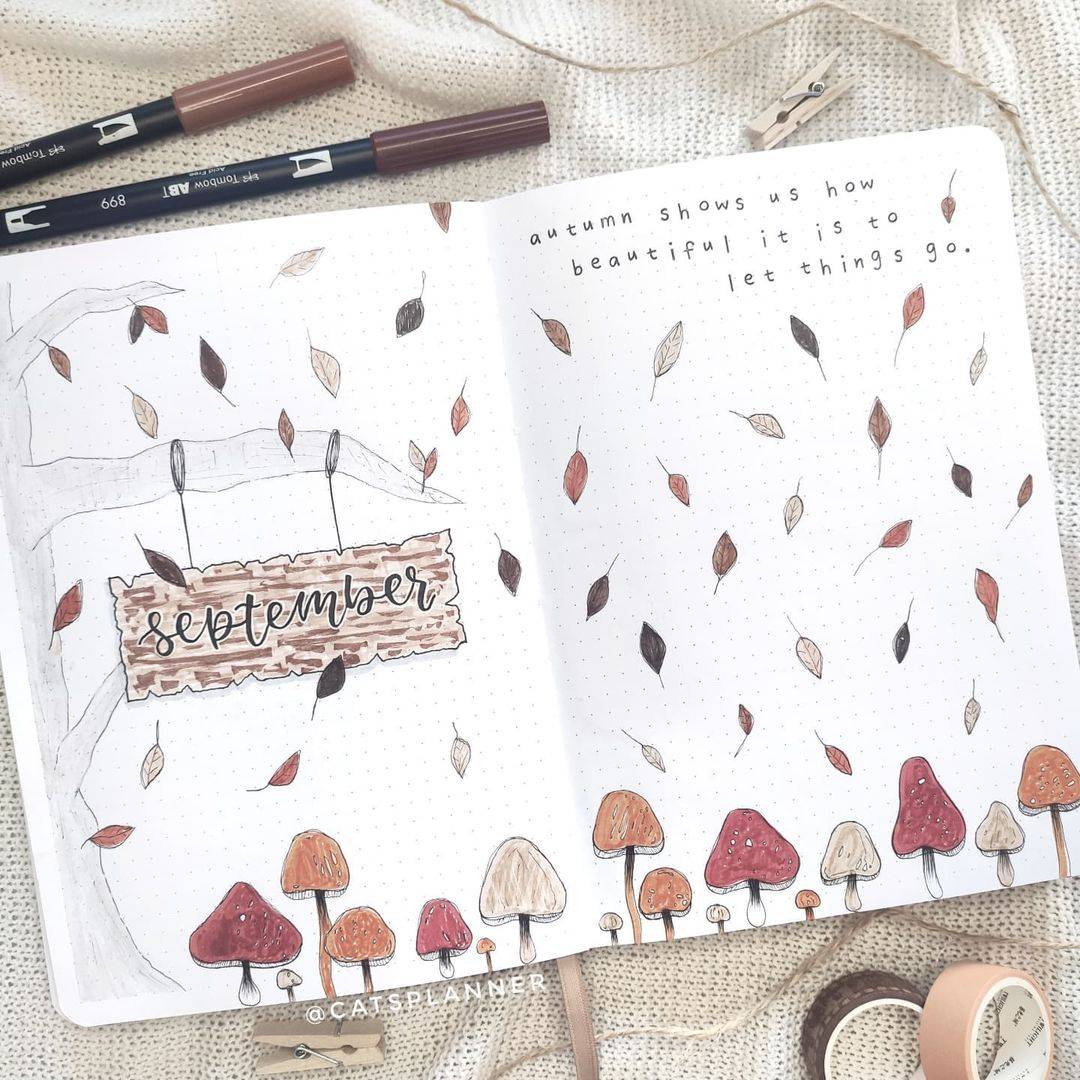 Credit: @catsplanner
Mushrooms are perfect for autumn, especially brown and red hued ones, which give your pages a more cozy, vintage aesthetic. I love how @catsplanner has paired them with autumn leaves, kept the lines bold and stuck to a simple colour-blocked palette!
---
---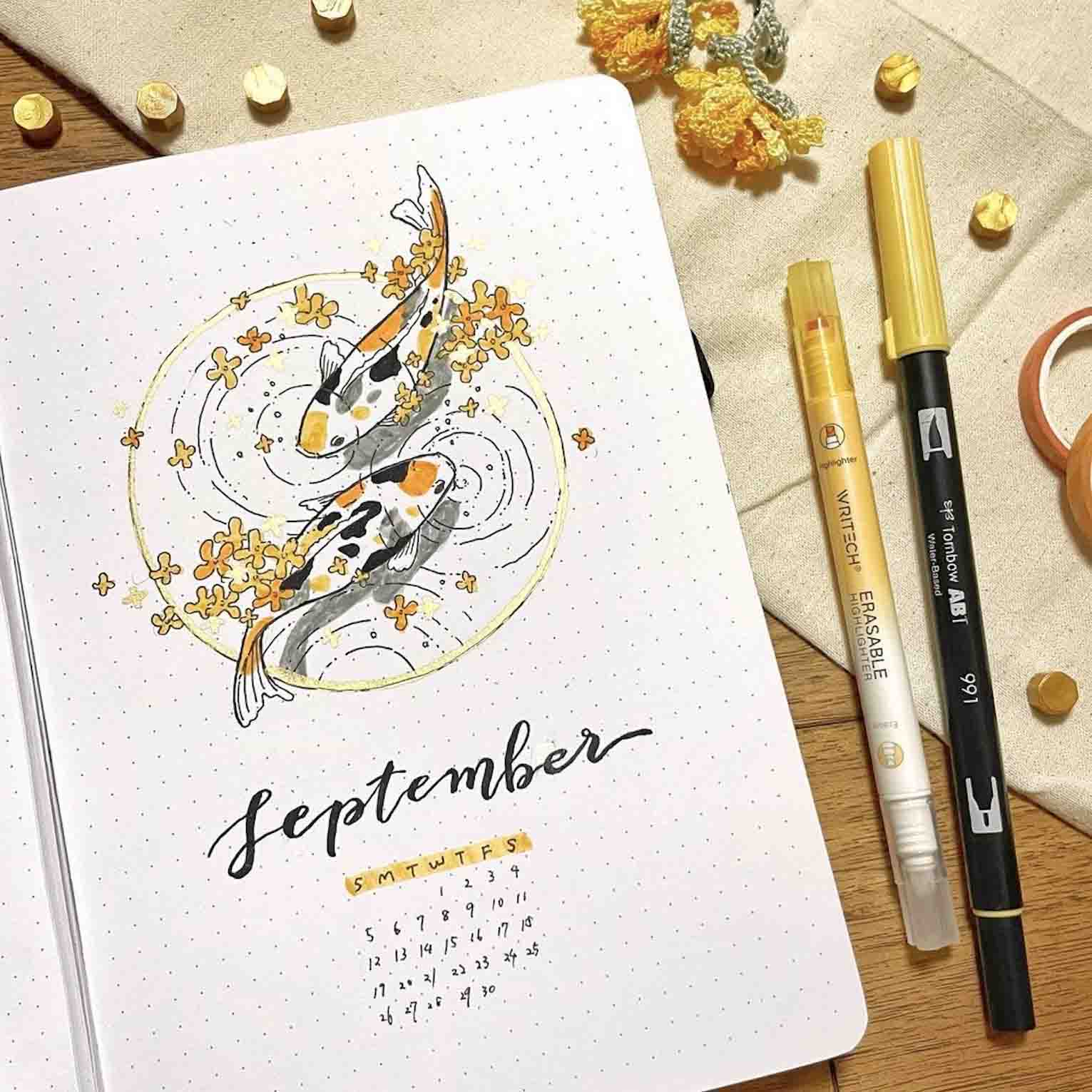 Credit: @kotose.journal
This cover spread is sooo beautiful! I love how it looks like you're looking down on the koi fish in a pond! @kotose.journal has also added some elegant olive flowers as a nod to an autumn aesthetic. Though the orange hues are very autumnal, the koi fish adds a more unique feel to it. It also reminds me of watching koi fish surrounded by red maple trees in Japan!
---
---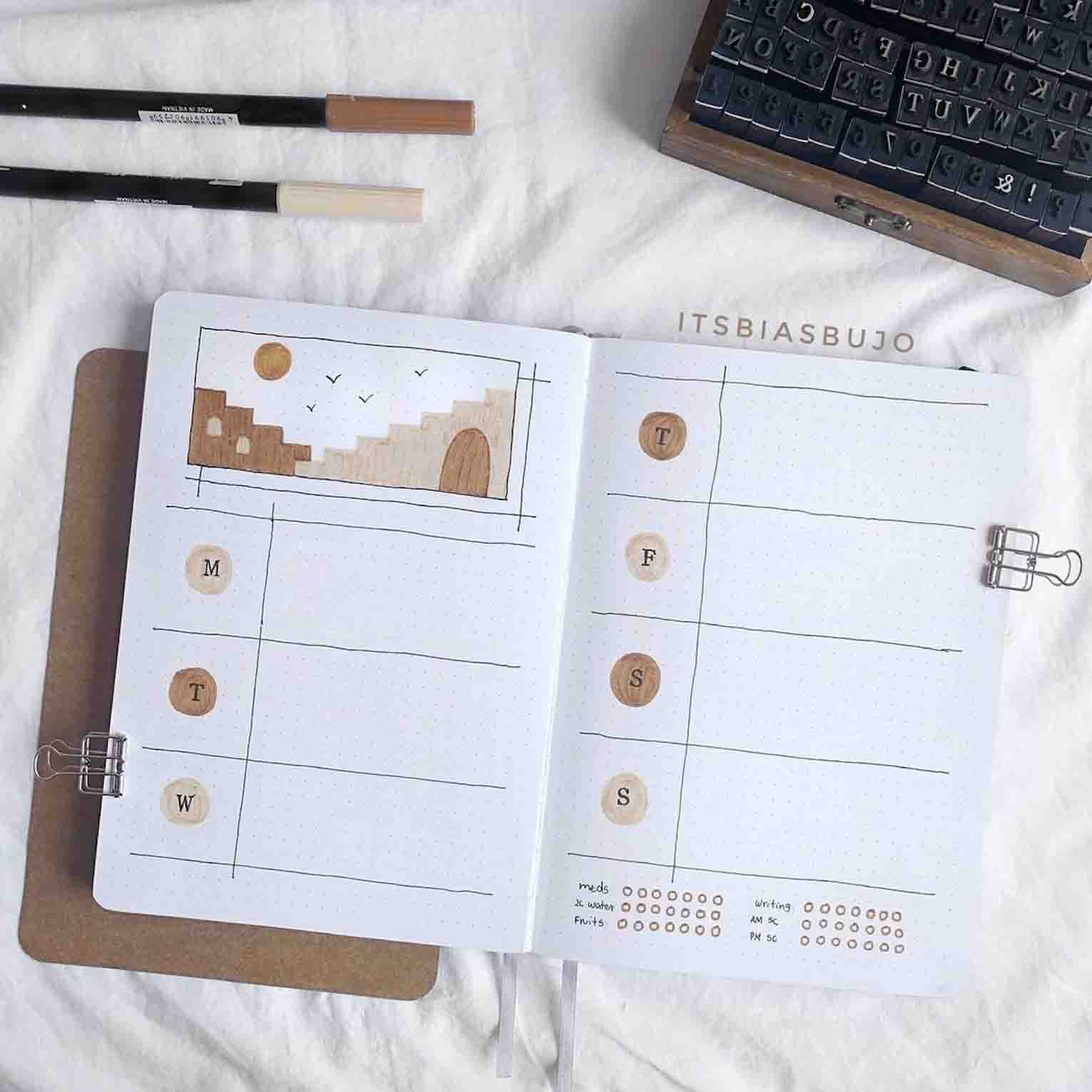 Credit: @itsbiasbujo
This theme by @itsbiasbujo is great for a more minimalist bullet journal spread! I love that it's so versatile and the theme is timeless, but what really makes it is the colour scheme! The simple browns and neutral colour palette works really well for autumn and gives any bullet journal spread a cozy feel!
---
---
Credit: @blossom_bujo
Okay, okay… this theme isn't exclusively for autumn but @blossom_bujo's colour palette is perfect for the season! Her use of washi tapes, photographs and stickers also give it a really crafty scrapbook vibe which I really love. If you want to make your spread more autumnal, I would recommend adding autumn themed stickers, pictures and doodles!
---
---
Credit: @bujo.by.ines
One of my favourite spreads to decorate is a mood tracker! I love how creative you can get with the sections for each day. This cotton flower themed bullet journal spread is also perfect for autumn, especially if you celebrate the Mid-Autumn Festival! 🐰
---
---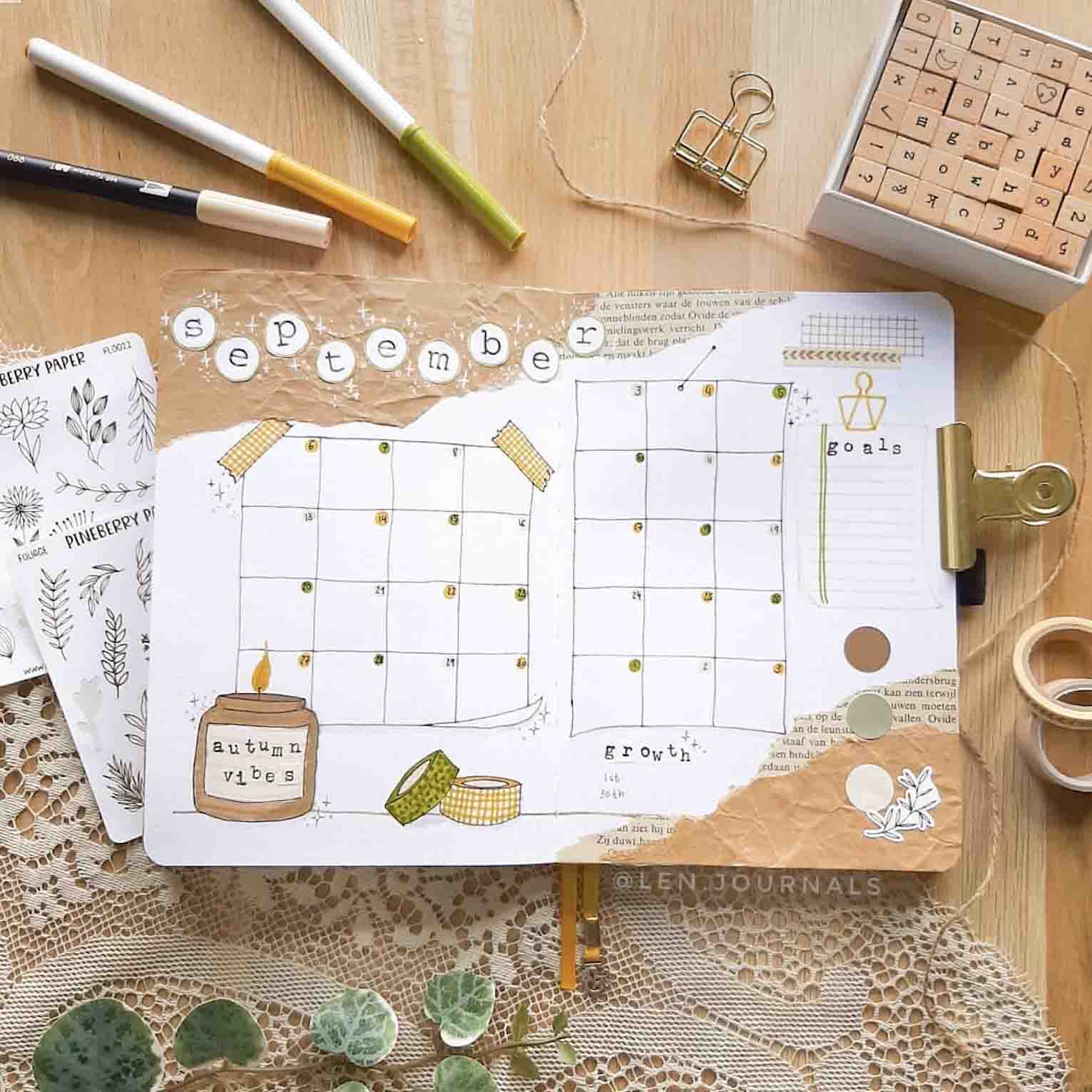 Credit: @len.journals

This monthly spread by @len.journals gives me really strong autumn vibes! The cozy washi tape details and the autumn candle… 🍁 aaah! I love it! I also love her use of our Tsuki Vintage Alphabet stamps to add a rustic vintage feel. 😍 Using kraft paper and book pages can elevate your spread and adds a unique, autumnal dark academia touch to your page!
---
---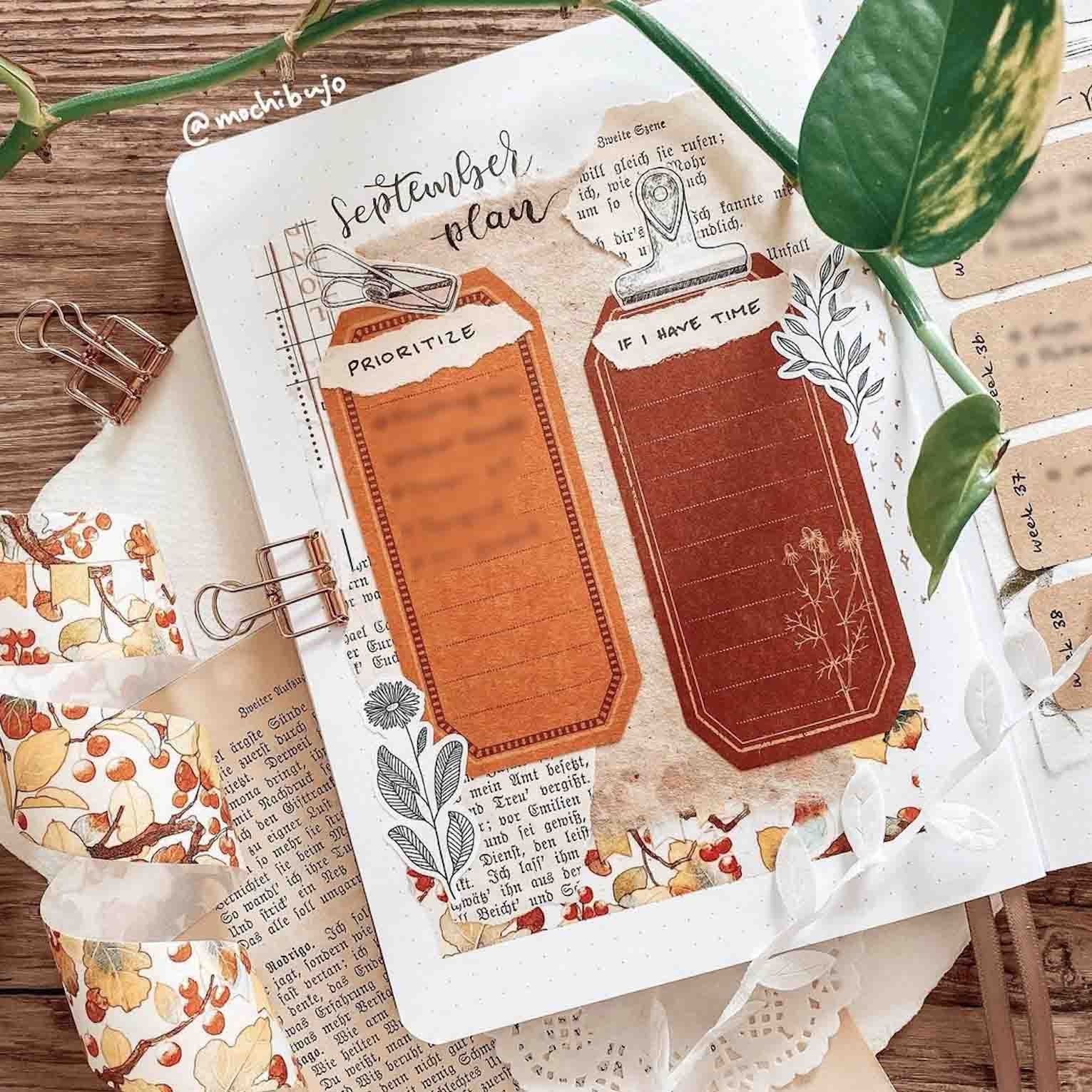 Credit: @mochibujo
Another great way to elevate your bullet journal spreads is by adding coloured paper and little tags! I love @mochibujo's use of orange and red tags; the colours are perfect for autumn. Again we see the addition of book pages and stickers to give the whole spread a cozy scrapbook feel! Nothing can put me in an autumn mood more than this 🤗🍂
---
---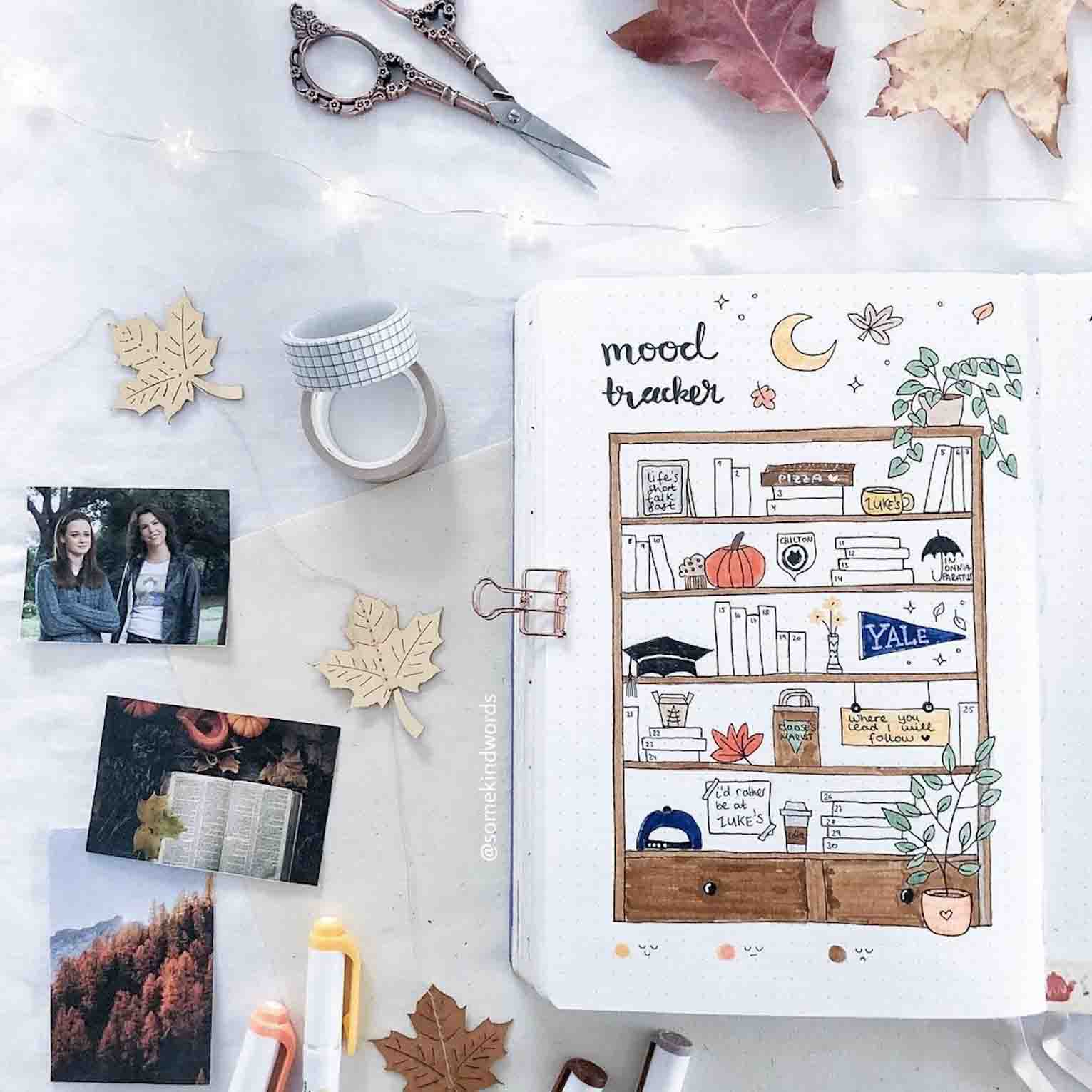 Credit: @somekindwords_
Who else loves reading in autumn? It's such a perfect time to get cozy under knitted blankets with a book! 📚 This bookshelf-themed mood tracker by @somekindwords_ is perfect for autumn, especially if you're really into dark/light academia (or you just love reading!) I love the way she's decorated the book shelf with autumn elements like pumpkins, coffee cups and fluttery autumn leaves, too 🎃
---
---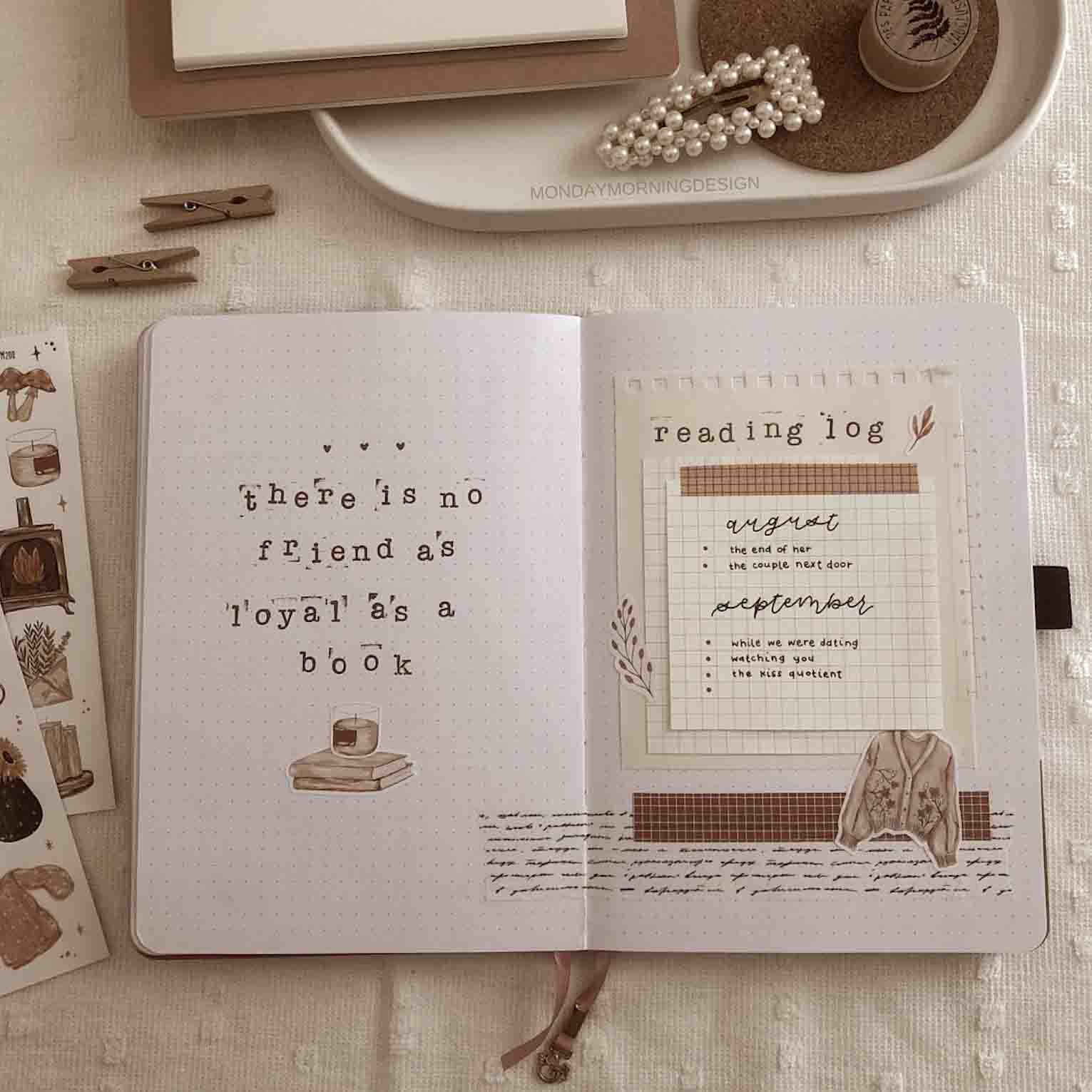 Credit: @mondaymorningdesign
Following the bookshelf-themed mood tracker, I think including a cozy reading log to your bullet journal is such a great idea! I love @mondaymorningdesign's use of alphabet stamps to create the quote page and the header for the reading log. The use of different types of paper and simple brown washi tapes adds a timeless vintage feel that suits almost any autumnal bujo spread!
---
---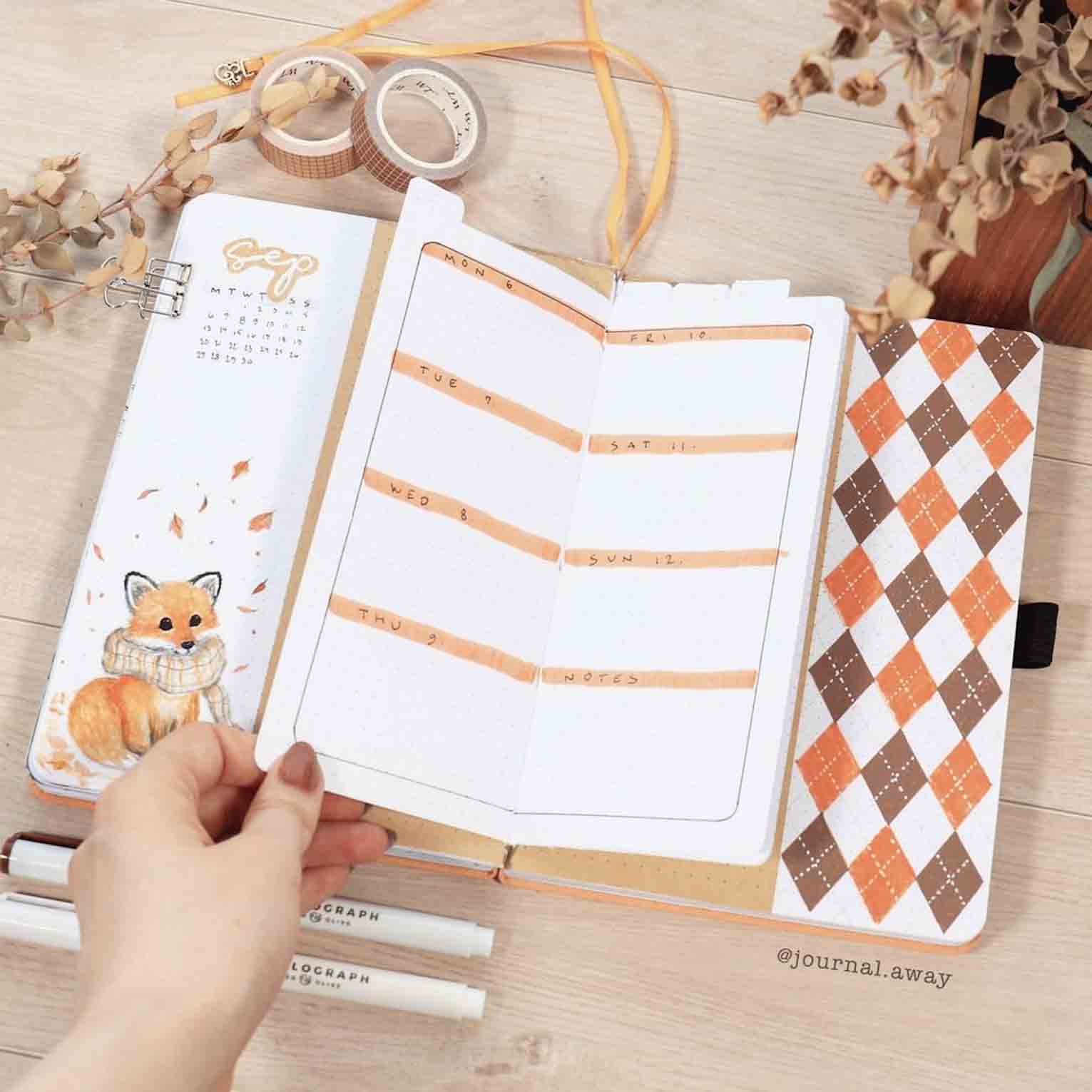 Credit: @journal.away
This weekly spread by @journal.away is sooo cute! I love the little fox with a scarf and the cute + cozy pattern on the other side. Her colour scheme matches autumn to a tee; and who doesn't love a dutch door?
If you like foxes, you'll love our new Tsuki 'Kitsune' bullet journal from our Maple Dreams Collection! It's just as cozy and even more colourful - perfect for autumn nights bullet journaling by the fire! 🦊
---
---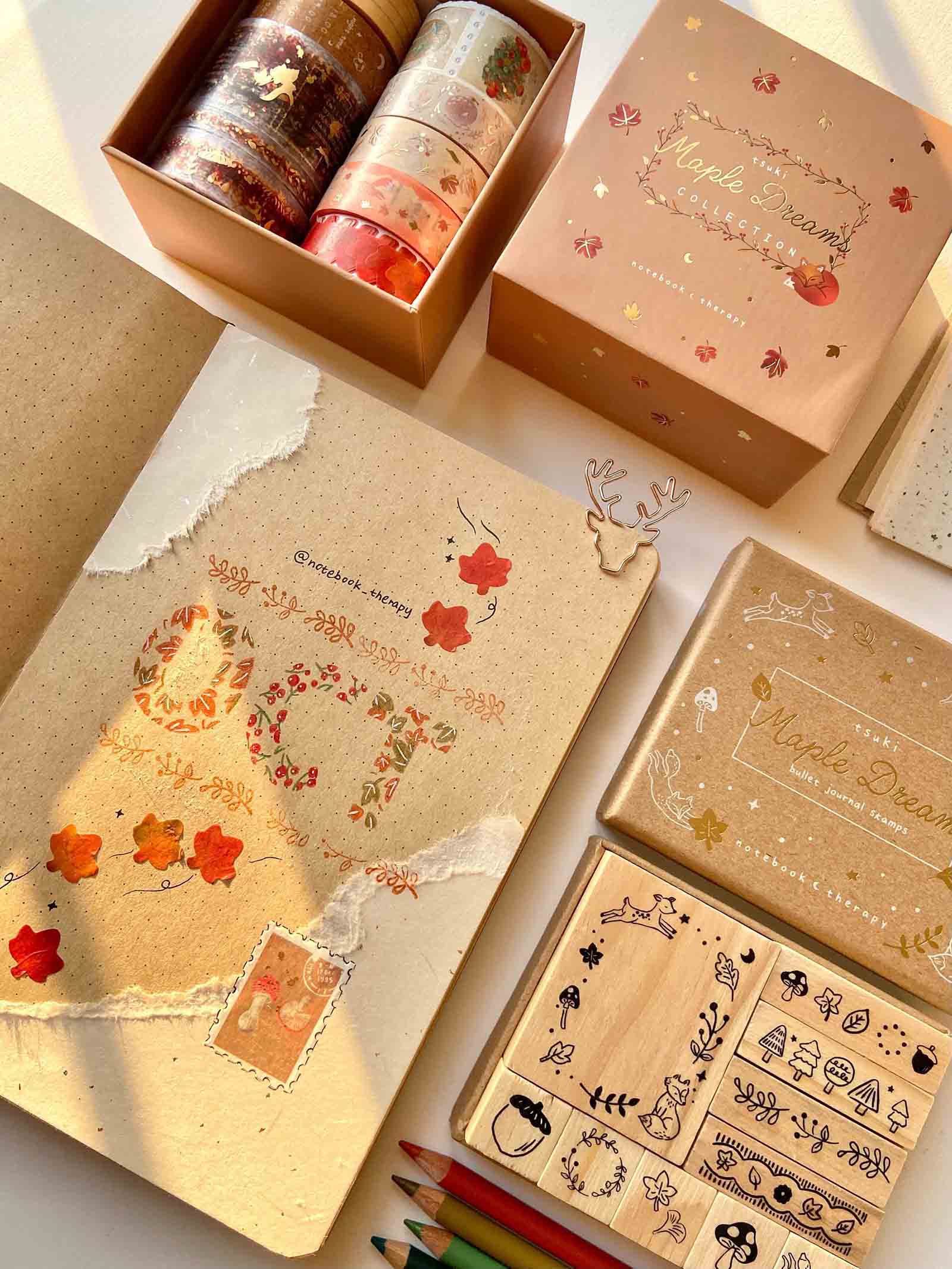 Here's my cover page for October using our brand new Kraft paper version of our Tsuki Nara bullet journal! I think Kraft paper journals are perfect for the season!! I've also added some washi tapes from our Maple Dreams washi set to add more colour. I hope you like it!
Feeling inspired? Shop the full collection here:
---
I hope this blog gave you some inspiration for your next theme, or at least made you feel cozy and ready for autumn! If autumn is not your cup of tea, why not try a tea-themed bullet journal from our Tea Party Collection, or check out my top 10 tea-themed bullet journal spreads!