How to Use: Weekly Planner
How to Use: Reusable Weekly Planner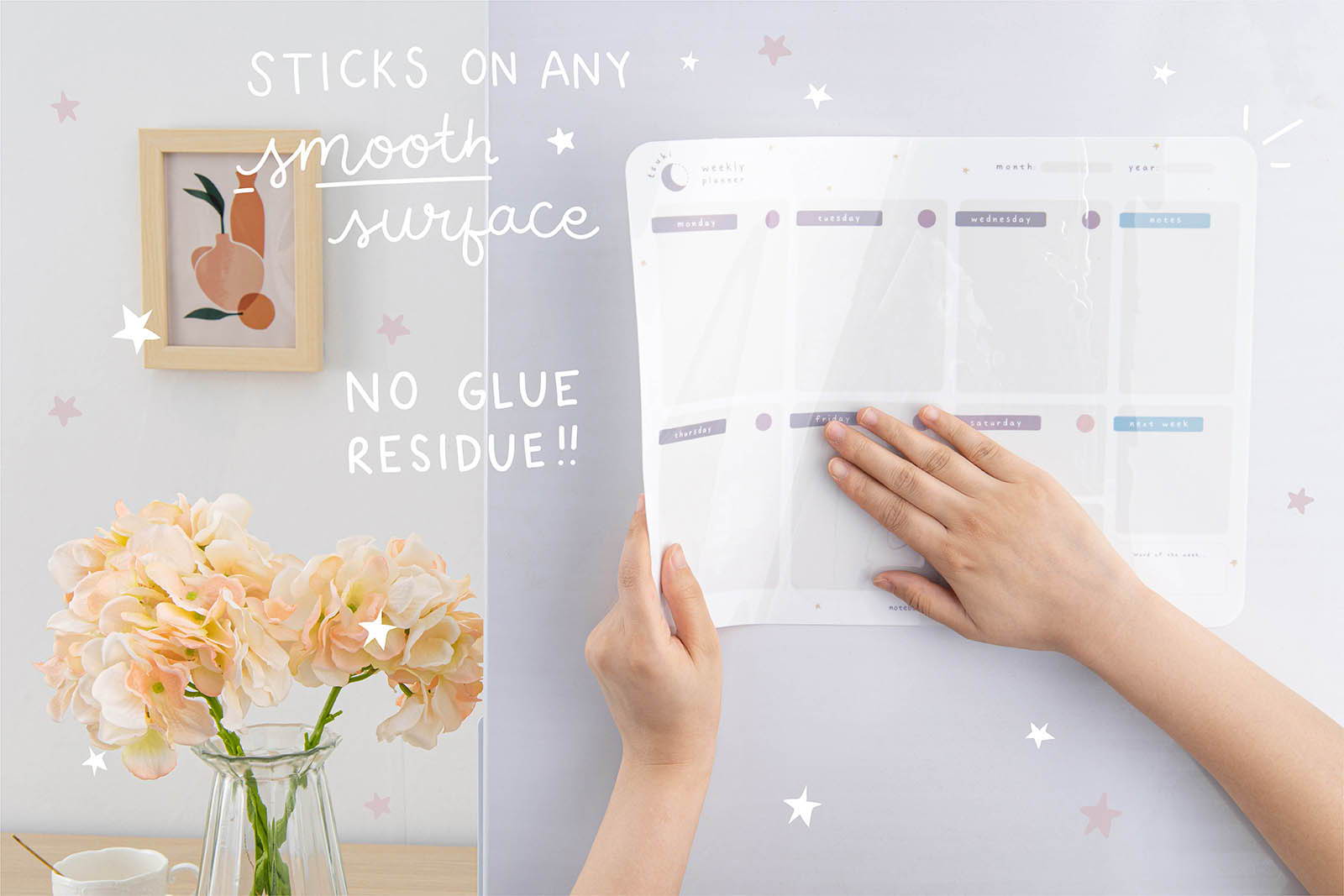 ---
Our Tsuki Self-Adhesive Dry Erase Weekly Planner has landed + we couldn't be more excited! As the first of its kind for Notebook Therapy, it might feel a little different from setting up your usual bujo, but we've got you covered with a few simple steps below: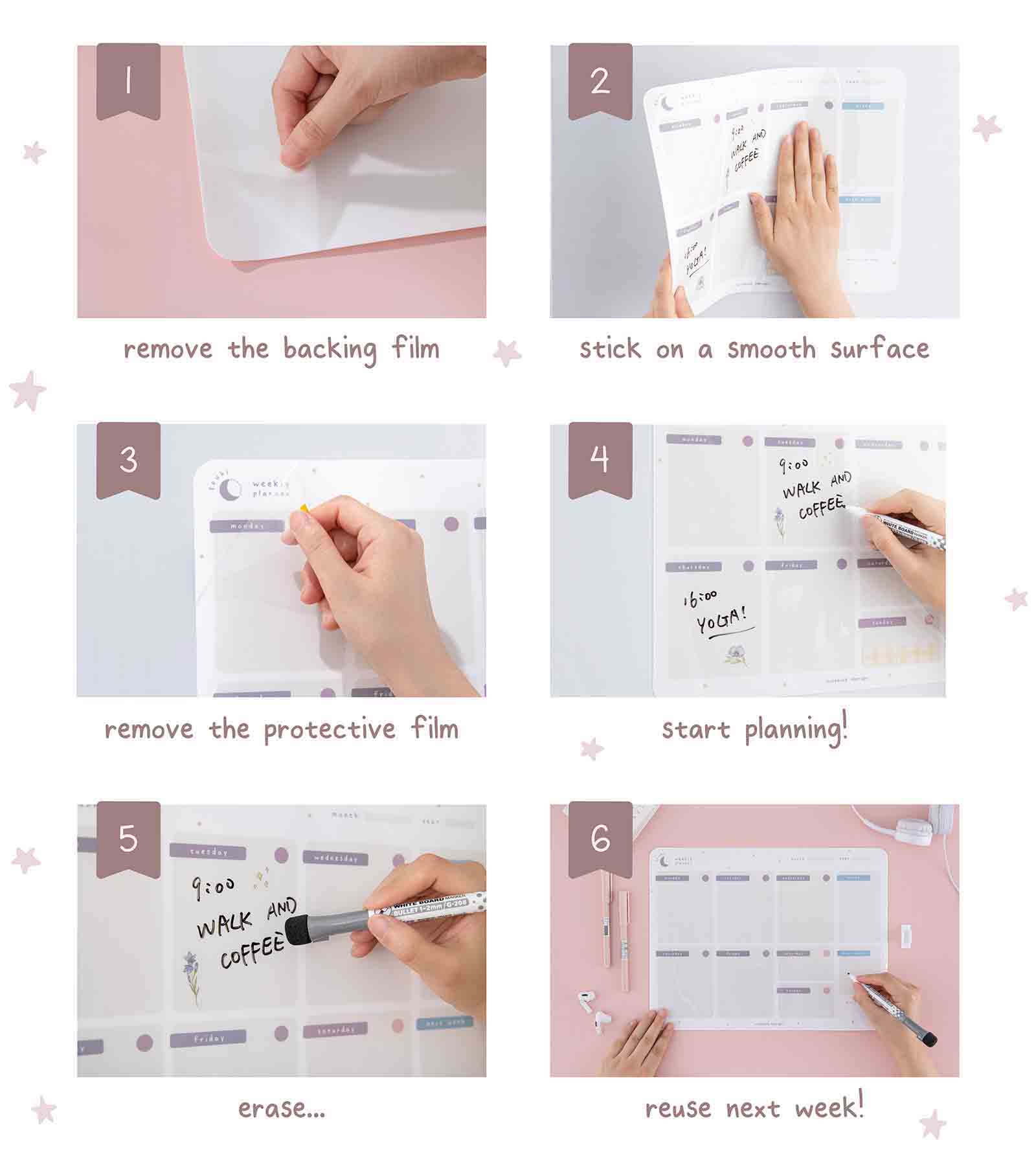 ---
Start by peeling the backing film of your weekly planner to reveal the self-adhesive whiteboard underneath!

Find a surface to stick your planner on. This must be a shiny, smooth surface like a window, mirror, or fridge! If you're unsure what kind of surface to use it on, remember it can go on any surface you can easily wash with water. Make sure to clean the surface before sticking your planner on, to avoid getting any dirt trapped.

Once your planner is firmly in place, you can peel the protective film off the front. Then, find a spot to stick your whiteboard marker, so you never lose it. We like the space at the top of the planner!

Now you're all set up, you can begin planning your week. Choose a word of the week to keep you motivated, and personalise each day with cute

stickers

+

washi tape

art! If your free dry-erase marker runs out of ink, you can use any erasable pen in its place.

As the next week rolls around, erase your words with the eraser-top lid of your marker or sweep the whole of your dry-erase whiteboard with a cloth. Use water or a non-toxic cleaning spray for the shiniest result.

Refresh, reuse + rewrite for the week ahead!
Choosing the right surface for your planner: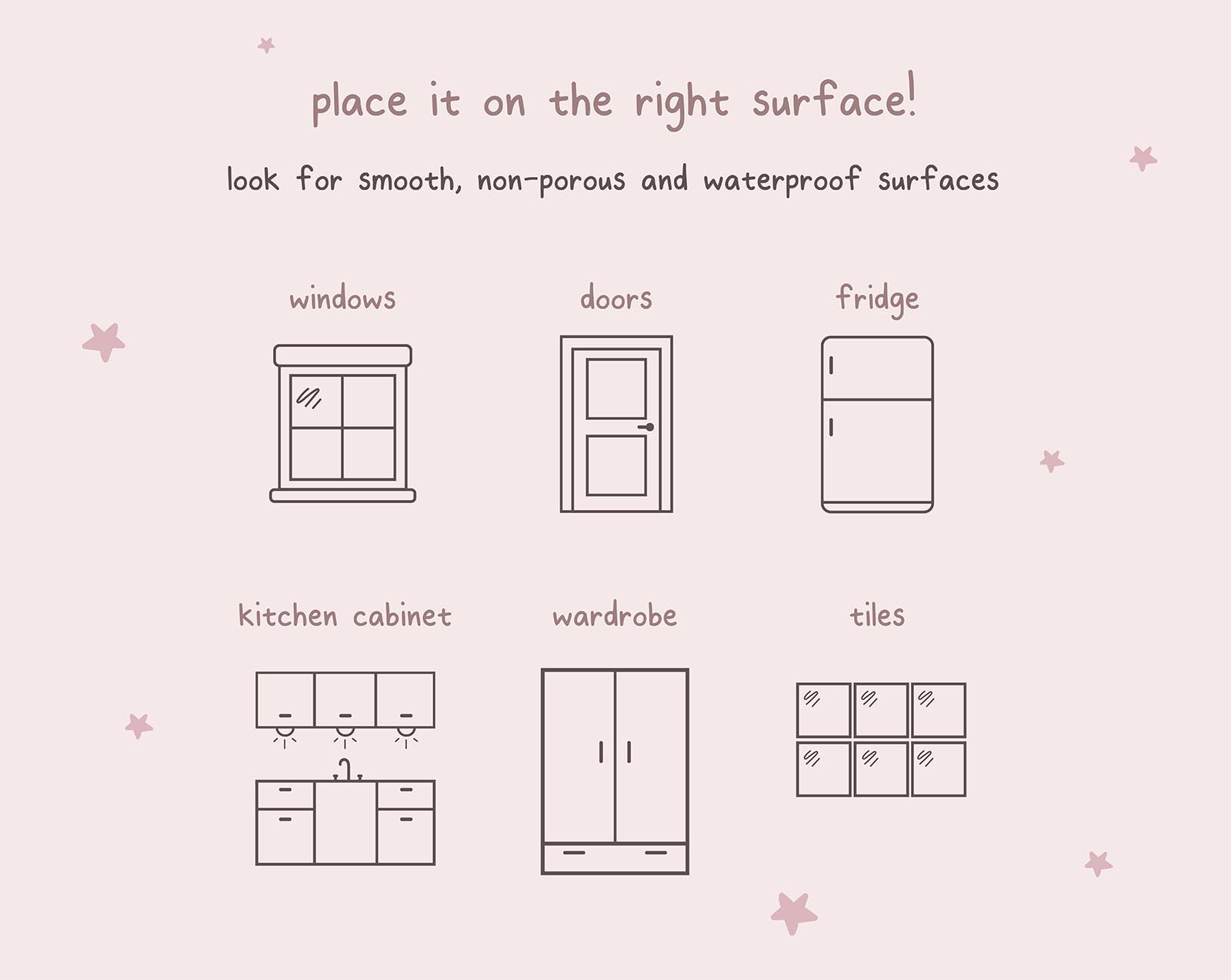 Our self-adhesive weekly planner is super versatile, but it won't stick on just any surface. Choosing the wrong one might damage both your planner and your home, but the right one means you can add aesthetic touches + cute pastel colours to just about any space!
Look for smooth, non-porous + waterproof surfaces for the best fit.

Examples include windows, mirrors, fridge doors, wardrobes, kitchen cabinets, ceramic tile, metal surfaces + gloss painted walls. We like to use ours on the fridge if it has a laminated surface to plan mealtimes + vacations!

You should generally

avoid any walls with matte paint on + those with holes in or water damage.

No matter which surface you pick, remember to clean it fully before pressing your planner on. Not only does this stop dirt from getting stuck to the self-adhesive backing, but it ensures a smoother, stronger fit onto your chosen surface.

When you're all set up, you can begin planning!
If you need to move your wall planner, follow the above steps every time. This way, you'll keep your self-adhesive sticky + durable.
---
Unsure what to use your planner for? It's a step up from your usual to-do list; you can use it as...
Work + study schedule
Vacation planner
Weekly meal planner
Chore rota (perfect for if you live with housemates!)
Skin + haircare planner
Keeping track of errands
Pencilling in time with friends + loved ones
Activities + exercise (like dog walks!)
Setting daily goals + affirmations
The list goes on!
---

---
Our weekly planner is easy to take on the go or move around when you're reorganising your home. Simply peel the whiteboard off your current surface before placing it onto a new one. Slip the whiteboard marker into a Tsuki pop-up pencil case for when you're on the move + roll up your planner to put in your favourite tote bag!

Some people like to store all their weekly plans away to look back on as fond memories. When you're journaling every day, use your weekly planner as the basis for your bullet journal spreads!
---