The Ultimate Guide to Junk Journals
The Ultimate Guide to Junk Journals


---
Have you ever wanted to start junk journaling but you just don't know where to begin? Or maybe it's the first time you're hearing about junk journals and you just want to see what it's about! I know starting something completely new can be quite overwhelming so I've created this ultimate guide so you can read about everything you need to know about junk journaling in one place!
The first question you might be asking is 'what is a junk journal'? A junk journal is a book made out of different pages and ephemera - usually handmade. The mixed pages can be used for scrapbooking or to write or draw anything from thoughts and ideas. You might find bits of scrap paper, tickets, receipts etc in junk journals - things that would usually go in the bin, hence the term "junk" journal. There are no rules and it can be anything you want! I personally love it for recording my thoughts with doodles and random moments using recycled paper cutouts and stickers. My personal favourite thing to do with my junk journal is stick tickets from special places to record good days.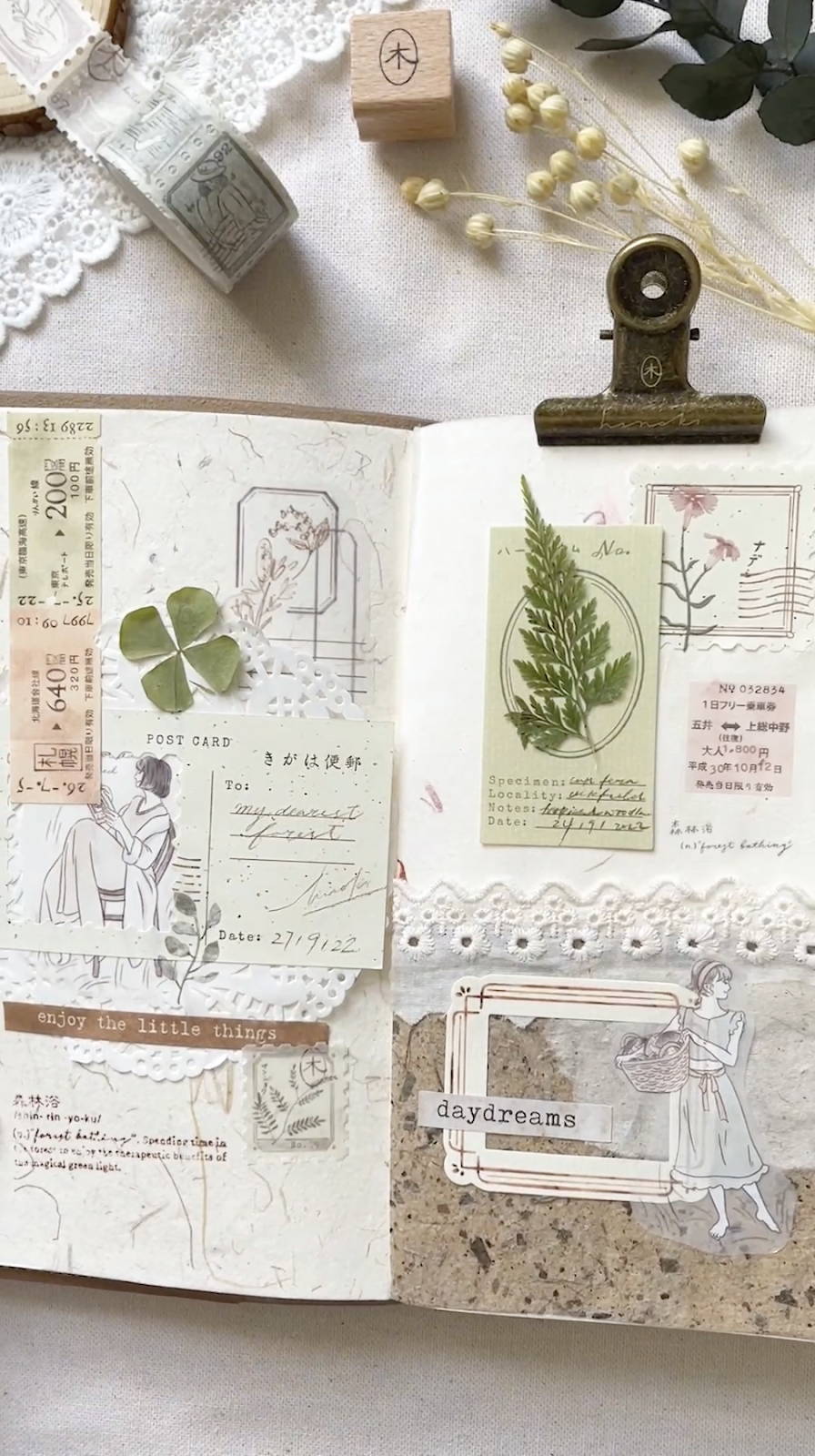 ---
Benefits of Junk Journaling

I would say the main benefit of junk journaling for me is that it helps boost creativity! Without the rules, you can really do what you want with it without any pressure of making it look a certain way. You can get as messy as you want with it!
I find that using everyday/ordinary items like train tickets and magazine cutouts can help you get really creative. Since bullet journaling, I have improved my eye for art - I find myself looking at pretty packaging more and seeing what I can do with the pretty packaging and bits of paper from items I've purchased. 💕
---
Having some downtime a couple of times a week to junk journal helped me destress. It's a great outlet to let your thoughts and emotions out too. If you're like me and like to doodle when you're feeling overwhelmed, you might benefit from doodling in a junk journal and writing out whatever's going on in your head. Like basic journaling, it definitely has mental health benefits but I find taking time to cut out paper and stick random stickers on my mixed media journal pages sooo therapeutic and good for my inner child. 🥰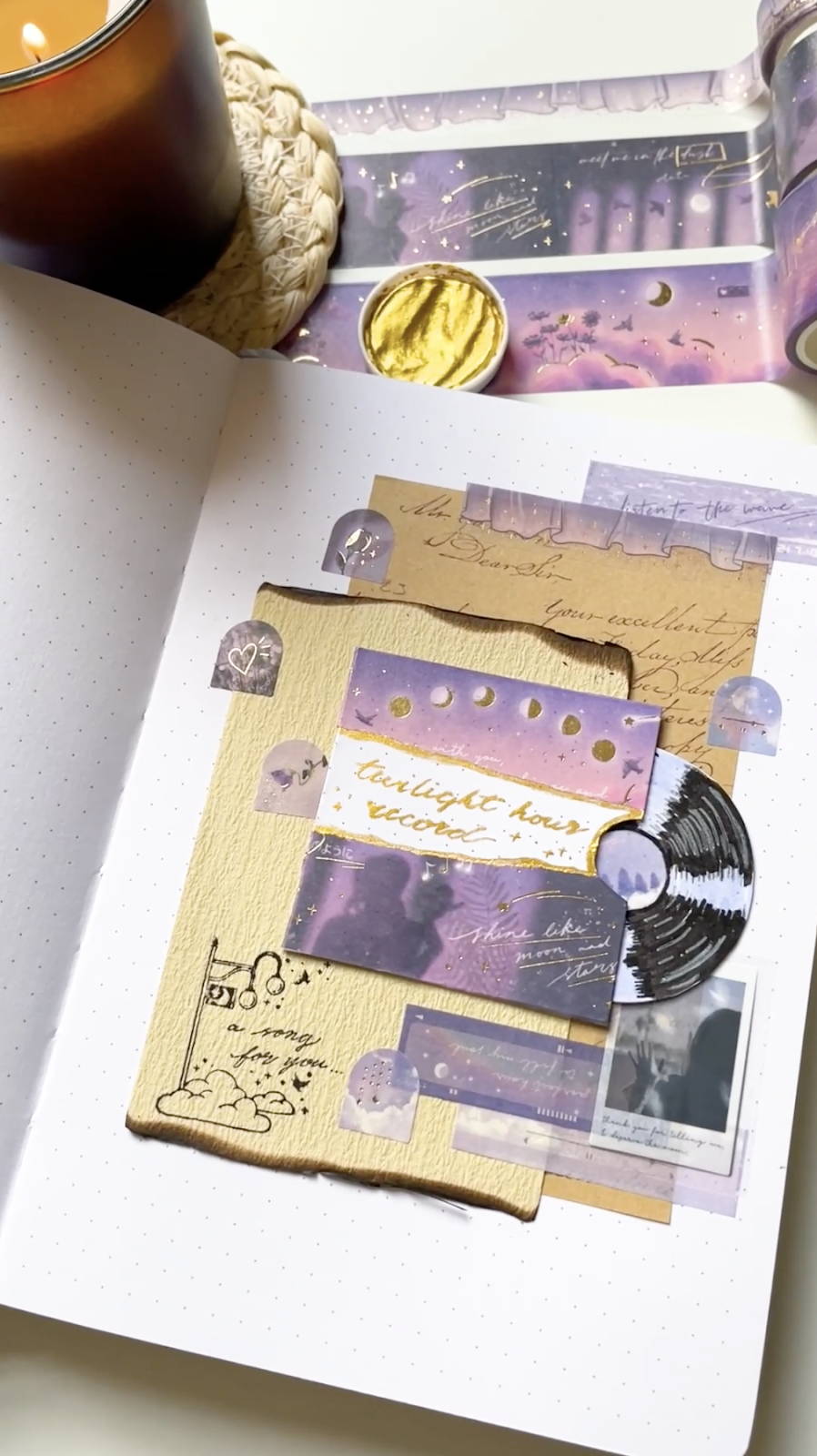 ---
This spread is sooo intricate and beautiful with all the black and gold details. I love all the little stars and constellations and the frame around the main text. Styling your initial letters as well can definitely give you a beautiful vintage style witch aesthetic.
---
Getting Started on Your Junk Journal

So now you might be thinking you want to try out junk journaling! Well you've come to the right place!! So how do you get started?
I know it can be quite overwhelming especially if it's a brand new concept to you but I promise the results are worth it! Though I do have to warn you, you might get addicted buying all the craft supplies.
A good place to find junk journal inspiration is Instagram or Pinterest. We post a lot of creative inspiration on our Instagram (@notebook_therapy) so feel free to check it out if you haven't already.
I like Instagram or Pinterest because you can make a collection or a moodboard to save all of your inspo. If you don't have either of those, you can save them all in a little word document. Just as long as you have them saved somewhere to refer to later on…
---
Step 2: Get your Junk Journaling Supplies

This is my favourite part! Honestly, there are so many options out there. You can use a plain journal or you can even make your own by collecting bits of paper and binding them together yourself if you're feeling extra crafty.
We've made our first-ever Tsuki Junk Journal to make it easily accessible to those of you who are just getting started. The journal comes with a wide range of mixed pages you can cut and tear and use to add texture to your mixed media journal. It also comes with a free sticker sheet with a crafty vintage aesthetic.
We also made a washi tape set that is perfect to get you started. It comes with a dried flower sticker roll to get that vintage look, a sketchy washi tape to add to the "messy" look and a beautiful PET tape you can cut up.
Of course, you can use any tools you like, you can also use ribbons, doilies, pressed botanical objects, etc.
---
Now that you have all the necessary tools, you can definitely get started. Getting started is the hardest part and the rest definitely comes easy. Try not to overthink your first page, junk journaling is meant to be fun!
You might want to record your favourite recipes, your current favourite things, document a recent trip etc.
I also recommend really joining the community and sharing your work to keep improving and finding your style. I think it will also just come naturally to you as you do it more and more and you'll find yourself keeping an eye out for future materials and "junk" that you might want to use for your future junk journal pages.
I hope this helped you understand what junk journaling is and inspired you to get started. We definitely would love to see your creations so please share them with us on Instagram.
---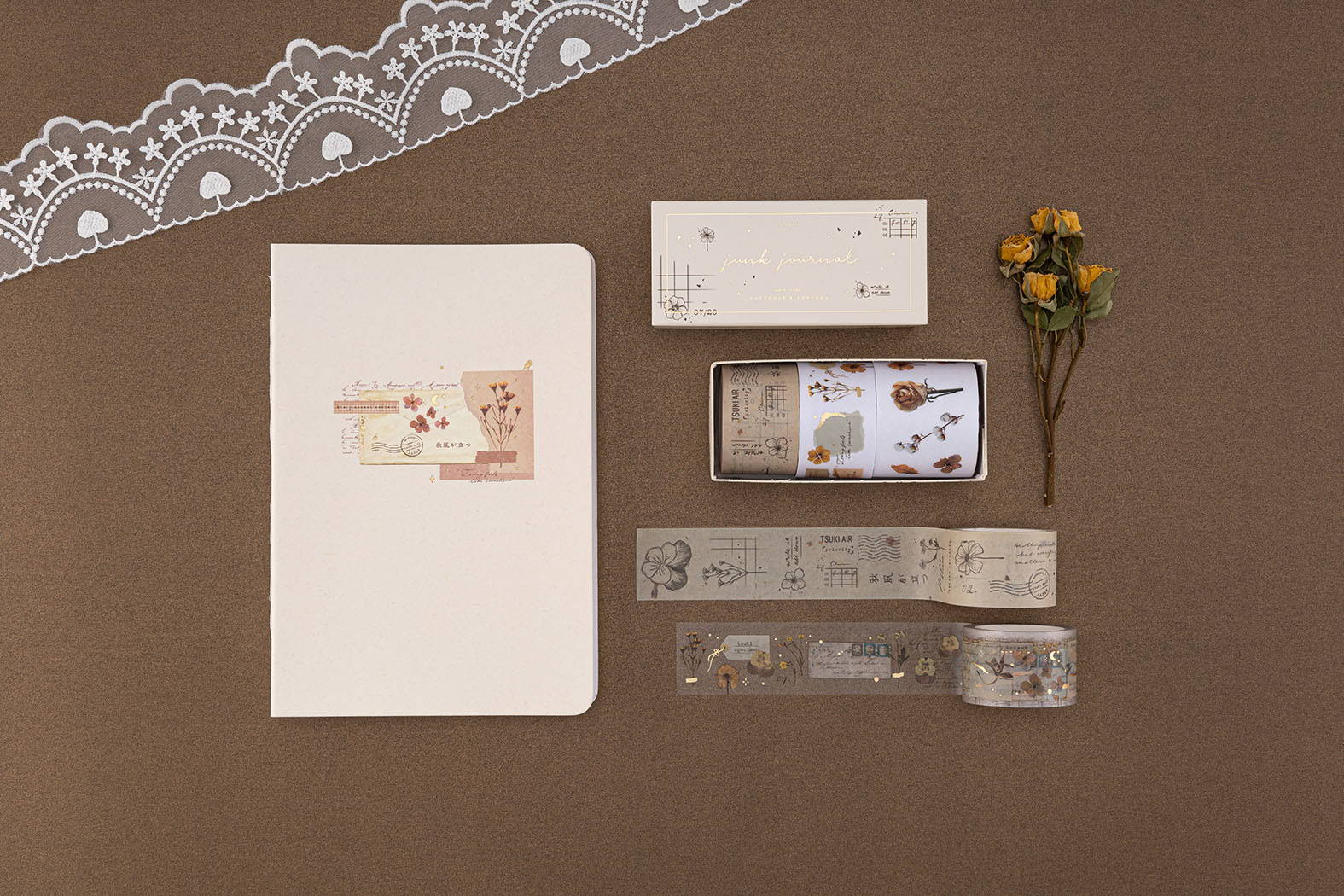 ---
---