15 Aesthetic Kpop Journal Ideas
15 Aesthetic Kpop Journal Ideas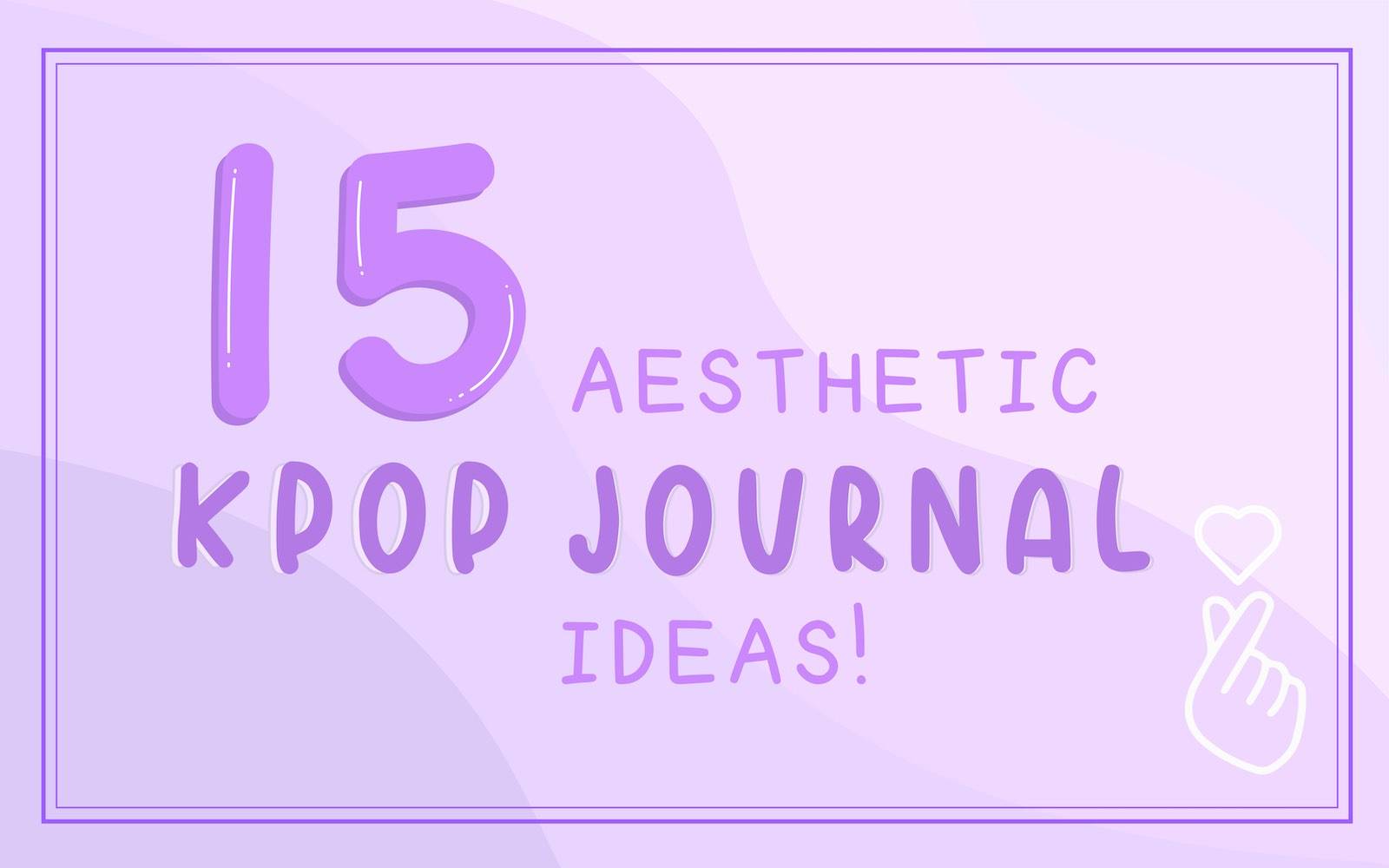 ---
Journaling is essentially a compilation of your thoughts, feelings, things you enjoy, hobbies, etc. And if you're a Kpop fan (like me), it's basically part of the lifestyle at this point. So why not incorporate Kpop into your journals? There's nothing wrong with making a journal spread about the discovery of a new Kpop group, or celebrating your favourite idols birthday. It's simply just a way to showcase your love and happiness that you get from being a Kpop fan! Here are 15 Aesthetic Kpop Journal Ideas to inspire you to incorporate into your journal today!
---
---
1. Creating an accent spread based around a photo
How many photos in your camera roll have you saved just because it was too aesthetic not to? A great way to use them is in an accent spread! A dedicated page to just show off that aesthetic photo! Use confetti stickers to decorate and add some matching details to accent! Look how beautiful this Rosé inspired spread is~ the confetti stickers truly make her look like a fairy 🧚‍♀️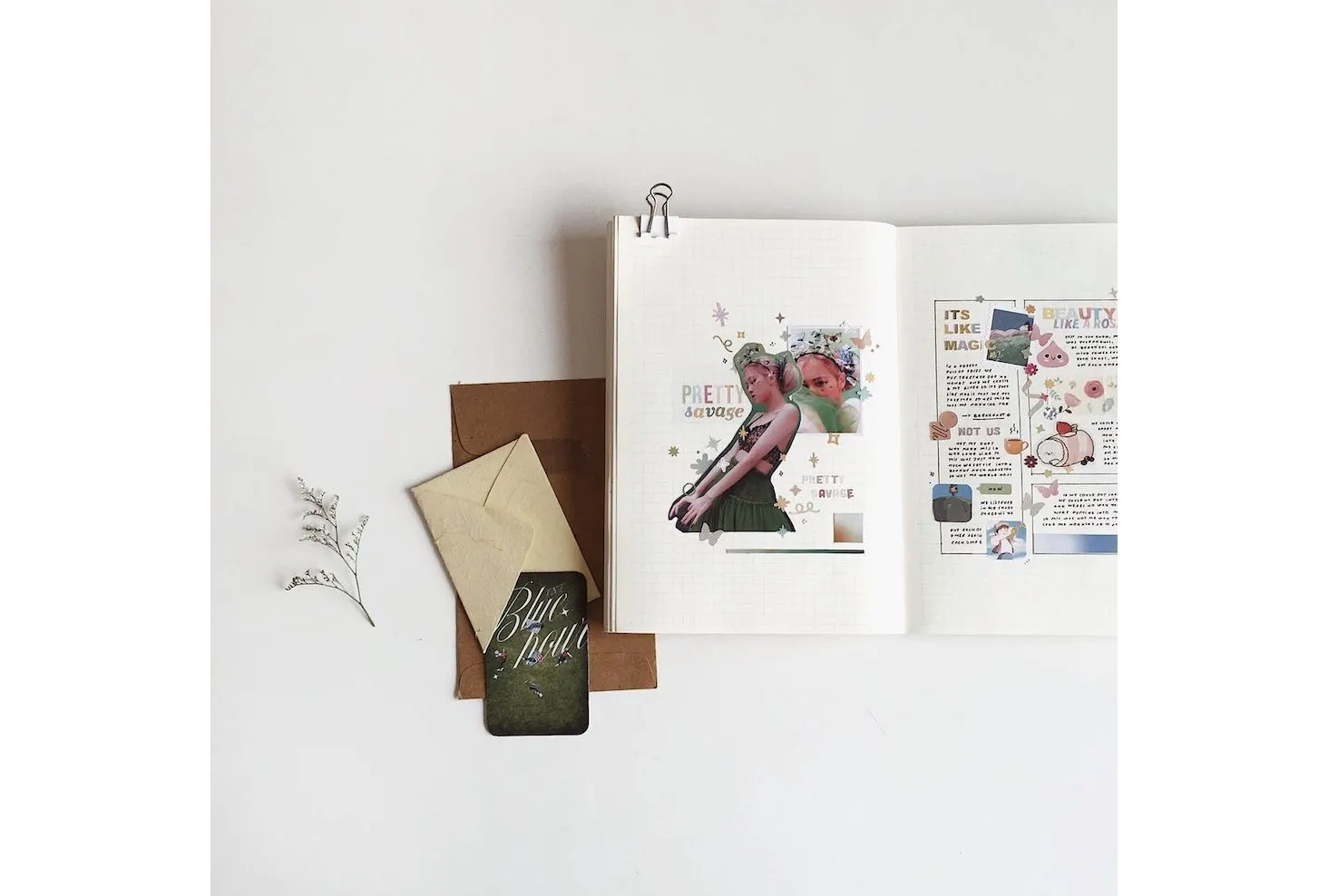 ---
---
These 'anatomy of' themed spreads are just the cutest! It's a fun and easy way to create a spread highlighting your bias, or in this case one of the BTS BT21 characters Koya! Using the same colour theme for the calligraphy, washi, and stickers really helps tie in the whole spread together!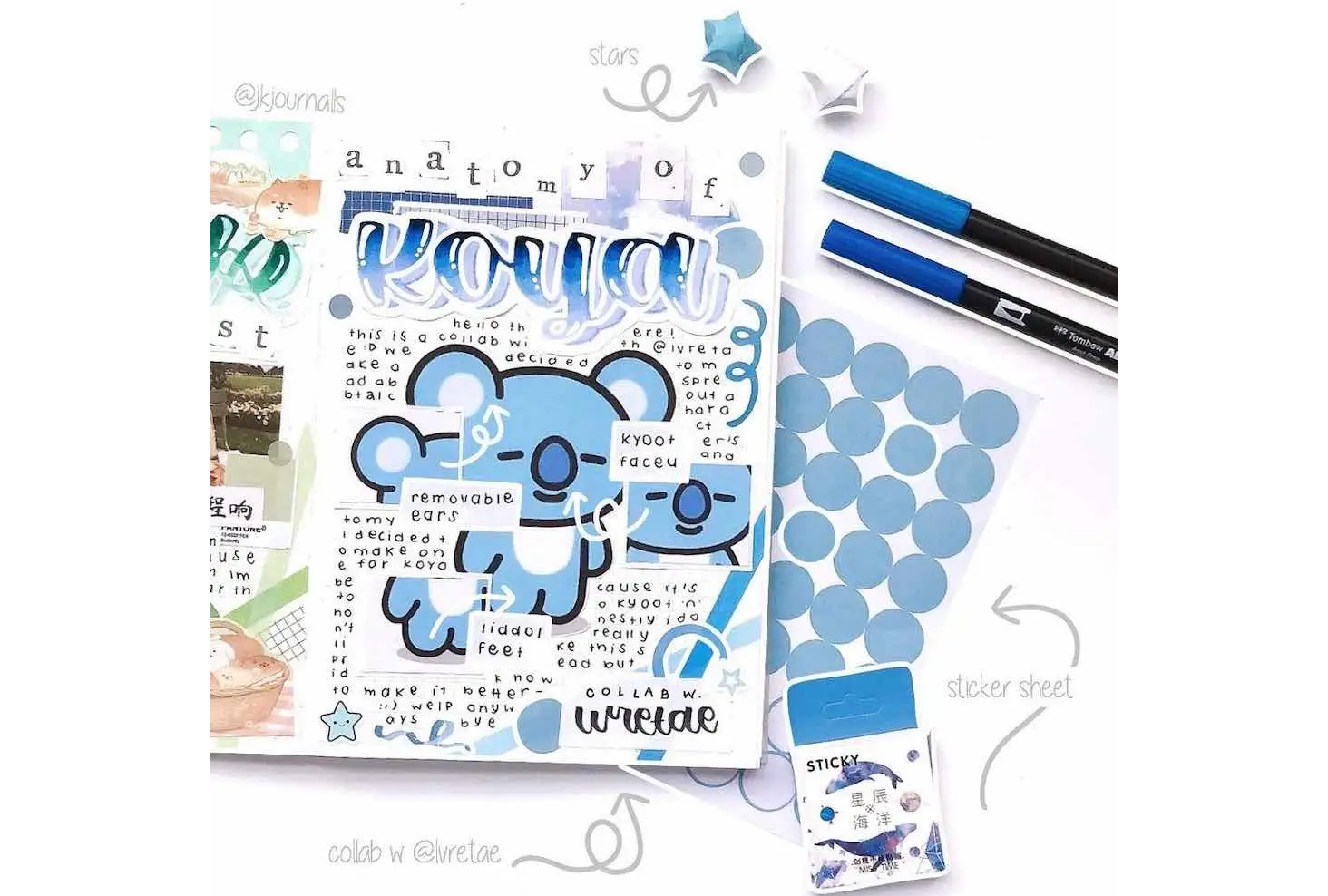 ---
---
3. Using photos that match with the mood of the journal entry
Sometimes, your journal entry is just in need of that pop of colour, or something that matches the mood and theme. When you find the perfect photo, don't hesitate! This Haechan polaroid paired with the typography and the matching green is just so perfect, especially for spring!
---
---
4. Creating a playlist of your favourite songs
Adding your playlist of the week or a playlist of your favourite songs is a great spread idea for your kpop journal. This spread by @koook.ie is so creative, using half a page for their 'current favs' playlist. The dark background of the page really stands out against the natural paper of the bullet journal as well.
---
---
5. Going on a picnic date with your bias

Journals are not just a planner, but a great way to jot down some cute scenarios and be creative with a prompt! Not only would it be fun to imagine going on a picnic date with an idol, but equally as fun to create a moodboard to bring it somewhat to life!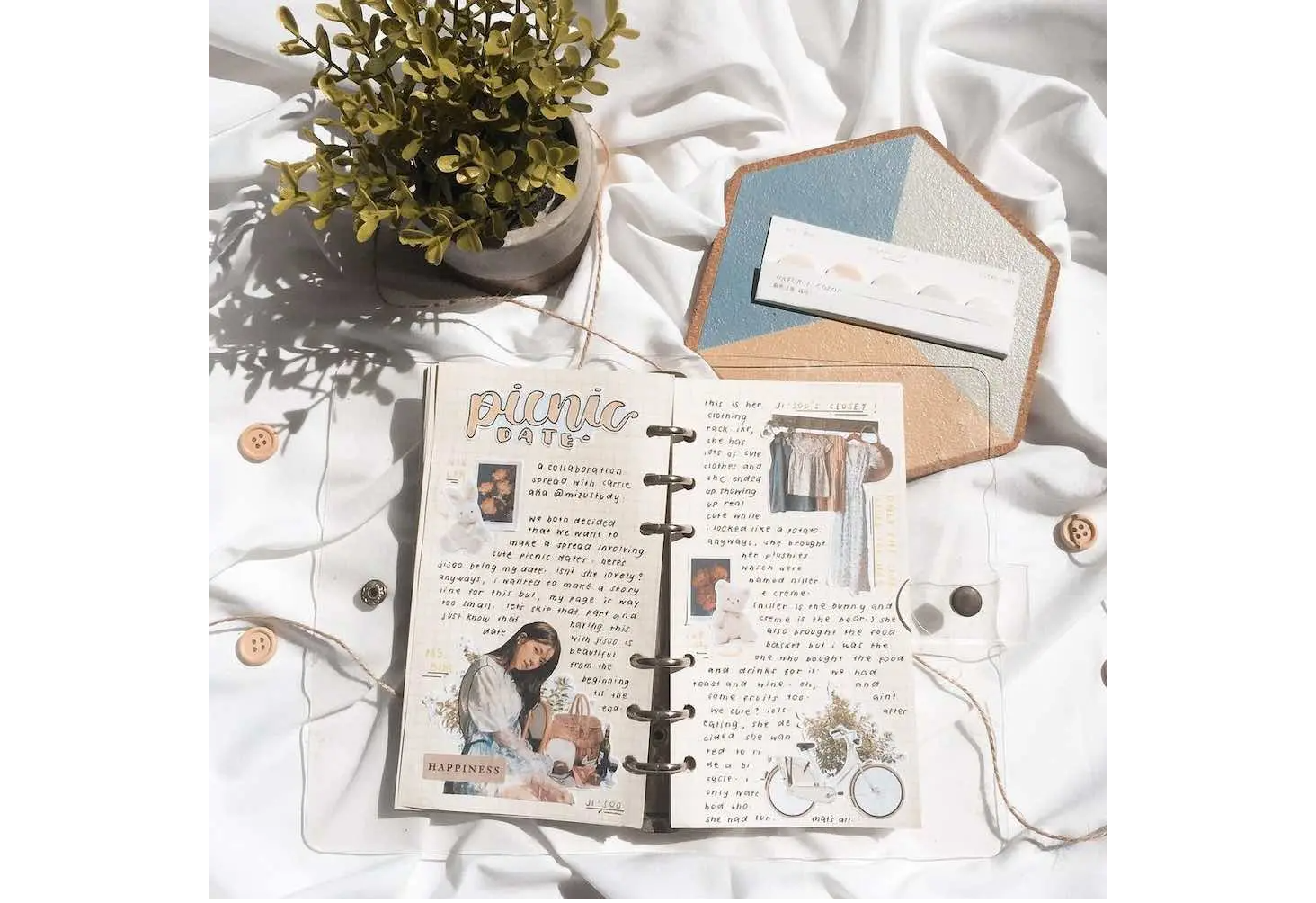 ---
---
6. Create a waterfall card

Too many pretty photos to choose from? Make a waterfall card insert to showcase all the photos instead! It's a quick and fun little diy to add to your journal spread. @peachymilkteas has a great tutorial on how to make the waterfall cards on her youtube. It's easy to follow and turns out super aesthetic, just like this one of IU that @bbibbi.u_ created!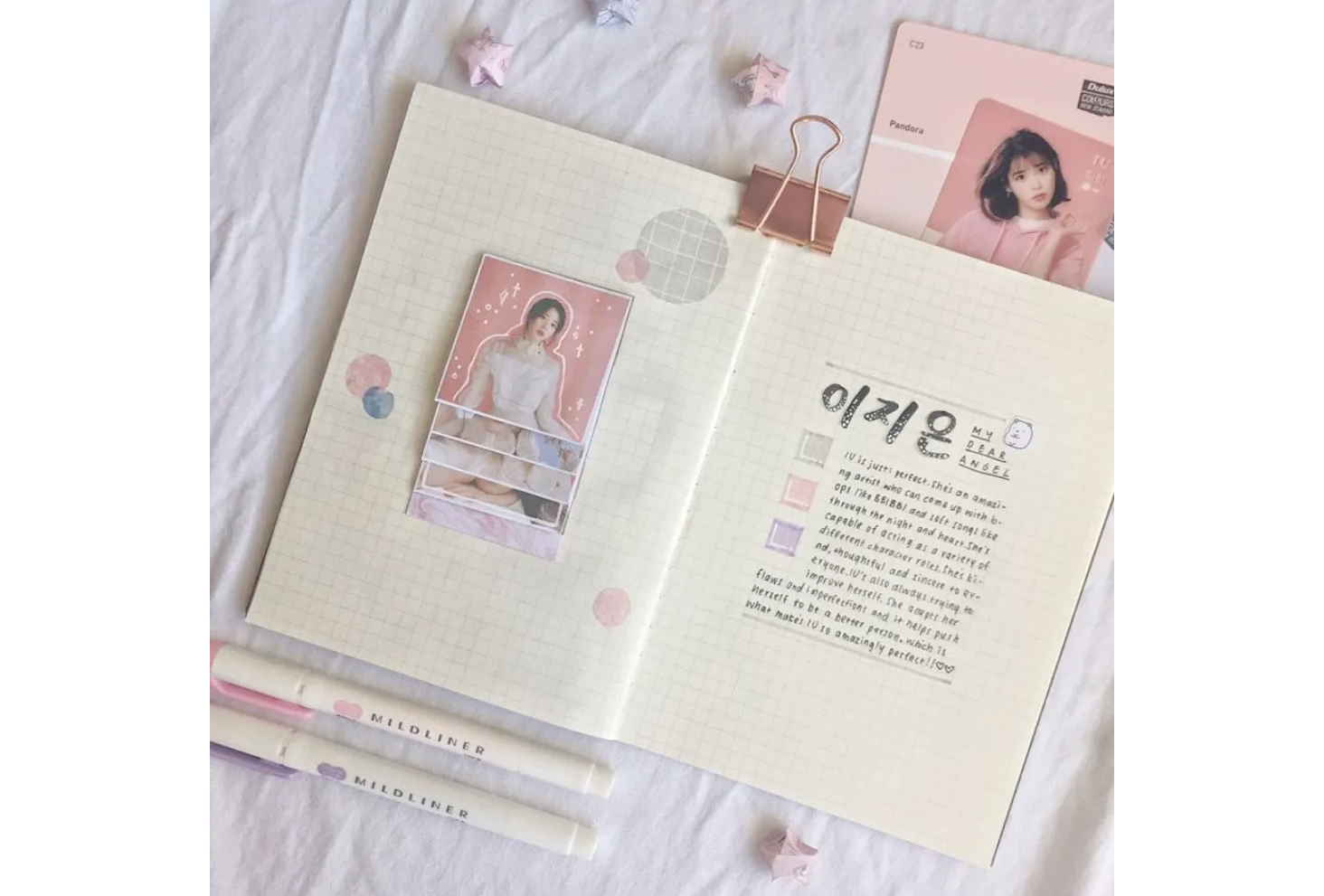 ---
---
7. Using decorated polaroids (polcos) as photos in your spread

If you're a Kpop fan, you might have seen Polcos (polaroid + deco) are currently the new trend on Instagram. It's a fun and great way to add details to a photo. Since there are no polco 'rules', each is unique and it's also fun to make it in your own style and aesthetic! On top of that, it is perfect for a journal spread! Look how lovely this spread by @evergrdn is! The square sketchbook style paired with the polcos is immaculate 💕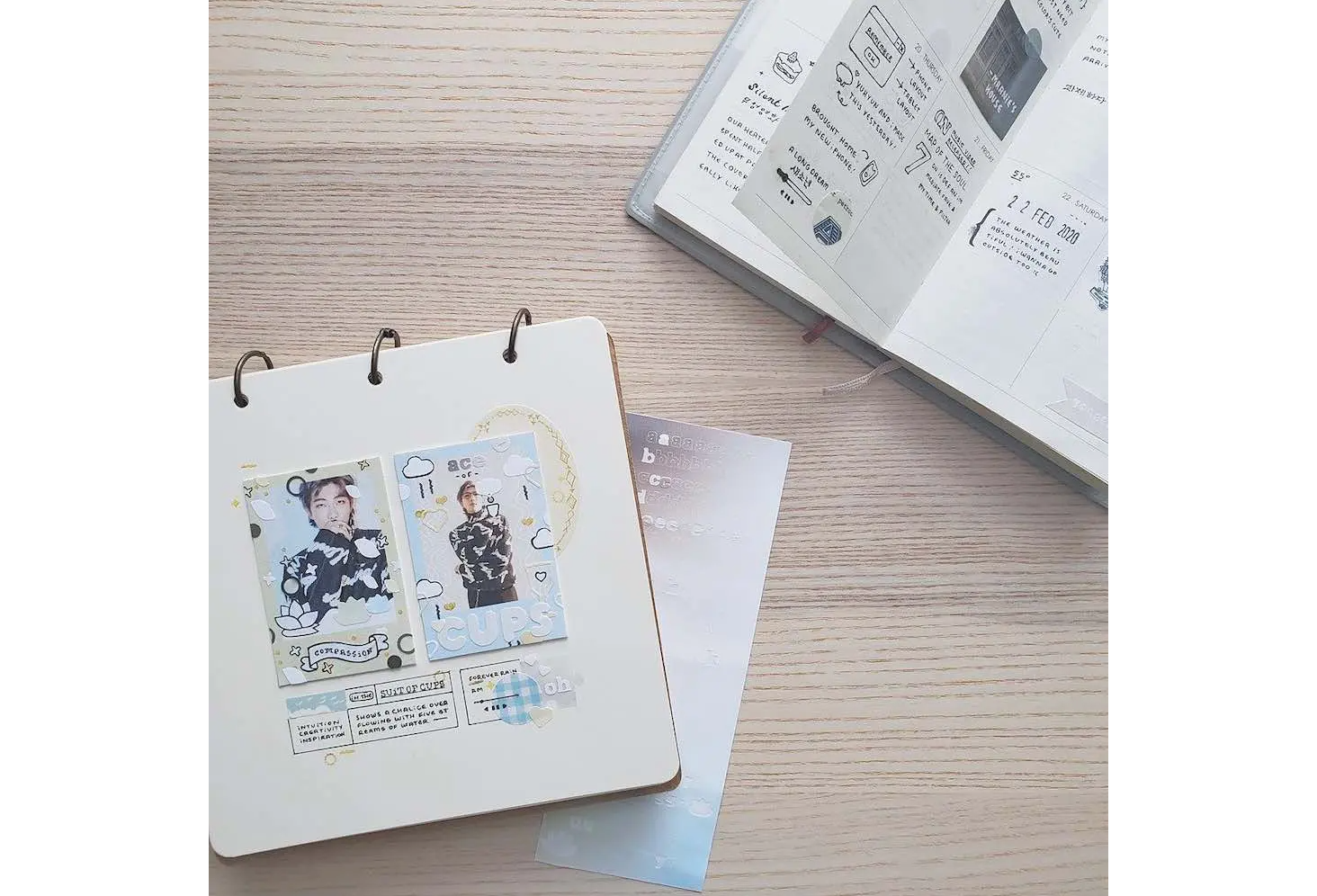 ---
---
A great way to tie a spread together is to keep the same colour theme! I love how @ggukoh used the blues of the denim jackets that BTS are wearing in the photo as the main colour palette of the whole spread. The letterings, washi tape, and other photos are picked specifically to work with the main photo, which is why this spread is so aesthetically pleasing!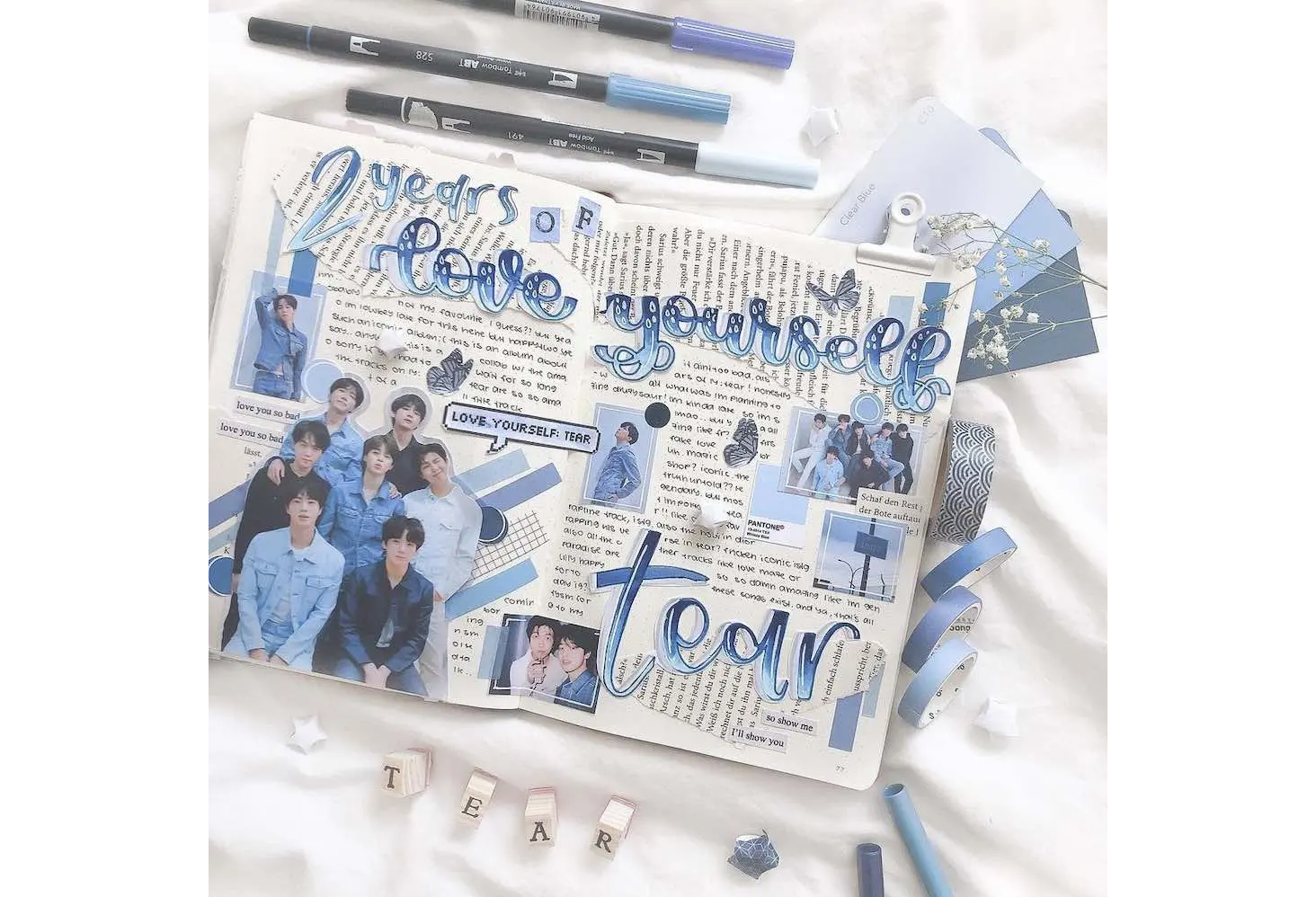 ---
---
9. Highlight the song of the week with typography
One of the things I love about Kpop is the intricate and unique typography that they use on their albums and posters. Adding them to your weekly spread is a great way of highlighting your favourite song of the week, or a recent comeback! Whether you print and cut the titles in your journal, or draw them by hand, it's a fun focus point on your spread!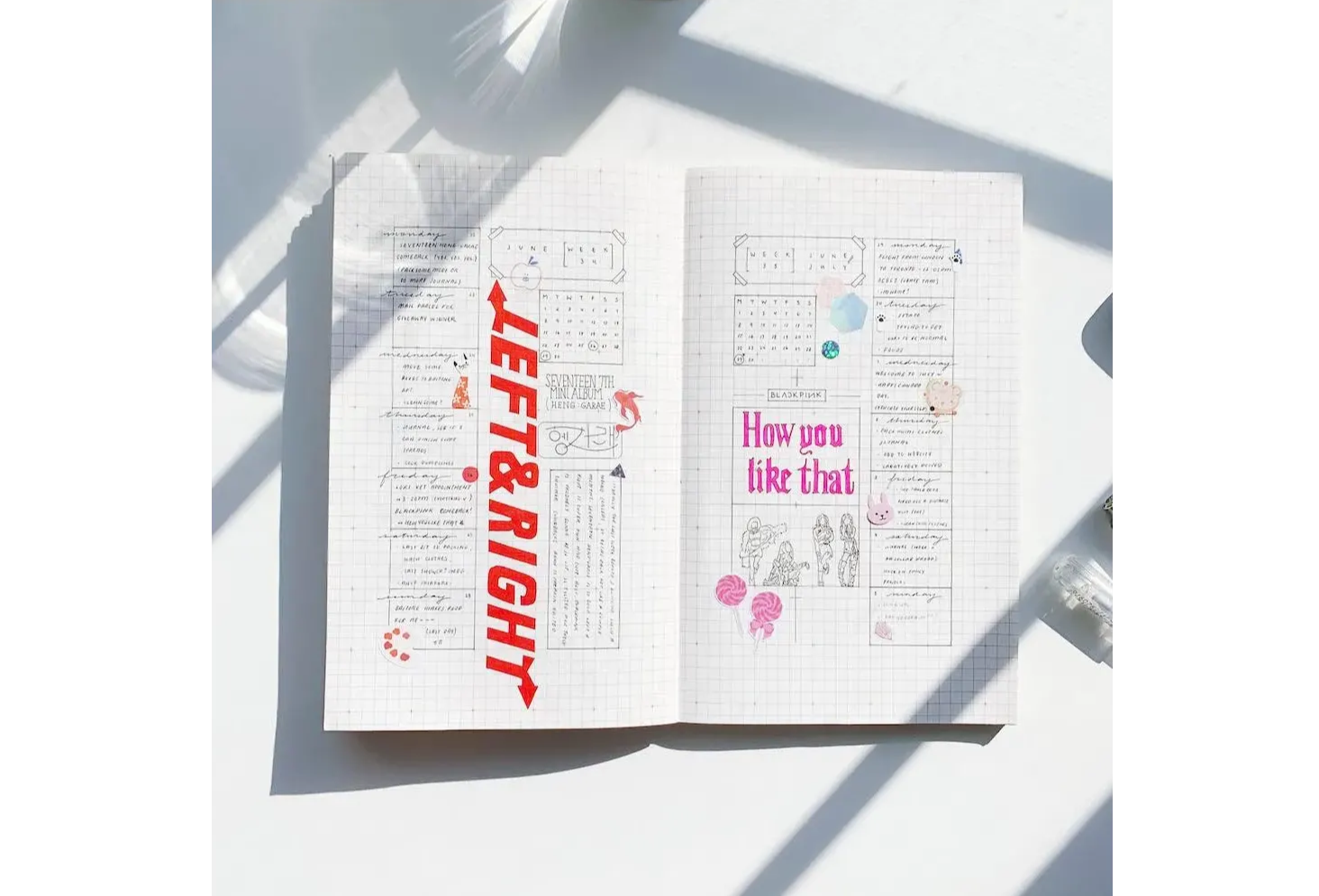 ---
---
Kpop is home to a lot of funny memes, especially the ones that capture Kpop idols doing funniest expressions 😂 Sometimes, you just want to stick all of it in a spread! And that is exactly what you should do! Take a look at this Suga spread by @4o_clk ! It's such a cute and fun collage of all things relating to Suga! The stickers, washi tape, and oven the planner label fit so well together!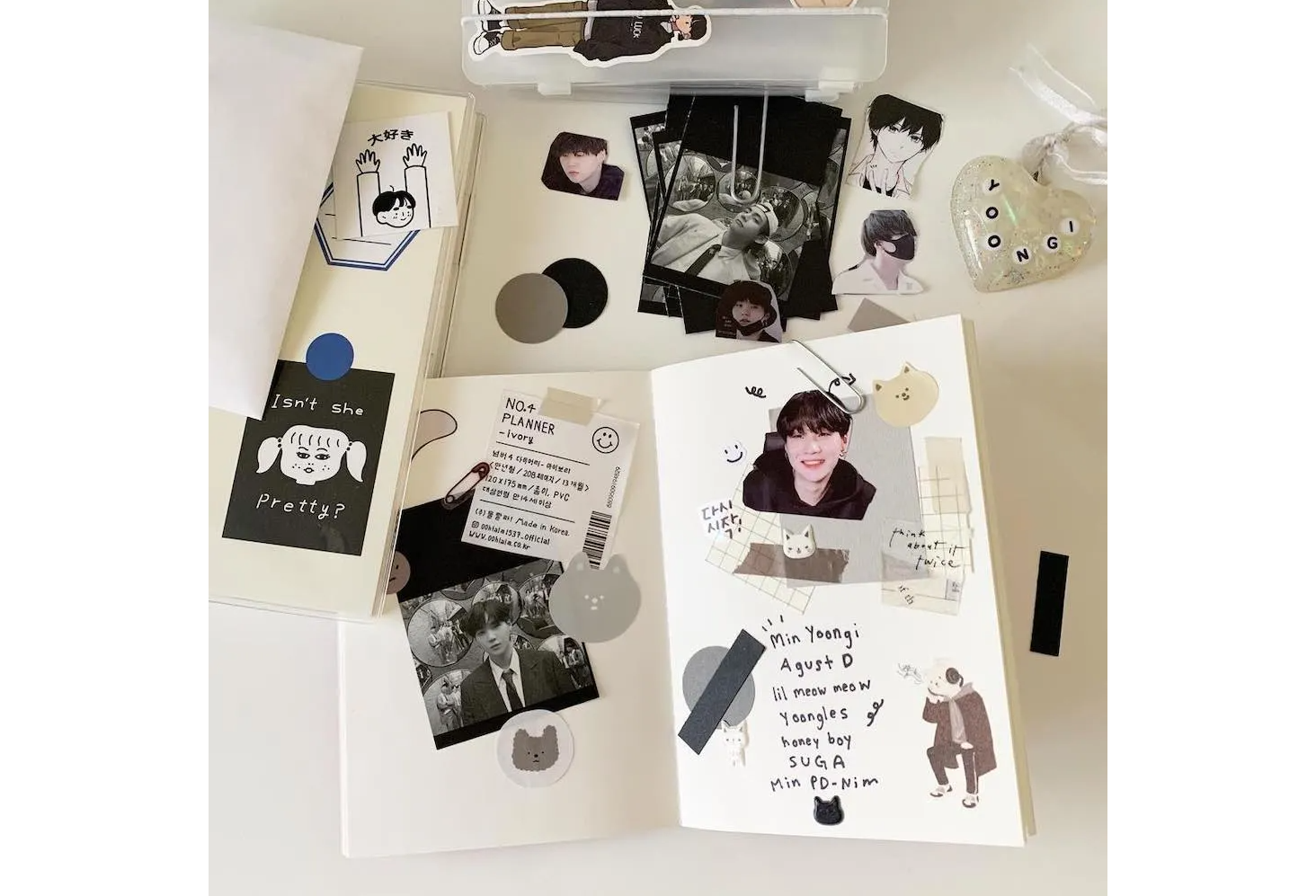 ---
---
11. Create a monthly spread themed around your favourite group!

Don't know what theme to do for your monthly spread? Take inspiration from Kpop photoshoots! They always have the best aesthetic, and you can totally take inspiration from the colour theme that is present in the photos! This green and purple monthly by @igot__exo is the perfect match with NCT Dream's photo. And look at all those tiny details of green and purple within the monthly calendar too!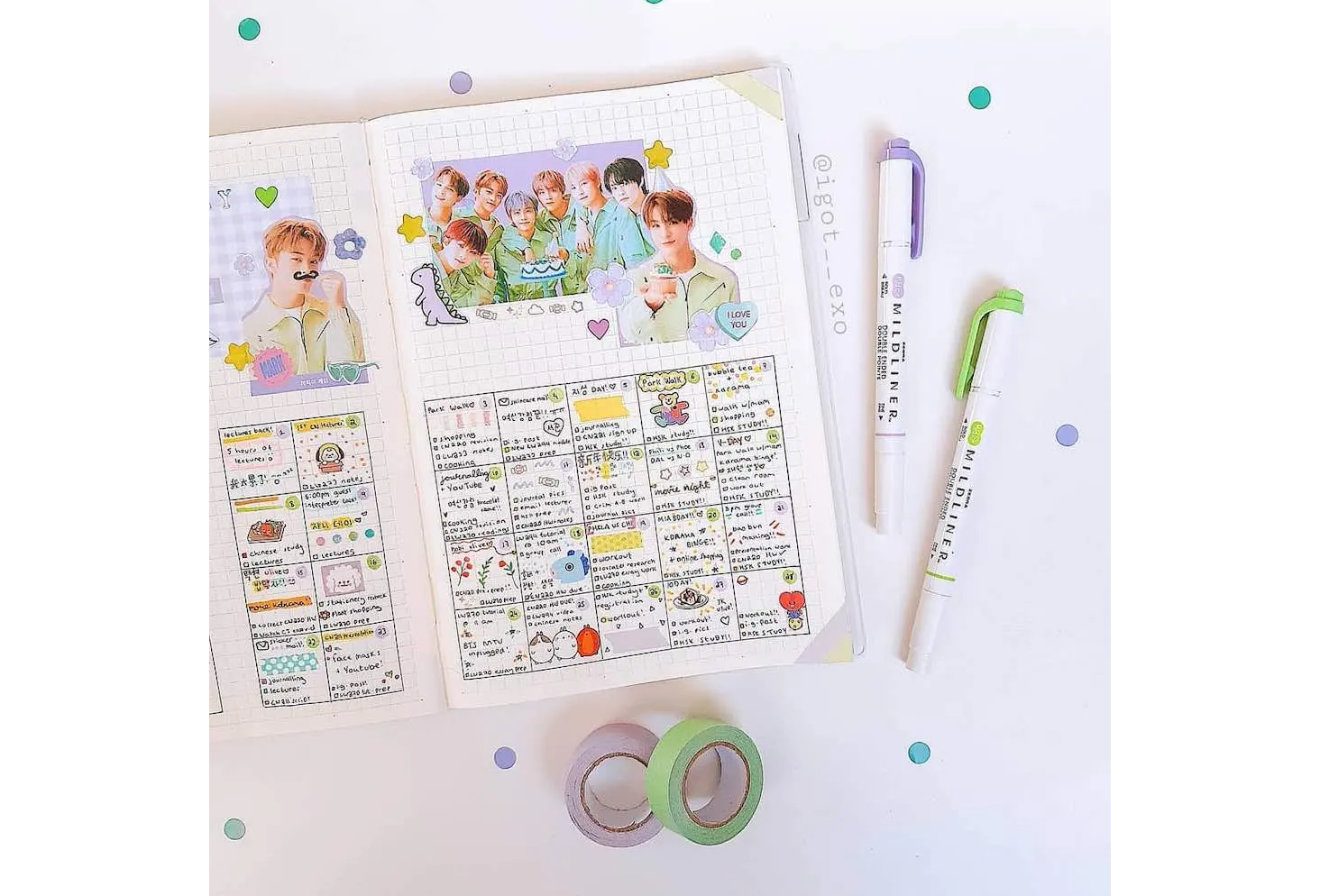 ---
---
I think it's safe to say that Kpop music videos are some of the most aesthetic, most colourful, most creative music videos there are in the industry. Any screenshot you take at any point in the music video is bound to inspire you to make a spread. This 90's Love by NCT U music video inspired spread by @mlkydoie captures the music video vibe perfectly. The colours are so bright and captivating, just like the ones in the music video!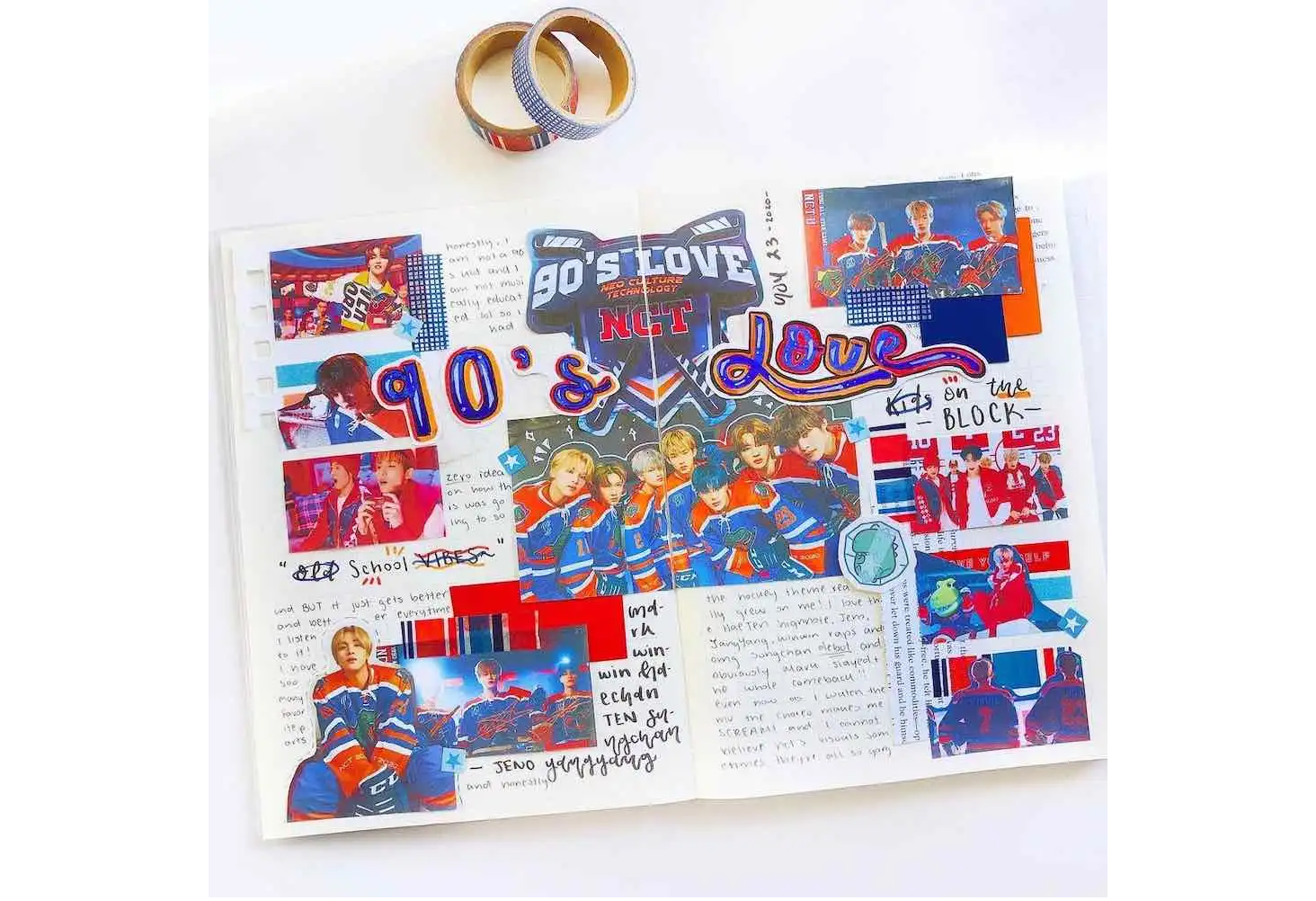 ---
---
Scrapbooking was a big thing in elementary and middle school, but at some point, I think we all just stopped doing it. But I think there is something about scrapbooking that is so nostalgic, so fun, that you can never grow out of it. The way @94delight used the wonky magazine cutout letters is so fun, especially paired with the retro looking photos of BTS. The colour theme also just reminds me of the 'burn book' from Mean Girls? But not mean, and much more aesthetic 😉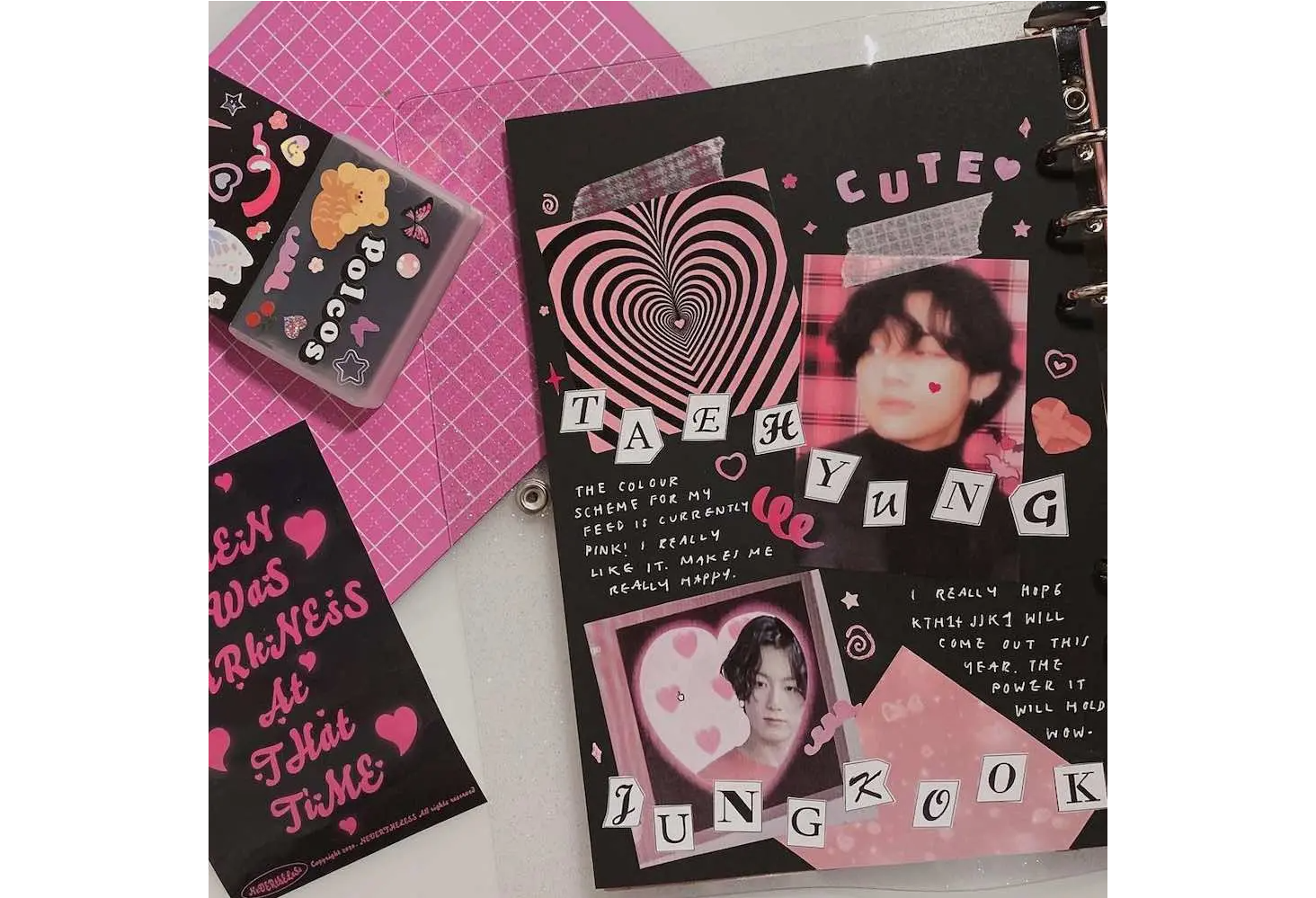 ---
---
Kpop fashion is something that goes hand in hand with the popularity of Kpop. Fashion in Kpop is so big that there is even something called "airport fashion", where it's just people posting photos of the outfits that Kpop idols wear when they go to the airport! Creating a fashion lookbook as a spread is such a good way of documenting and creating a moodboard of your favourite outfits. This lookbook spread of Jennie, a fashion icon, by @_milky_vvay is really inspiring me to maybe spruce up my wardrobe too 😏🛍️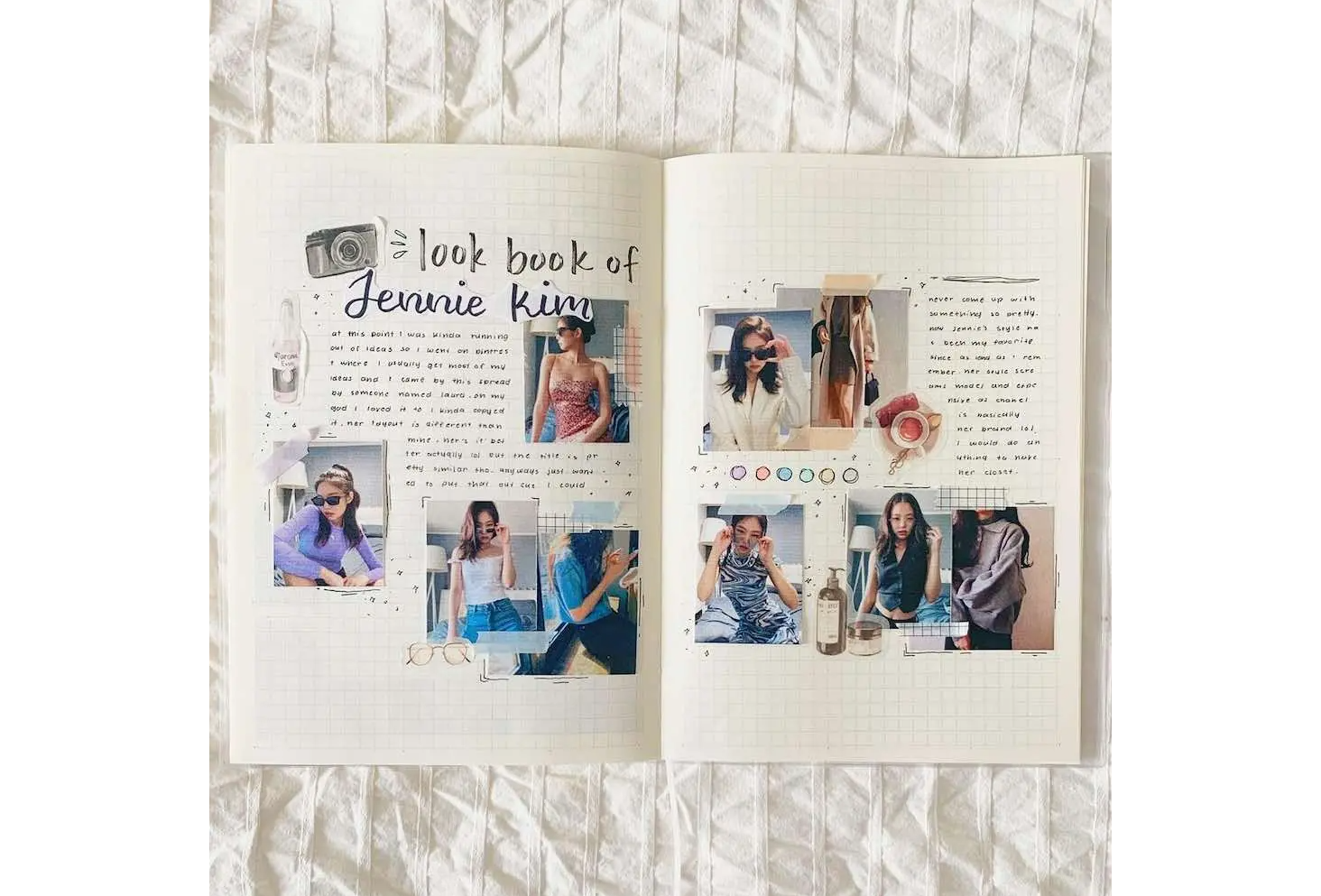 ---
---
15. Celebrate your bias' birthday!

I think one of the best spreads to do in a Kpop journal, is the one celebrating your bias' birthday! A day dedicated to your bias, a day for celebration and happiness! Creating a birthday spread is kind of like writing a letter to them, appreciating and being grateful for their existence. It's also a great opportunity to use all the photos that you've saved of them on your phone in a spread with no regrets! This is one of the cutest J-Hope Day spreads I've seen, @tofutooru did such an amazing job capturing the energy and happiness that J-Hope radiates ☀️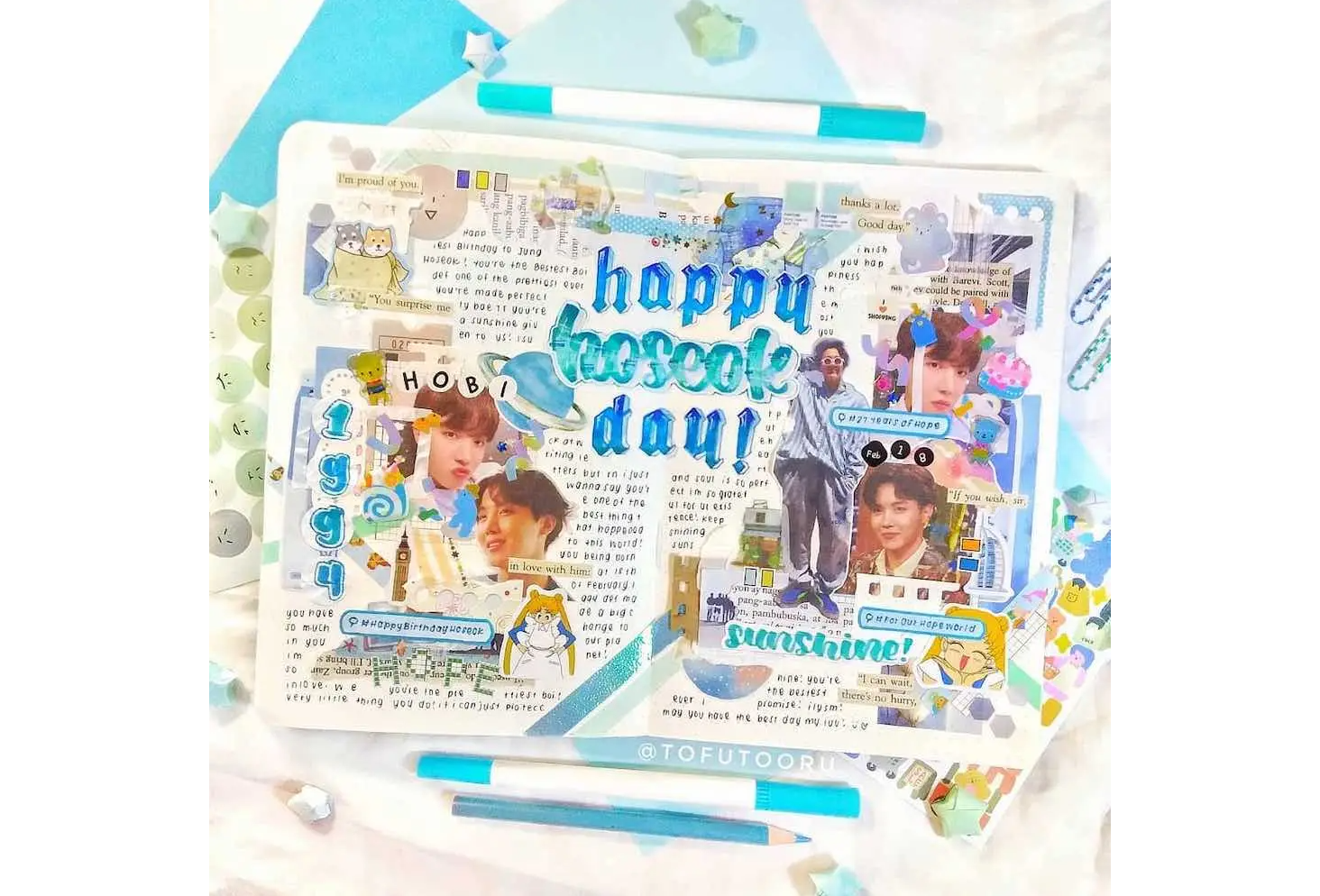 ---
---
All in all, there are SO many different ways you can do Kpop journaling. There are no rules! I hope this blog inspired you even a little with all the creative, aesthetic and fun spread ideas you could do in your journal! Now that you have some more ideas and are ready to begin Kpop journaling, check out our ultimate guide to journaling supplies to help you get a head start!