How to Doodle Cute Borders in Your Bullet Journal
How to Doodle Cute Borders in Your Bullet Journal
---
Doodle borders are certainly my favorite go-tos when it comes to decorating new bullet journal spreads. They make your spreads look nice and pretty, while also keeping the contents of your layouts organized.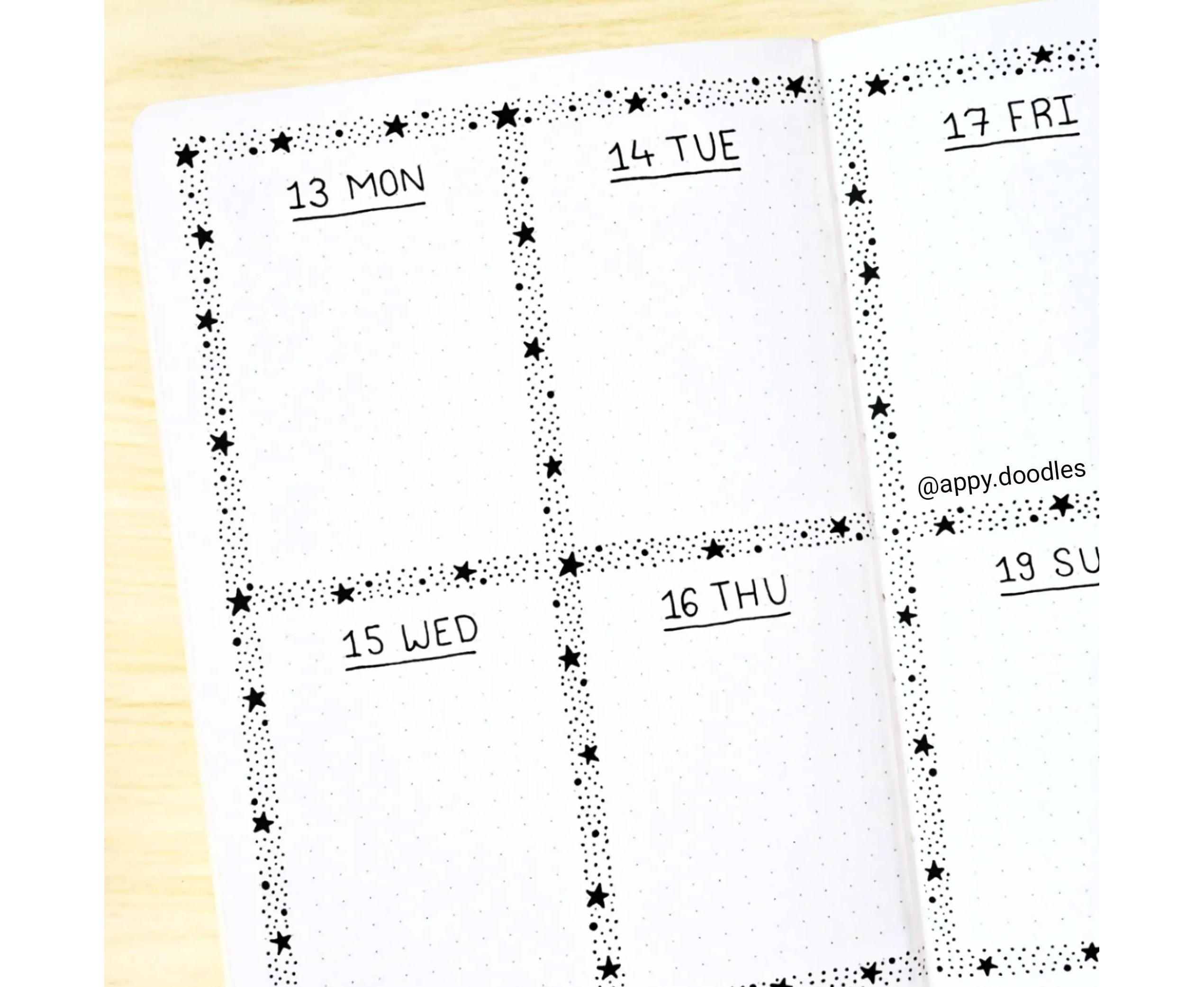 ---
Oftentimes when I share my doodle border/ divider ideas on Instagram, a common question that I get asked is - how do you come up with so many of these?
Since I've already been posting a lot of border ideas on my IG for you guys to recreate, in this blog post I thought I'd show you how easily you can create a variety of your own doodle borders too.
I will also show you how I use them to set up my bullet journal spreads and share some simple ideas to inspire your creativity. So let's begin!
---
---
---
---
How To Create Your Own Doodle Border Designs
In this section, I will share with you some simple methods that you can use to make different border designs of your own. It's all pretty basic and easy for anyone to follow.
---
Borders and dividers in the simplest form are just lines. Various kinds of lines ranging from straight, broken and dotted to wavy, loopy and zigzag can be used as borders and dividers.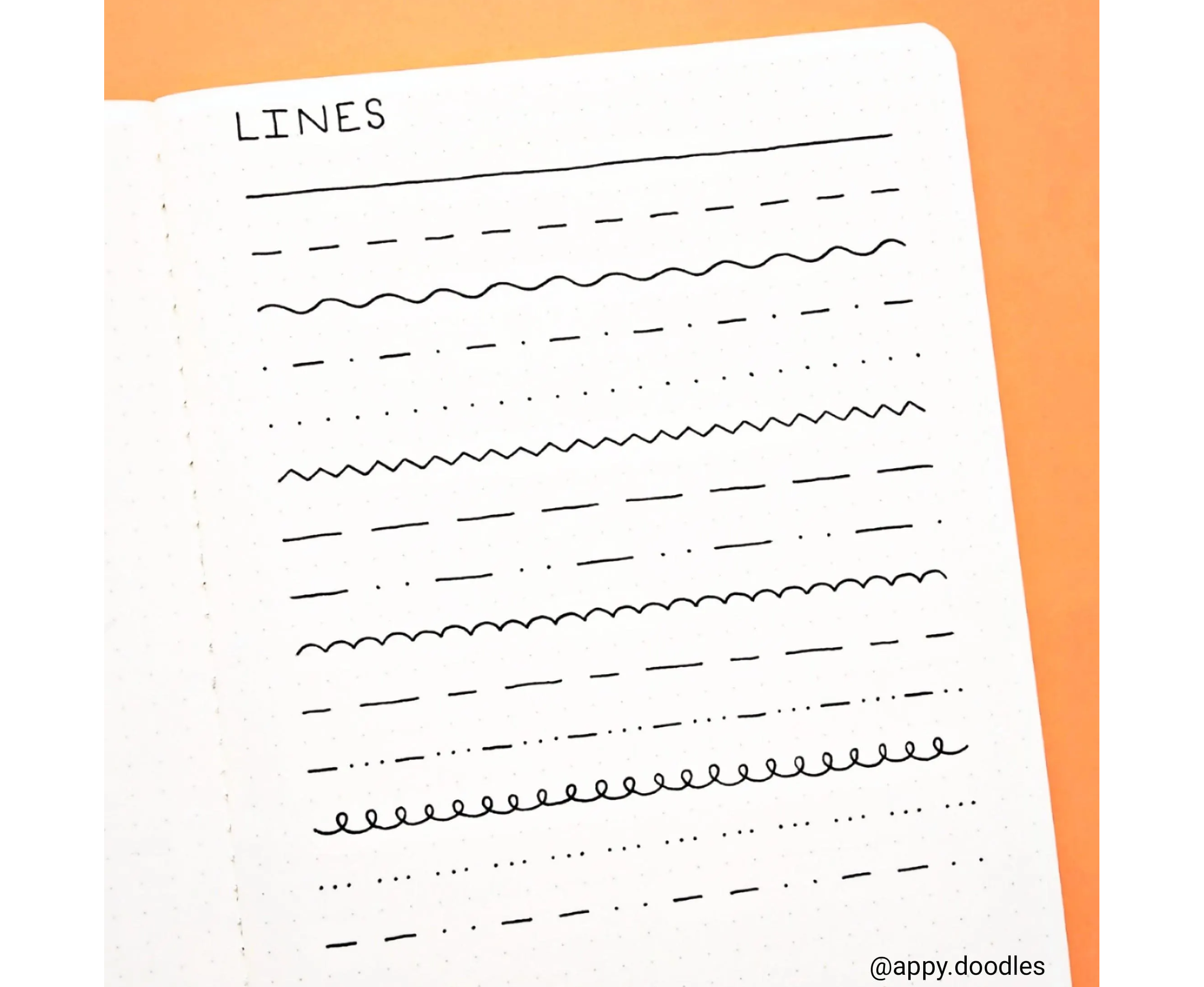 ---
These lines are ideal for minimalist bujo spreads as well as last minute set ups. You can use them in your study notes too.
---
Motifs are small decorative figures that are repeated in designs and patterns. They can be as simple or as fancy as you like.
Here are some motifs in a simple doodle style.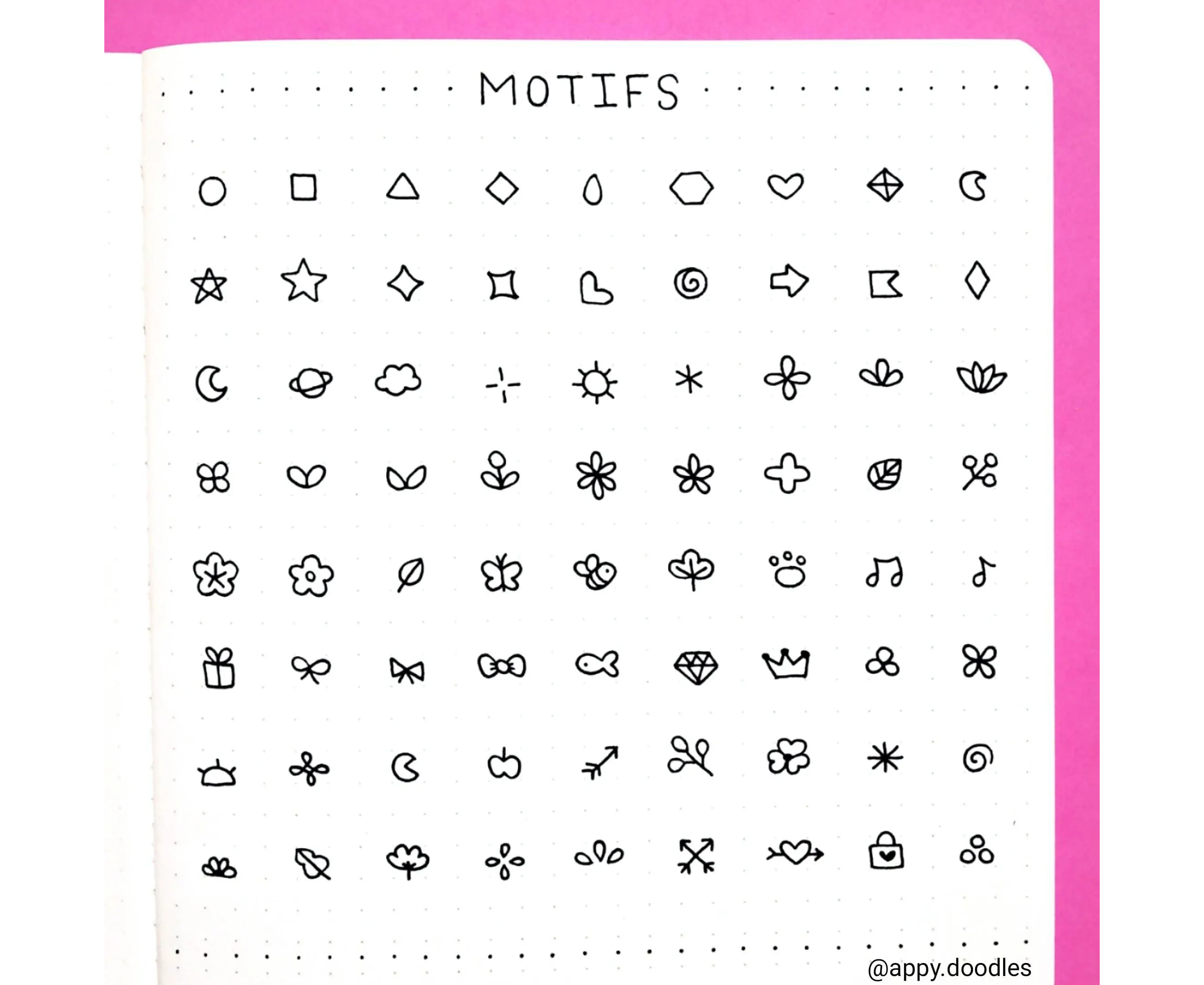 ---
There are so many ways you can use these motifs to make your borders -
• Pick a motif and repeat it in a single line.
• Use a combination of two or more motifs.
• Combine the motifs with different kinds of lines and dots.
• Try drawing double line/ thicker borders.
• Draw your borders in curvy lines.
I have illustrated all of the above points using heart and star motifs as you can see here.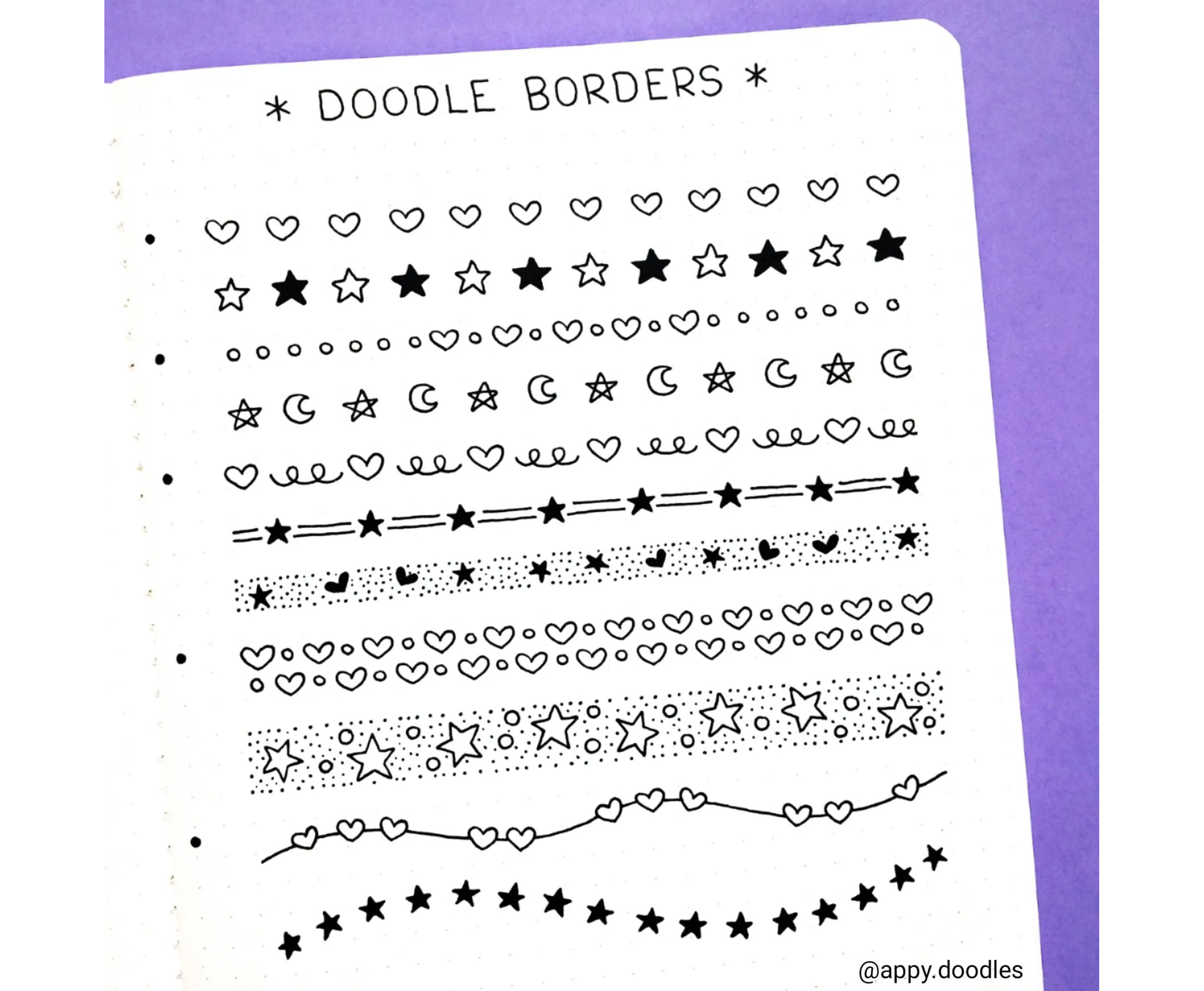 ---
Pick motifs of your choice and mix-and-match to design your own doodle borders. So many possibilities!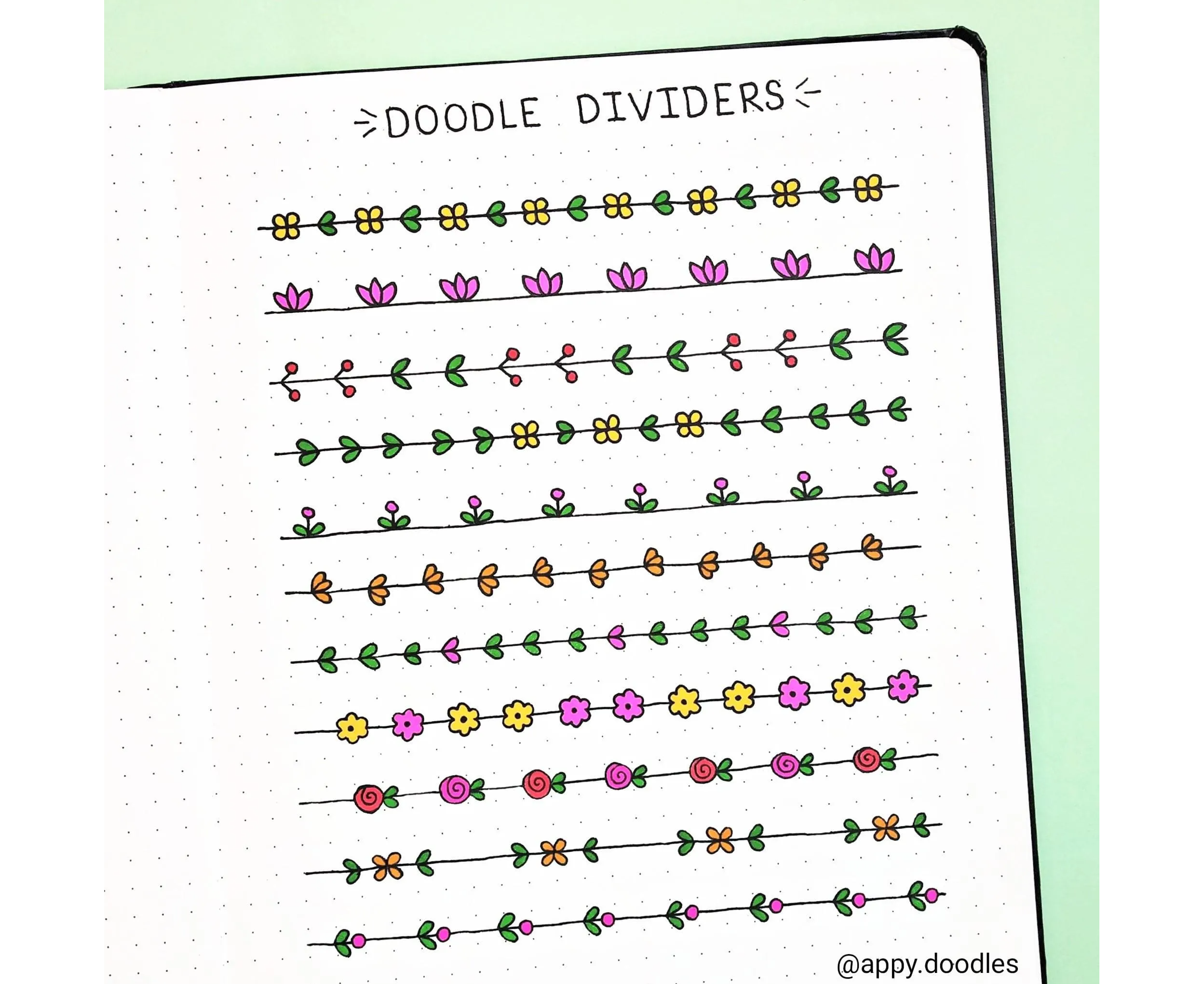 ---
I chose some of the tiny floral doodles from the motifs spread to make these dividers and I think they're perfect to go with themes like spring and floral.
You will find it convenient to create doodle pages such as these in your journal for future reference. You can revisit the pages later whenever you need ideas and inspiration for setting up new spreads.
---
This method is similar to the previous one, only simpler. If you're aiming to make borders that are minimal and yet a little bit doodley, then this would be the way to go.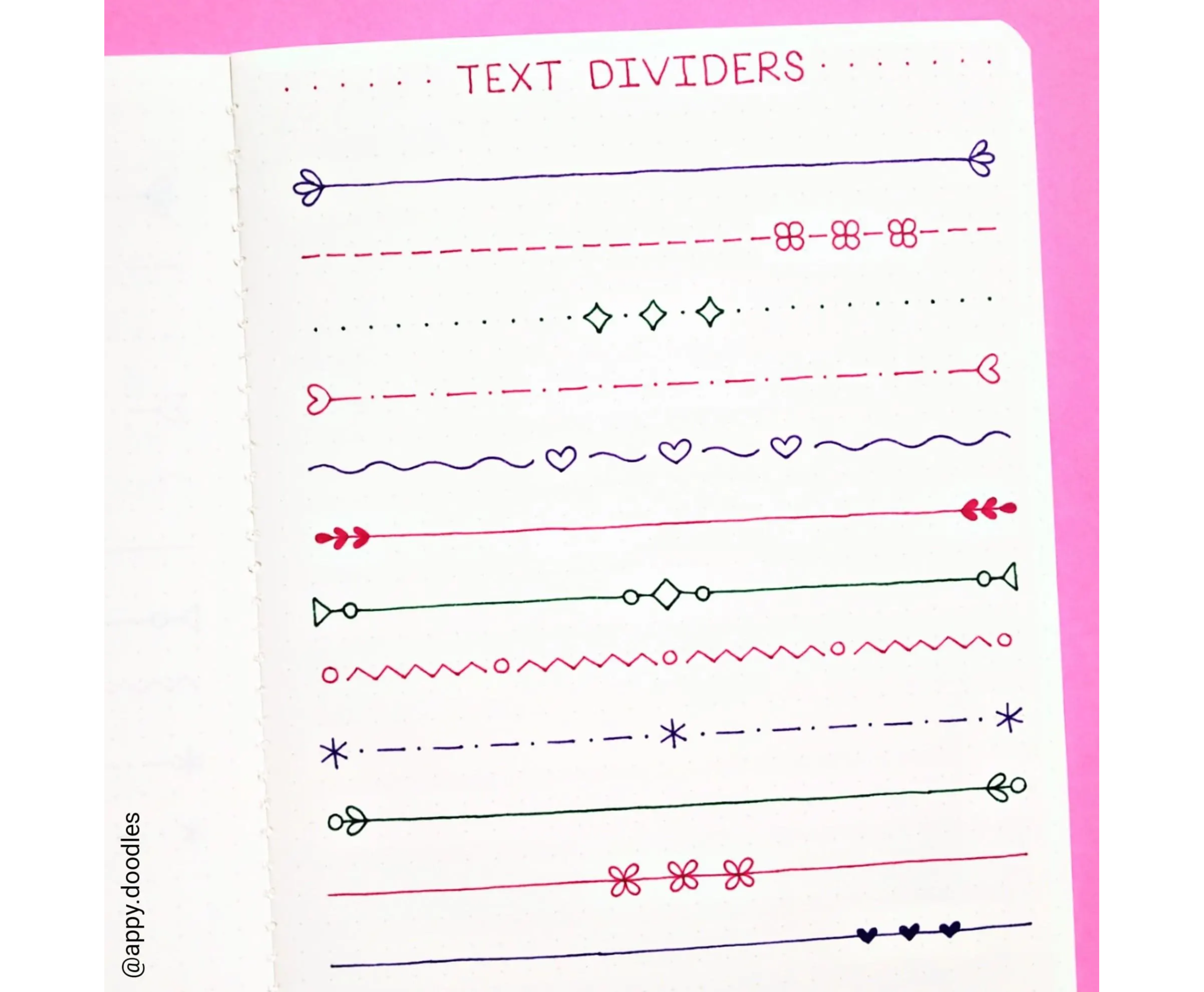 ---
Dividers like these are so easy and quick to draw. All you need to do is draw one of the variety of lines shown before, and then add a few motifs to it at the edges or somewhere in between.
I like to use these kinds of dividers to add a little fun element to my minimal and last minute spreads.
---
The dot grids in bullet journals come in handy when you want to draw lines, shapes and patterns.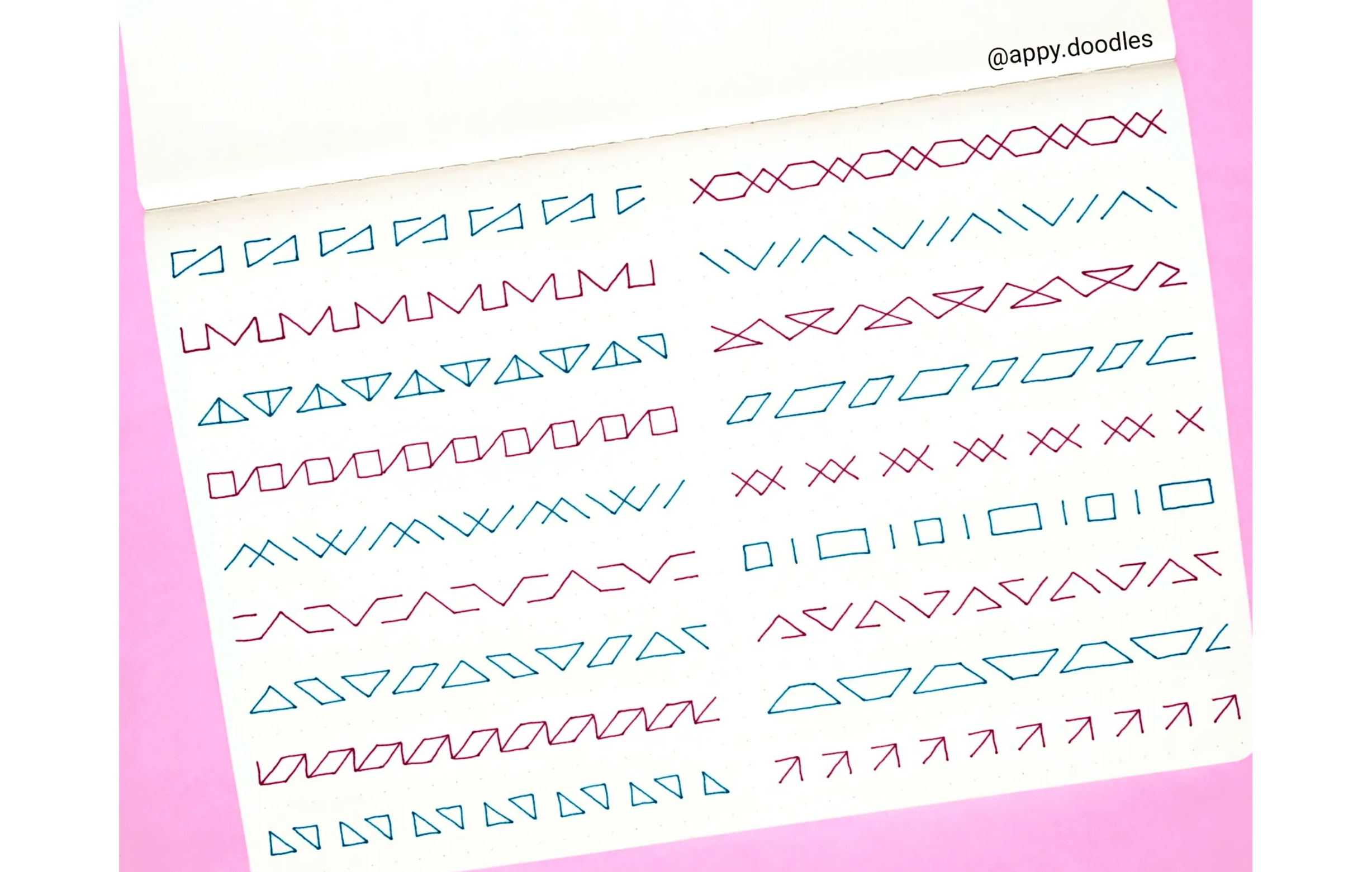 ---
These are just a few examples, but you can literally create hundreds of different border designs by simply connecting the dots in your bullet journal. How cool is that?! Connect the dots to form geometric elements like lines, angles, rectangles, triangles, and then repeat them in a regular or irregular pattern in a line.
Patterned geometric borders look pretty neat and just take seconds to make. It is also quite satisfying to doodle these. Use them to add some flair to your minimalistic layouts.
Now of course, all these methods are not the only ways you can draw borders in your bullet journal but are definitely the easiest to begin with, especially if you are a newbie doodler.
---
---
How To Use Doodle Borders In Your Bullet Journal
Since I prefer my bullet journal spreads to be amply spacious and also have some cute design, I like using doodle borders for the purpose of decorating as well as organizing the layouts. Let me show you some of my spreads that I made using doodle borders.
Perhaps the most common use of doodle borders in bullet journal is to decorate around the edge of spreads or to use them as dividers for organizing the contents of your layout.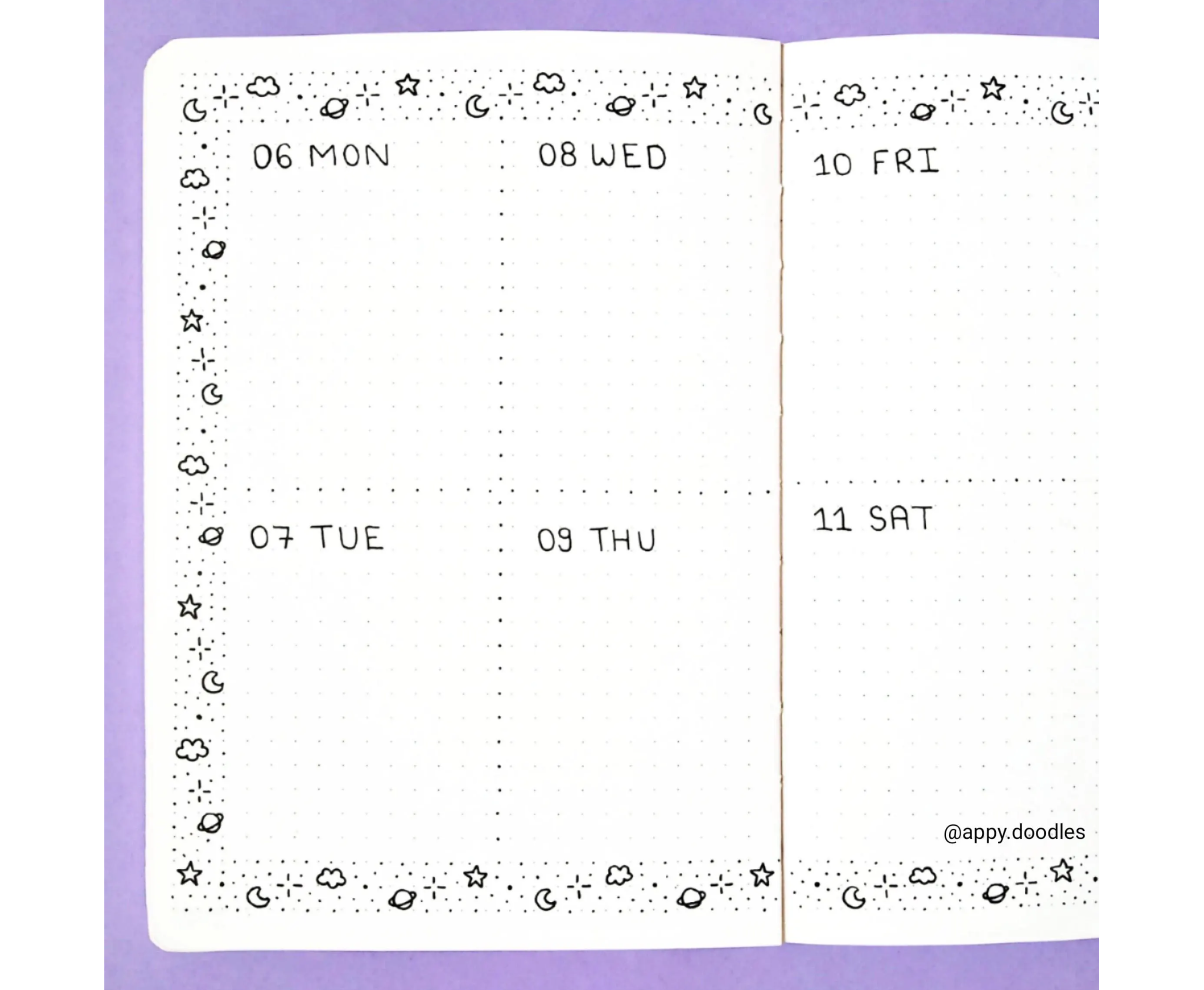 ---
I made this spread by first drawing a thick border around the edge using space themed motifs and then I used dotted line dividers to separate the days of the week.
You can try making a similar layout in your journal by drawing borders with motifs that suit your theme.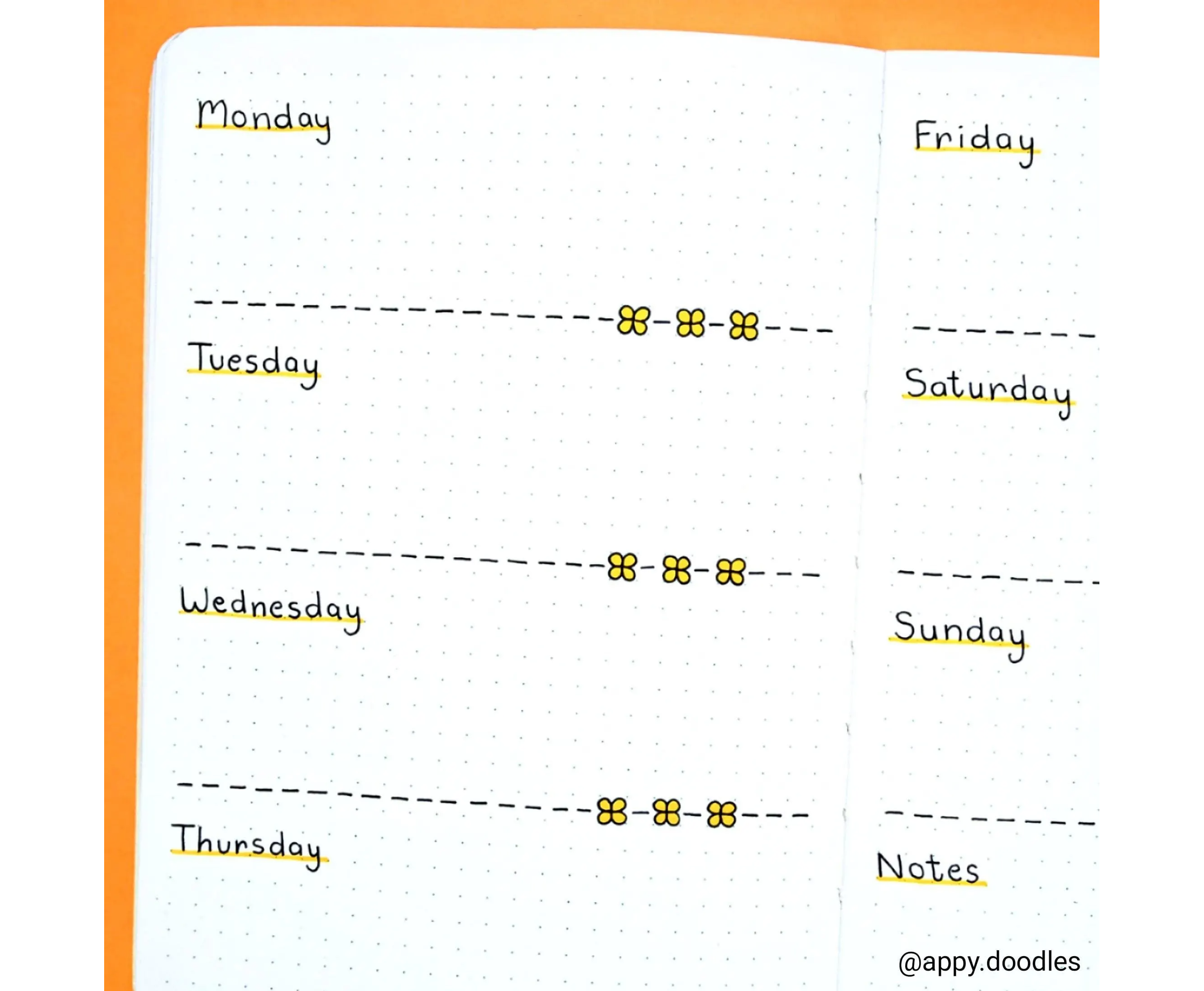 ---
To make this super simple weekly spread I drew 6 dividers, 3 on each page, to divide the spread into 8 equal parts. Labelled the sections, added some bright yellow for a little pop of color and done. I got this spread ready in less than 5 minutes.
Both these weeklies were quick and easy to make and I just love how spacious they are.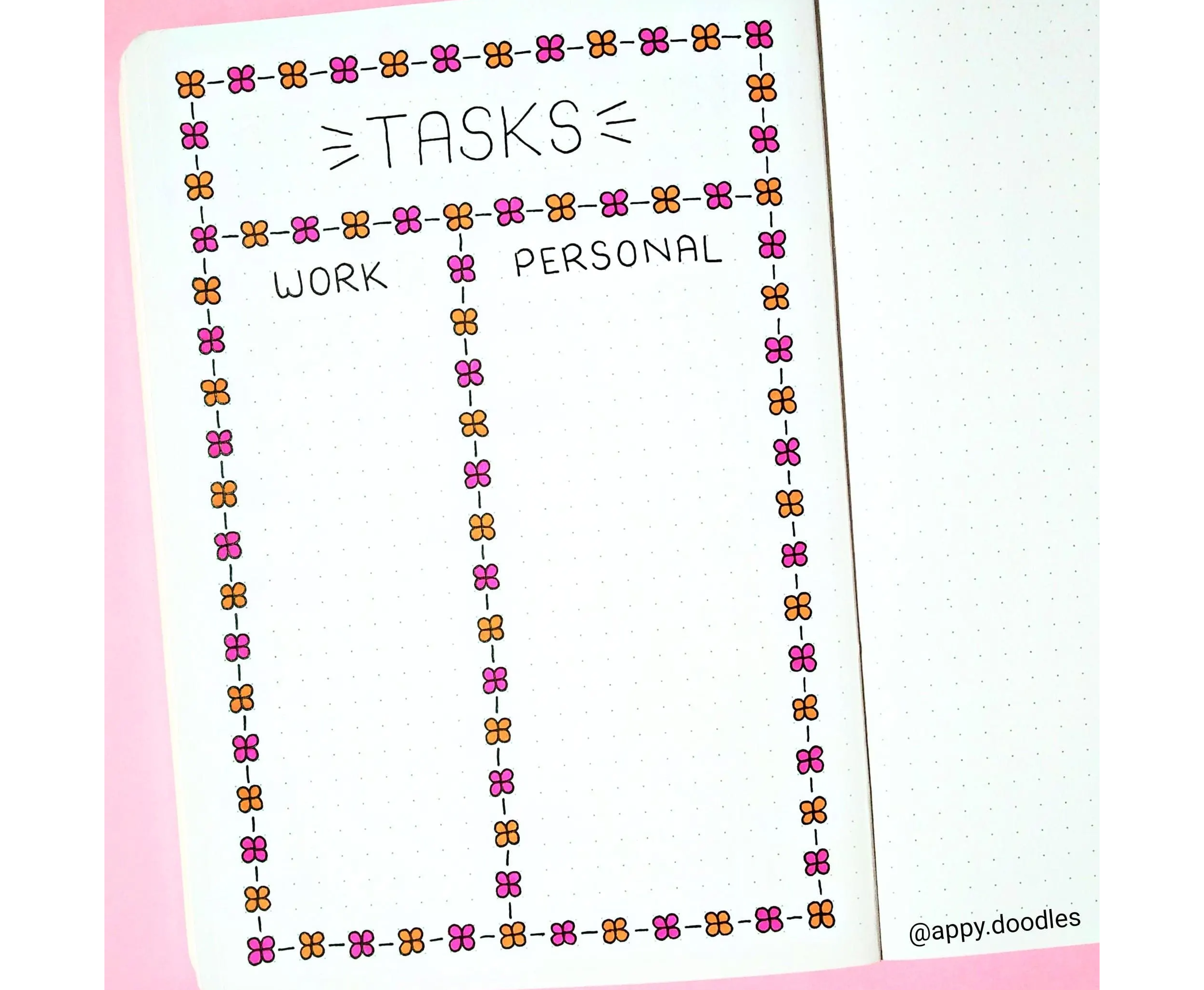 ---
You can use doodle borders for making rows and columns in your bullet journal layouts. This is a simplified example but you can make as many parts as you require using the borders. I like how they prettify the spread without taking up much space.
A fun thing to try out with doodle border designs is to make matching dividers, frames and wreaths. You might find this idea useful if you like to follow monthly themes in your bullet journal.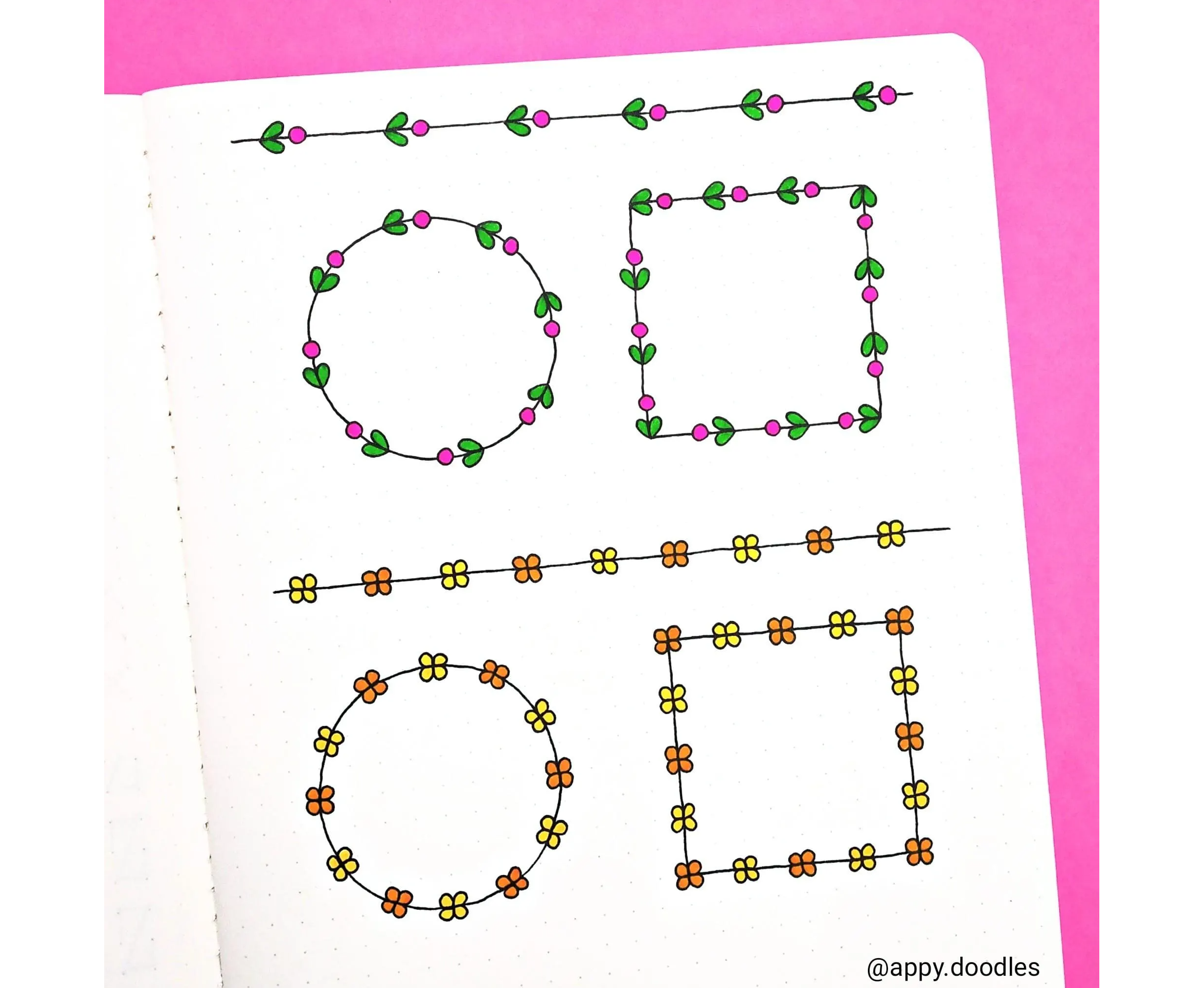 ---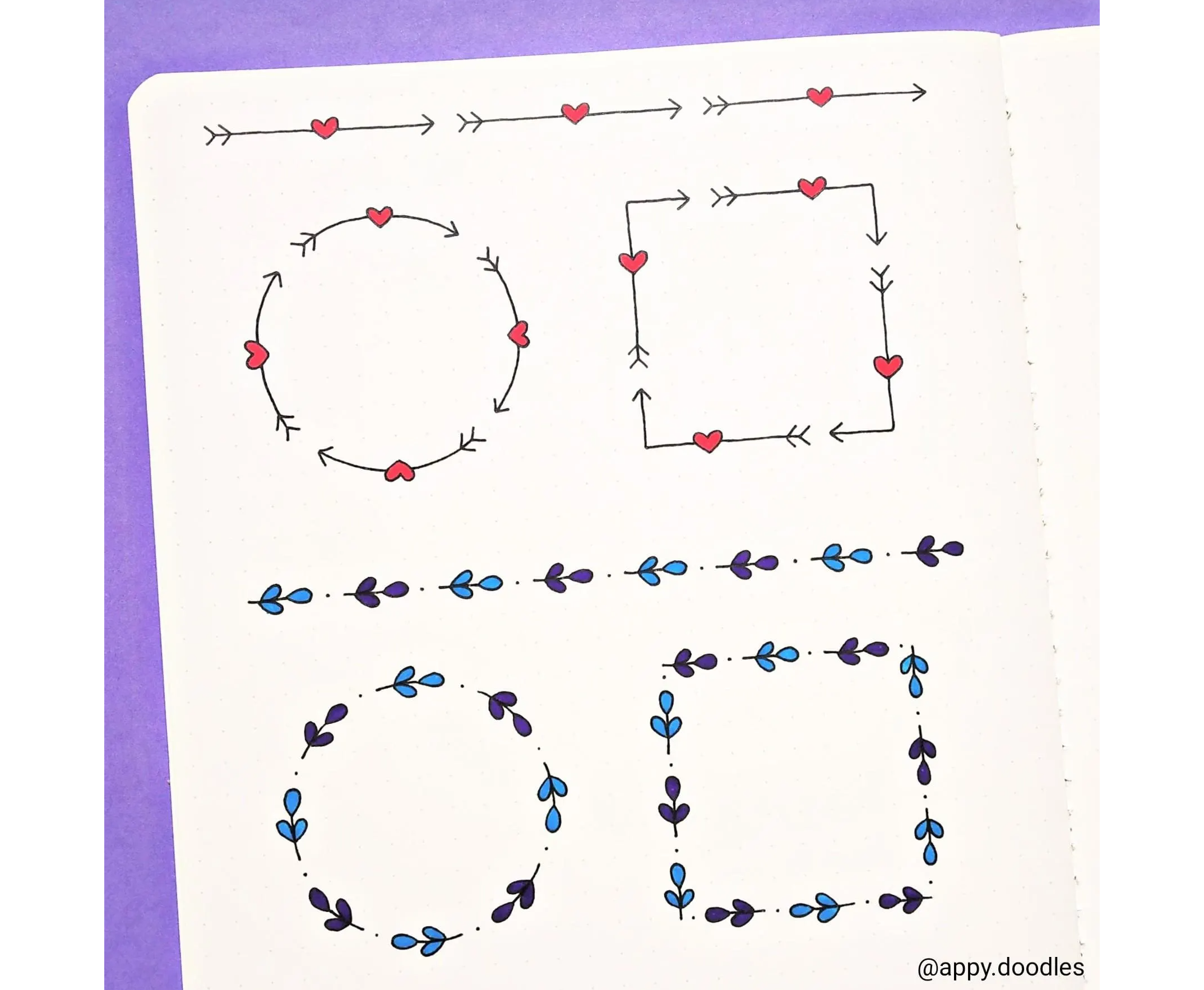 ---
I used this simple idea to decorate my minimal monthly spread of April and I'm really happy with the result. I made a small floral wreath for the header and a matching border on the next page.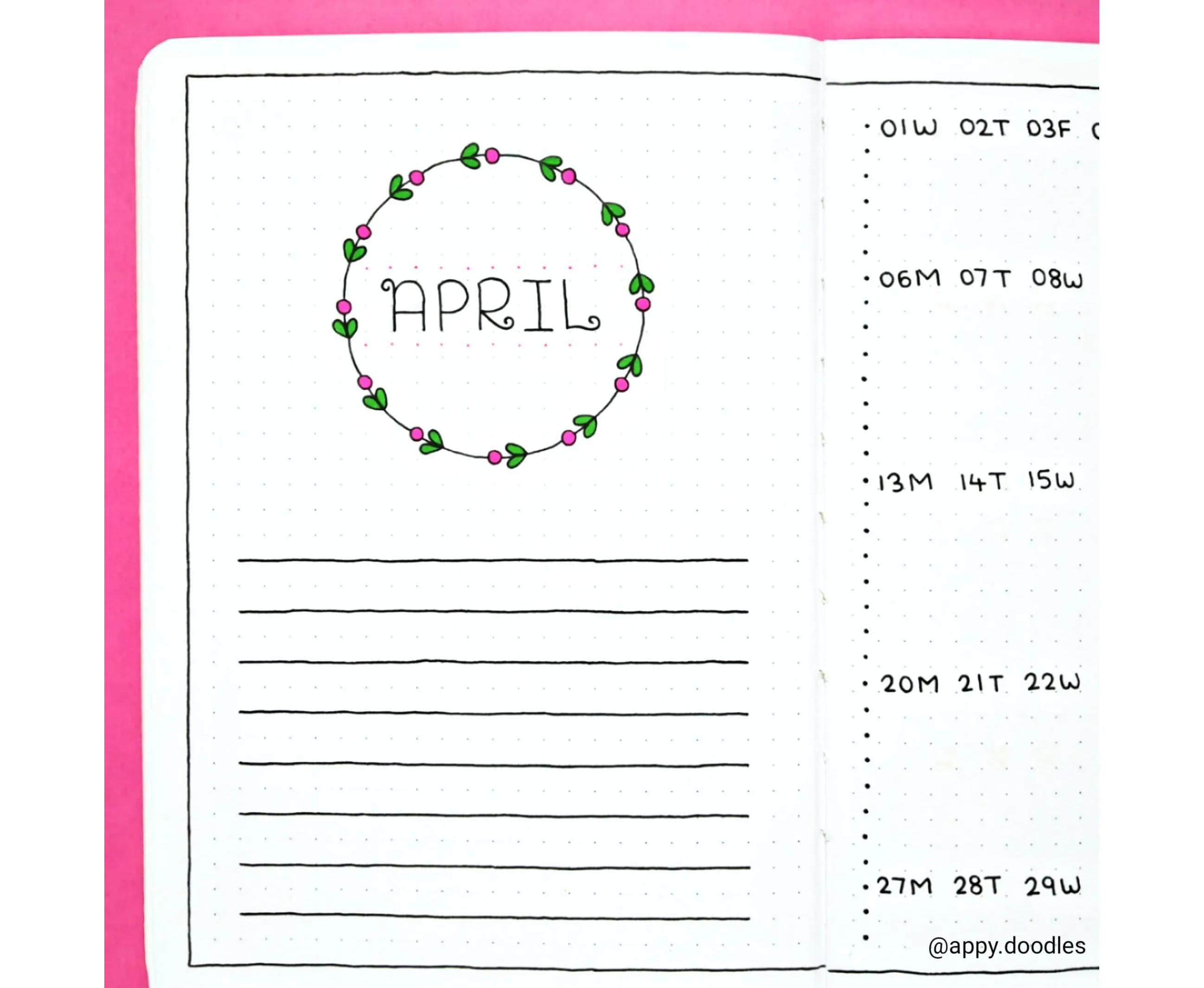 ---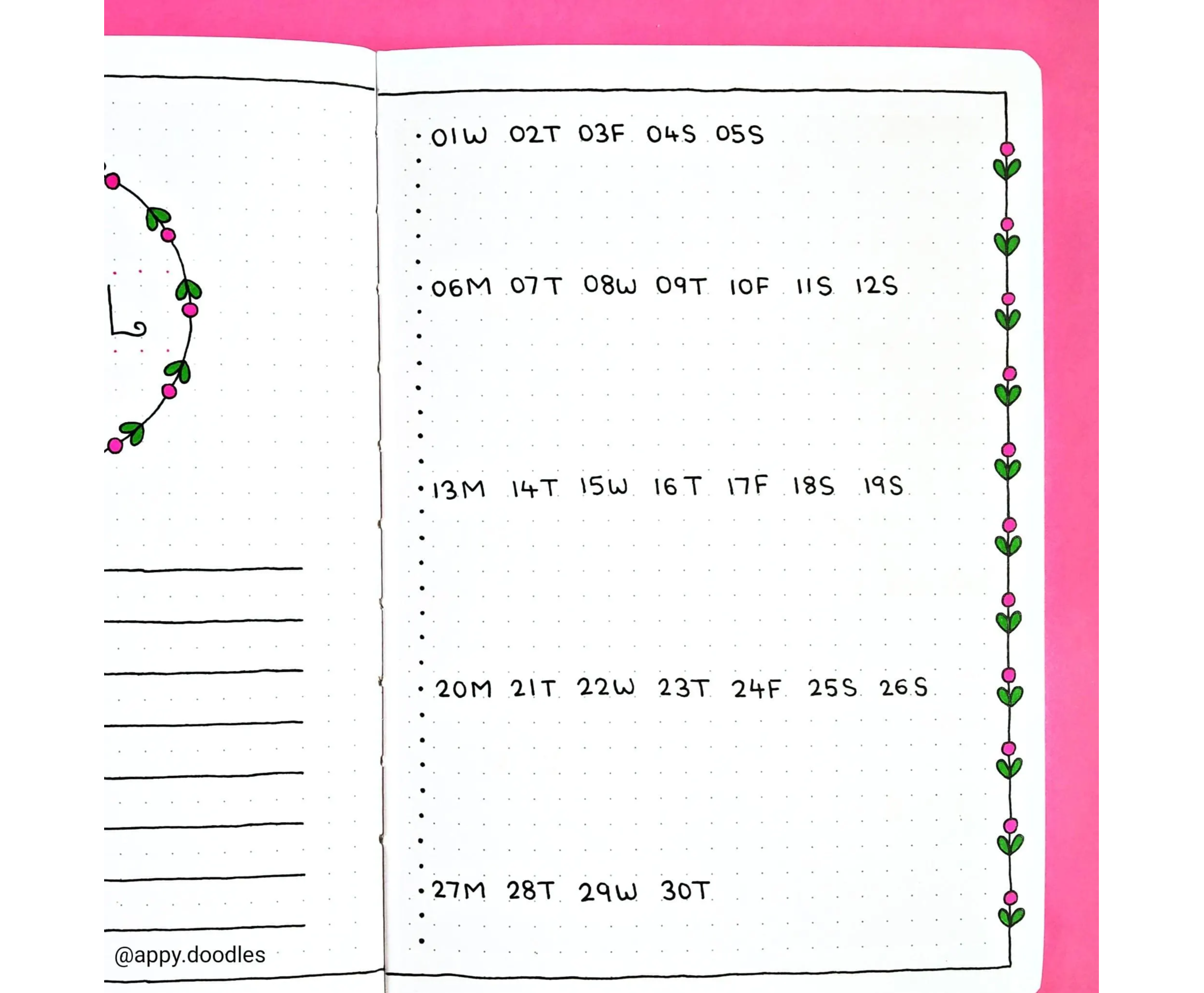 ---
Sometimes I love adding a bit of a subtle style to my bullet journal spreads using geometric borders - a monthly theme idea for you if you are into this type of design. Here are two examples.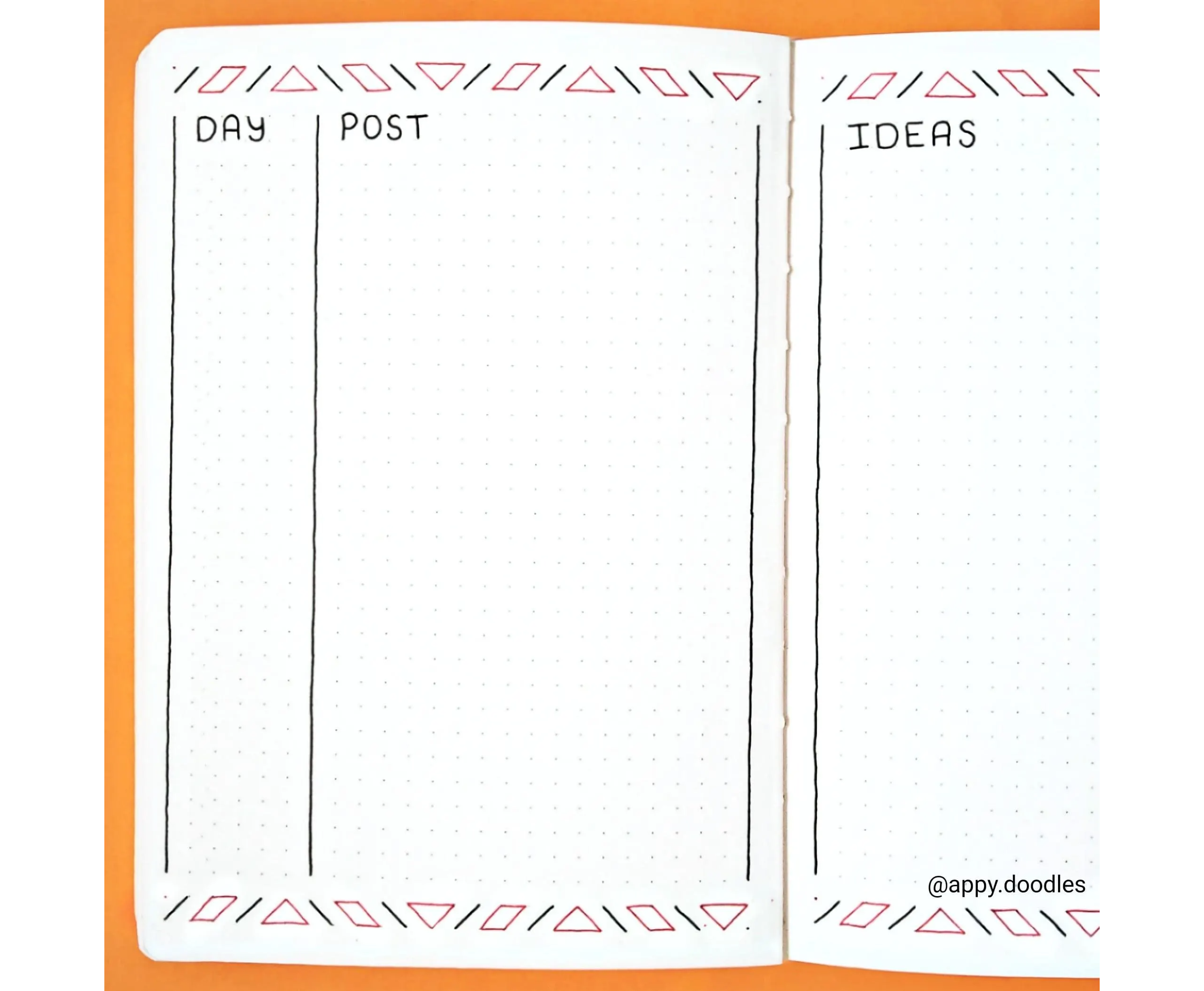 ---
---
---
Aside from bullet journal, you can use doodle borders for decoration in your scrapbook, art journals, diaries, notes, making bookmarks, greeting cards and other diy projects.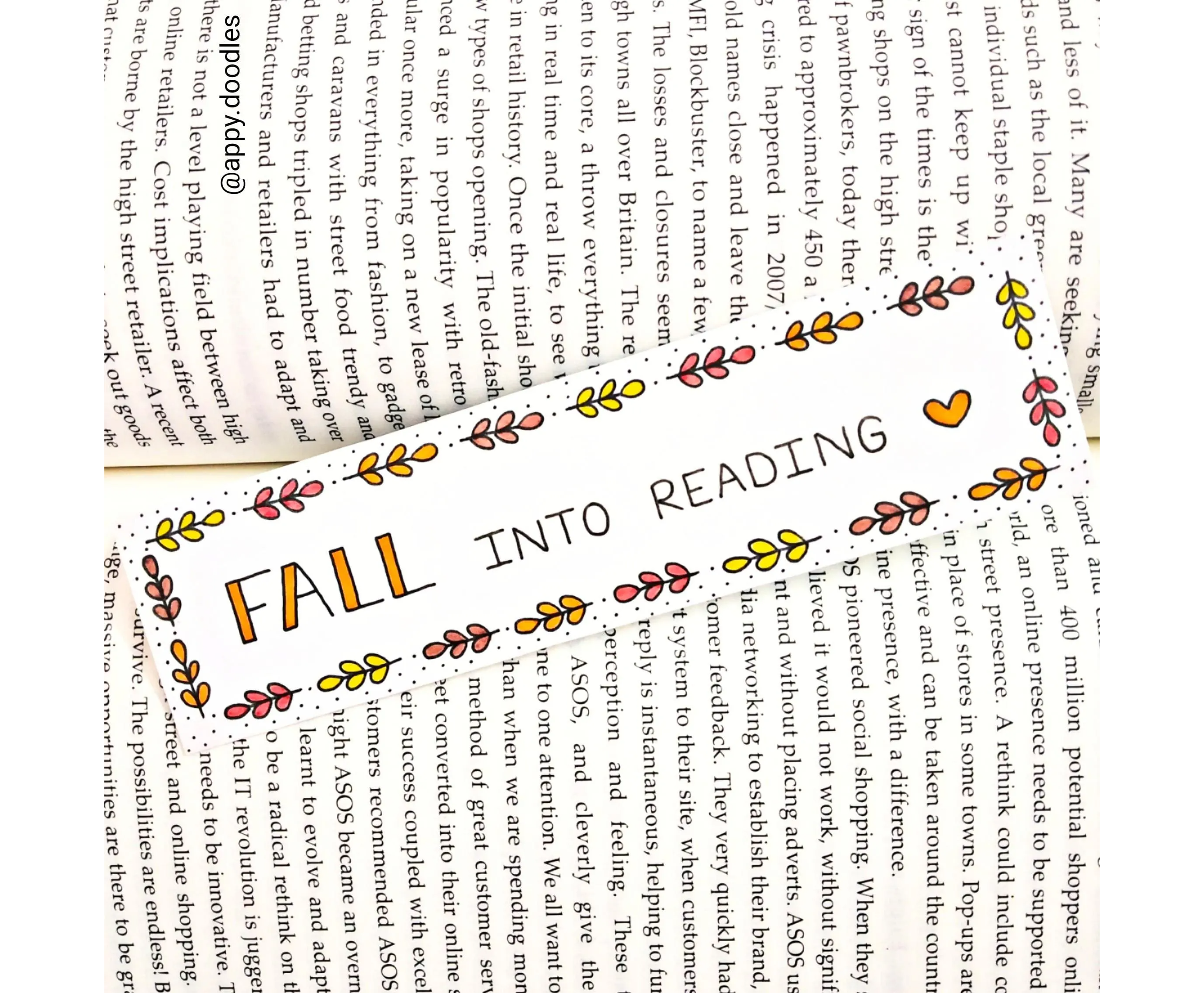 ---
Here's a picture of a fall themed bookmark I made. I decorated it using a border with suitable motifs and colors.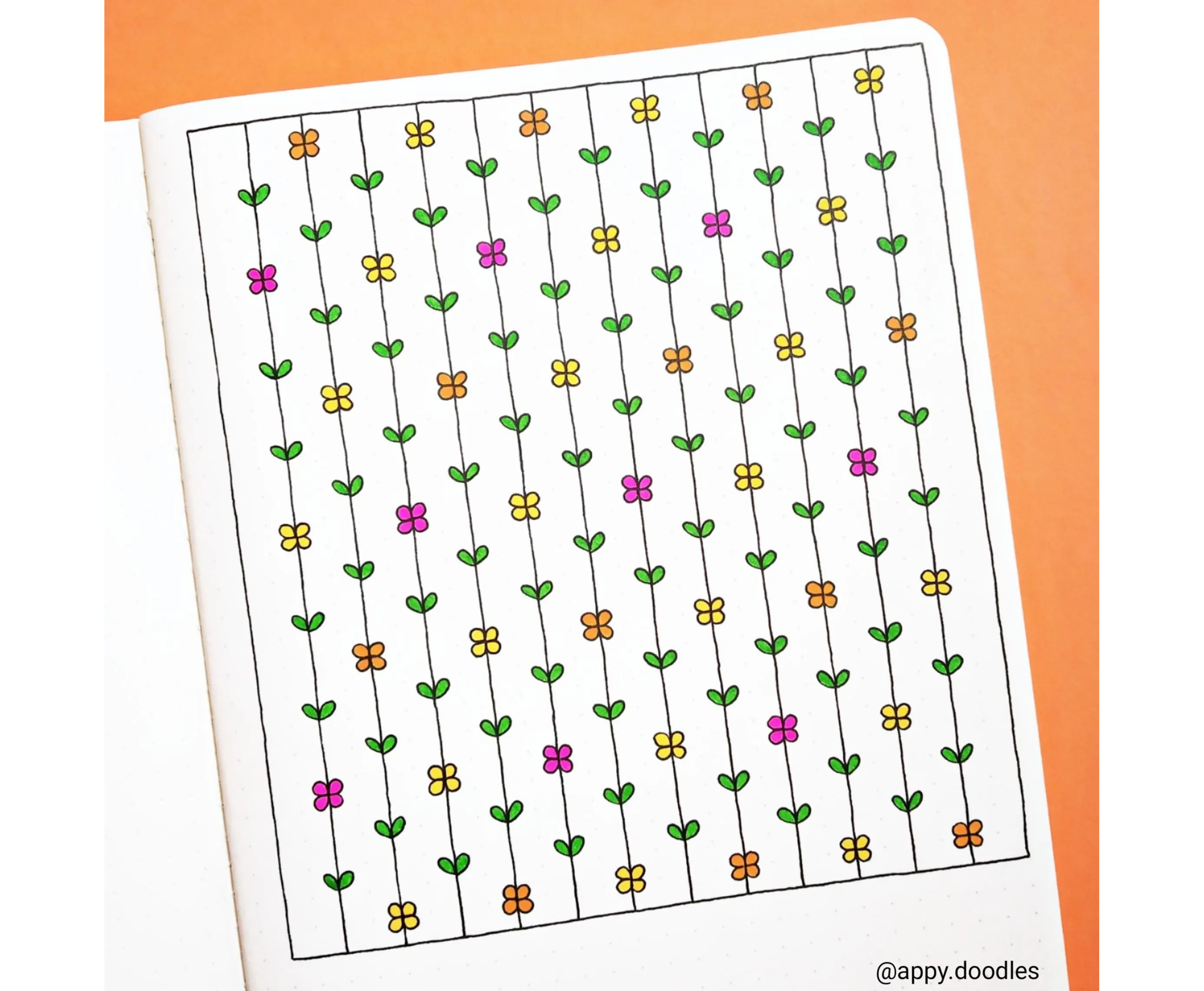 ---
I drew this pattern by making a series of vertical floral borders for coloring in - a fun little activity for you to try out especially when you're bored or stressed. Drawing and coloring in patterns is known to be relaxing and stress relieving. You can also use this idea for decorating or filling in blank pages in your bullet journal.
---
---
I hope this post serves as a helping hand for you to start creating your own doodle borders and bullet journal spreads or encourages you to begin exploring your creativity in general. Remember that simple ideas go a long way.
Here's an inspiring quote on creativity by Maya Angelou - "You can't use up creativity. The more you use, the more you have." Great words to live by.
So keep creating, experimenting, and sharing your ideas to inspire others. And most importantly, have fun!
Did you guys enjoy reading this article and find it useful? If yes, help me spread the love by sharing it with your friends who might find it interesting too. For more doodle ideas and tutorials don't forget to join me on Instagram.
Cheers!
---
About the author
Apurva, aka Appy, is a doodle artist who loves to share creative and fun doodle ideas on her Instagram page @appy.doodles. Her page is mainly dedicated to simple, cute and easy to follow step-by-step doodle tutorials.