Bullet Journal Tips for Beginners
Bullet Journal Tips for Beginners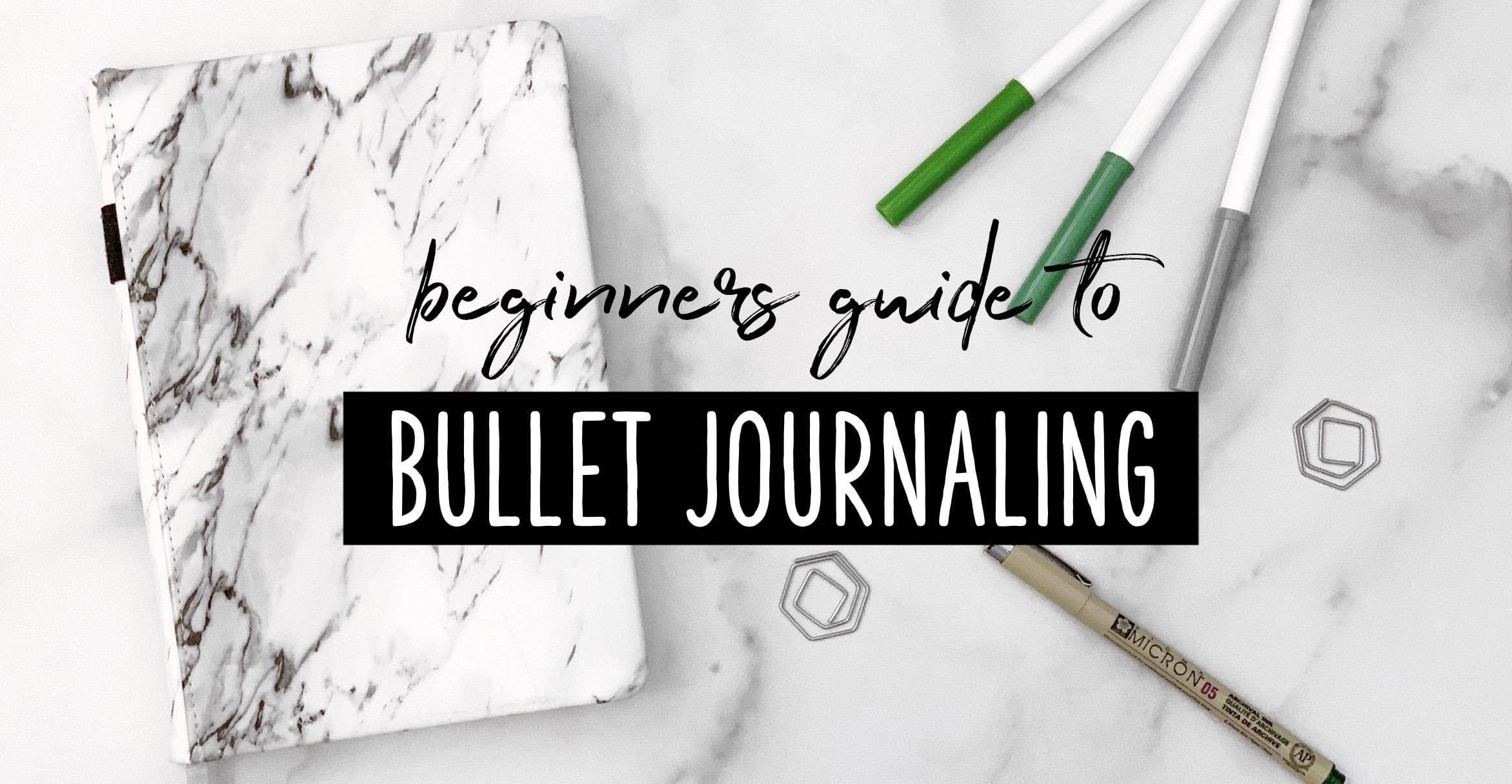 by Lauren Nicole (@bujo.by.lo)
---
If you're someone who loves to plan out every bit of your day but easily gets bored with those plain, old planners, then bullet journaling might be for you! Bullet journaling is a more creative way to plan out your life and allows you to express yourself in more ways than normal planners do. It also gives you more flexibility in what you want to put in your planner. In addition to planning out your weekly tasks, a bullet journal also allows you to track habits or sleep, journal about your day, track your personal goals, and much more.
It can be quite overwhelming trying to start a bullet journal. You may not know much about it, what kinds of spreads to use, what the best bullet journal notebooks are, or what stationery items work best. If bullet journaling sounds like something you'd enjoy, then keep reading for some tips on how to become a bullet journalist!
If this short introduction to bullet journaling isn't enough, then you can also find just about everything you need to know about bullet journaling in our Ultimate Bullet Journaling Guide!
---
---
The first thing you want to do when starting a bullet journal is to find your style. Starting a bullet journal can seem very daunting when you don't know where to begin, so an essential part to keeping a bullet journal that you enjoy using is to determine your style. The best way to find your style is super easy - go on Instagram! There are so many journalists on Instagram and each one of them has a very unique and different style. I found my style by following a bunch of artists that created spreads that were pleasing to me. After a while I noticed that I enjoyed spreads that were more simple, clean, and used primarily one color. Over time, I adapted different techniques and designs from other artists to create my own unique style.
If you feel as though you aren't creative enough to make your own spreads or designs, it's always acceptable to recreate another artist's spreads! I started my bullet journal by recreating spreads from my favorite artists that I followed, and soon enough I was able to create my own designs and layouts. I still to this day get inspiration from a bunch of artists I follow on Instagram. Just remember that if you are recreating another artist's spread, you always want to be sure they are given proper credit if you decide to share your recreation anywhere online.
Finding your style can take quite a bit of time. It took me almost a full year to find my style. So just be patient, and soon enough you will be able to create your own unique spreads that other journalists will want to recreate!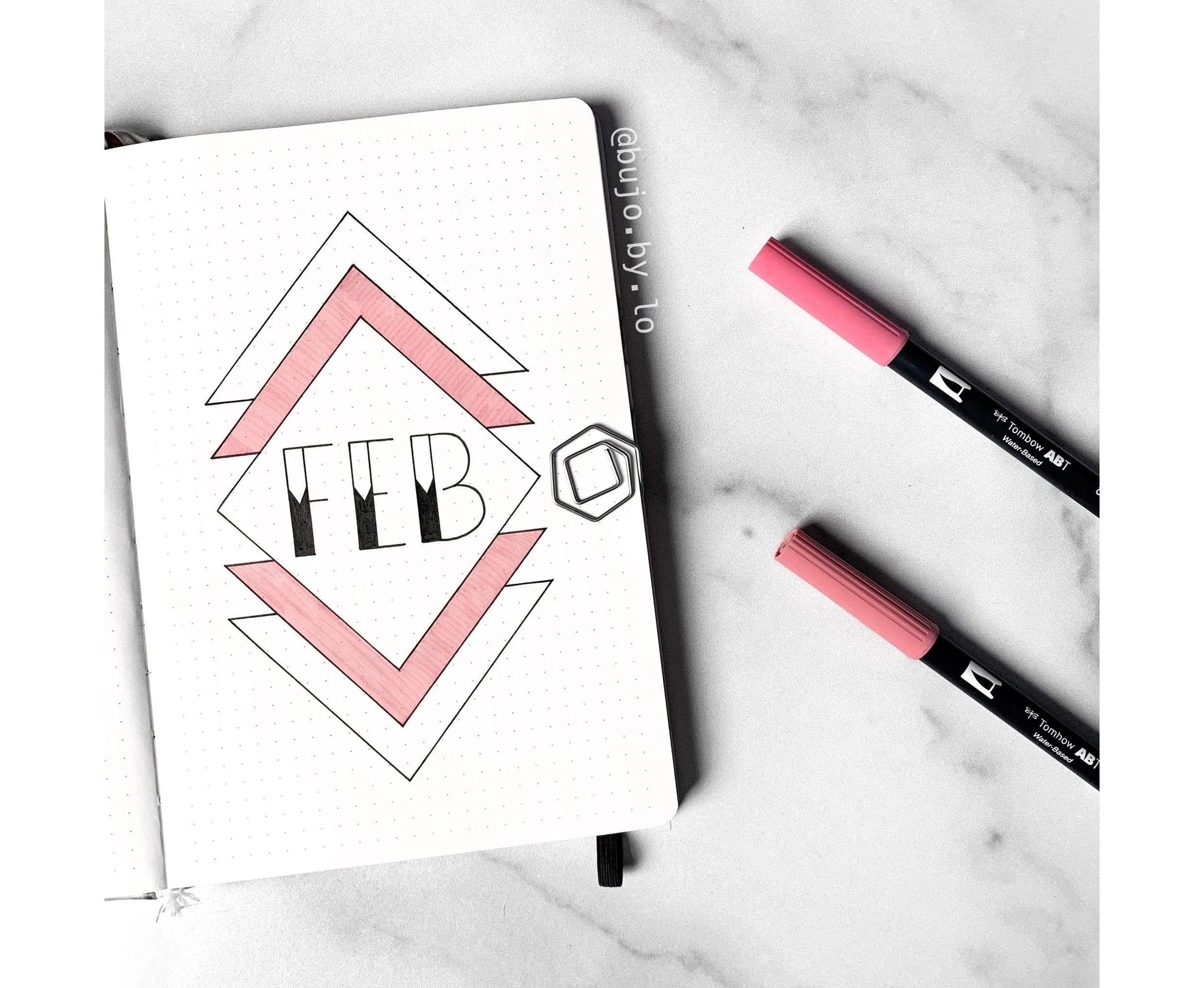 ---
---
Tips and Tricks to Making Clean Spreads
You've probably looked at an artist's bullet journal and thought "how do they make their spreads look so simple and clean?". I definitely thought that when I started my bullet journal, and now I'm here to give you some tips and tricks that have helped me keep my spreads looking clean and effortless.
Use a ruler to make clean lines - The #1 secret to making your spreads look super clean is to use a ruler for any and all straight lines. It may seem excessive and time consuming, but it is always worth it in the end! Having nice, straight lines also attracts the viewer's attention. It's very pleasing to the eye, and best of all, it makes you proud of yourself when you look back on the hard work you put in to make the spread.
Use one color or color family for an entire theme - Using just one color for your theme not only helps you obtain that clean look, but also keeps all the spreads cohesive. Using multiple different colors in a spread can sometimes make it look messy, but that doesn't mean you can't use more than one color. Using different shades of the same color or complimentary colors can still give you a cohesive, clean look.
Utilize white space - Don't be afraid of white space! Keeping white space in your spreads helps give that simple, clean look. It's easy to overdo it and feel like spreads are too "empty", but always remember that less is more! When spreads start to get too cluttered, they tend to lose that "clean" look.
Keep doodles simple - You want to make sure you keep doodles relatively simple. This will ensure that they stay clean and integrate well into your spreads. Your layout and doodles should compliment each other, so if you use more minimal spreads, you also want to keep your doodles simple.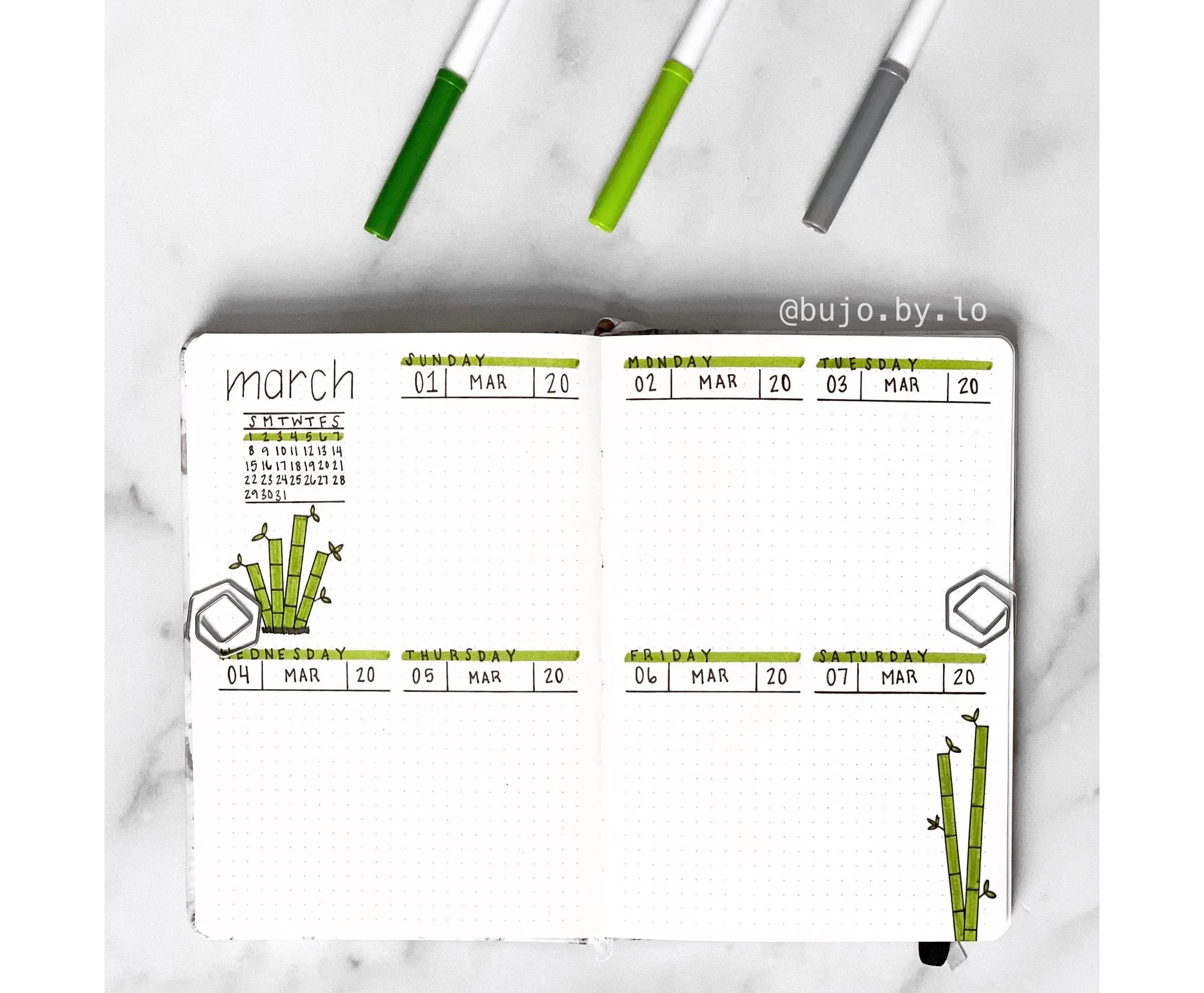 ---
---
The Best Stationery Items for Beginners
In order to start a bullet journal, you'll need a journal and some stationery. It's easy to make yourself believe that you need to use lots of expensive markers, journals, and pens to make the best bullet journal spreads, but I'm here to tell you that is simply not true! I've been journaling for a little over a year and I still always go back to a few specific stationery items. Here are the basic stationery items you will need to start your bullet journal:
Bullet journal - The journal is the most important item you will choose in your bullet journaling journey, so you want to make sure you get a journal that is perfect for you. The standard bullet journal size is the A5 notebook (5.75" x 8.25"), but there is also the smaller A6 notebook (4.12'' wide x 5.75'') as well as the larger A4 notebook (8.27" × 11.69"), so there is a size for everyone! A few of my favorite journals are the Dingbats A5+ dotted notebook, Sulirun 1981 dotted notebook, and Notebook Therapy's Tsuki bullet journal. All of these journals have smooth pages so your markers won't get frayed, and the pages are also thick enough so markers won't bleed through the paper.
Markers - You don't need to go out and purchase those super expensive markers to make great spreads. My favorite markers to use in my bullet journal are Crayola Supertips, Zebra Mildliners, and Tombow Dual Brush Pens. Each one of these markers are super pigmented, have a wide range of colors, and blend really nicely in any type of spread. As a bonus, all three are also really good for calligraphy!
Fineliners - You'll want to have a pen that doesn't smudge or bleed through the paper. Lucky for you, I've tried lots of different pens throughout the past year. So you won't have to waste your money or time to find the best pen, because I have already found two great fineliners! They are the Sakura Pigma Micron Pen (size 05) and Arteza Inkonic Fineliner Pen (size 0.4). Both pens are super pigmented, make consistent lines, don't bleed through the paper, and dry quickly so they won't smudge when using a ruler.
Ruler - In order to get those clean and straight lines, you'll want to get a ruler. If you have a steady hand you may not need a ruler, but if you're someone like me who loves extremely straight lines, then a ruler will become your best friend when you journal. It's best to find a ruler that is see-through and not too long. I've found that using a 6-inch ruler works the best with the standard A5 bullet journals, and a see-through one allows you to make sure you're drawing in the right place!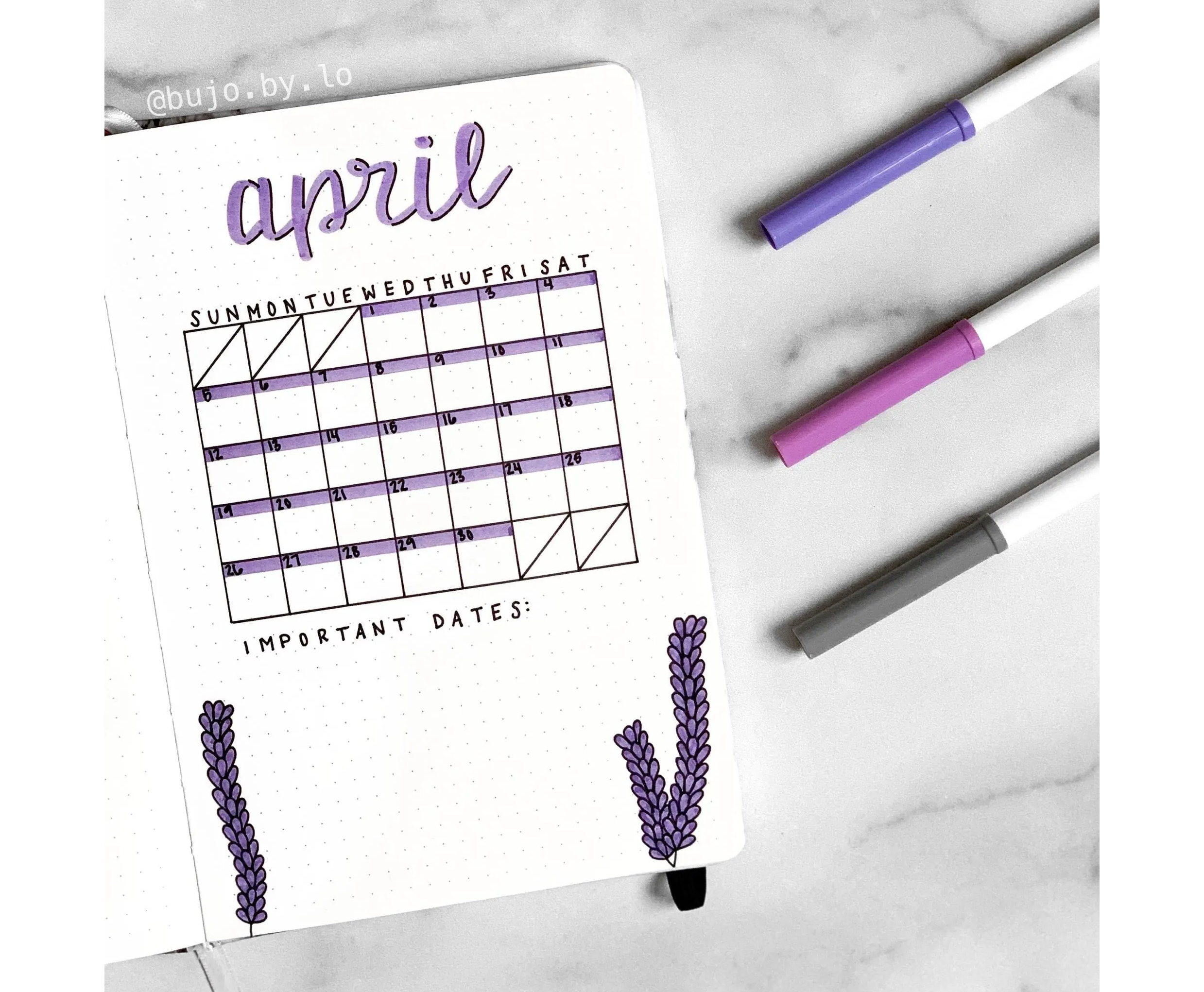 ---
---
Now that you know the basics to becoming a bullet journalist, go get started on your journal! Remember that every artist is unique, so always be proud of what you create. Never get down on yourself if your work doesn't look like everybody else's, because it shouldn't! Be patient with yourself, and soon enough you will get into the groove of bullet journaling and everything will become second nature.
---
About the author
Lauren Black is a 23-year-old American bullet journalist who discovered the bullet journal community back in late 2018. She started sharing her spreads on Instagram (@bujo.by.lo) in February 2019 which has allowed her to create new friendships, inspire other artists, and further develop her artistic skills.