5 fun + creative ways to use gouache paints on your bullet journal
5 fun + creative ways to use gouache paints on your bullet journal


---
Are you looking for ways to incorporate more gouache paintings in your bullet journal? Well you're in luck!! In this blog, I will be sharing my favourite ways to use gouache on bullet journal.😌 But first of all, I want to answer a couple of questions you might have if you're new to the world of gouache!✨
---
What is so special about gouache paint?

Gouache is workable and reworkable like watercolours but can be more intense and pigmented. Because it is water-soluble, you can go back with your brush to soften edges or lift colour even after the paint dries. I personally love using gouache paints for this reason!
Can I paint in a bullet journal?

Paining in a bullet journal is totally possible! If your paper is strong enough to handle paints, you can definitely incorporate some paintings in your bujo. I love using watercolours and gouache paints in my bullet journal - I personally think water-based paints are the best to use on bullet journal but I would recommend going easy on the water. A little goes a long way!
You can paint with watercolour based brush pens such as tombows but if you're looking to step it up, I would definitely try gouache painting. You will need a good quality bullet journal to hold the paints and I would recommend our tsuki bullet journal! Our tsuki paper is 160gsm, perfect for a wide variety of pen types and waterbased paints.
Alright, now that you know the basics… here are my top 5 favourite ways to use gouache paints in my bullet journal!
---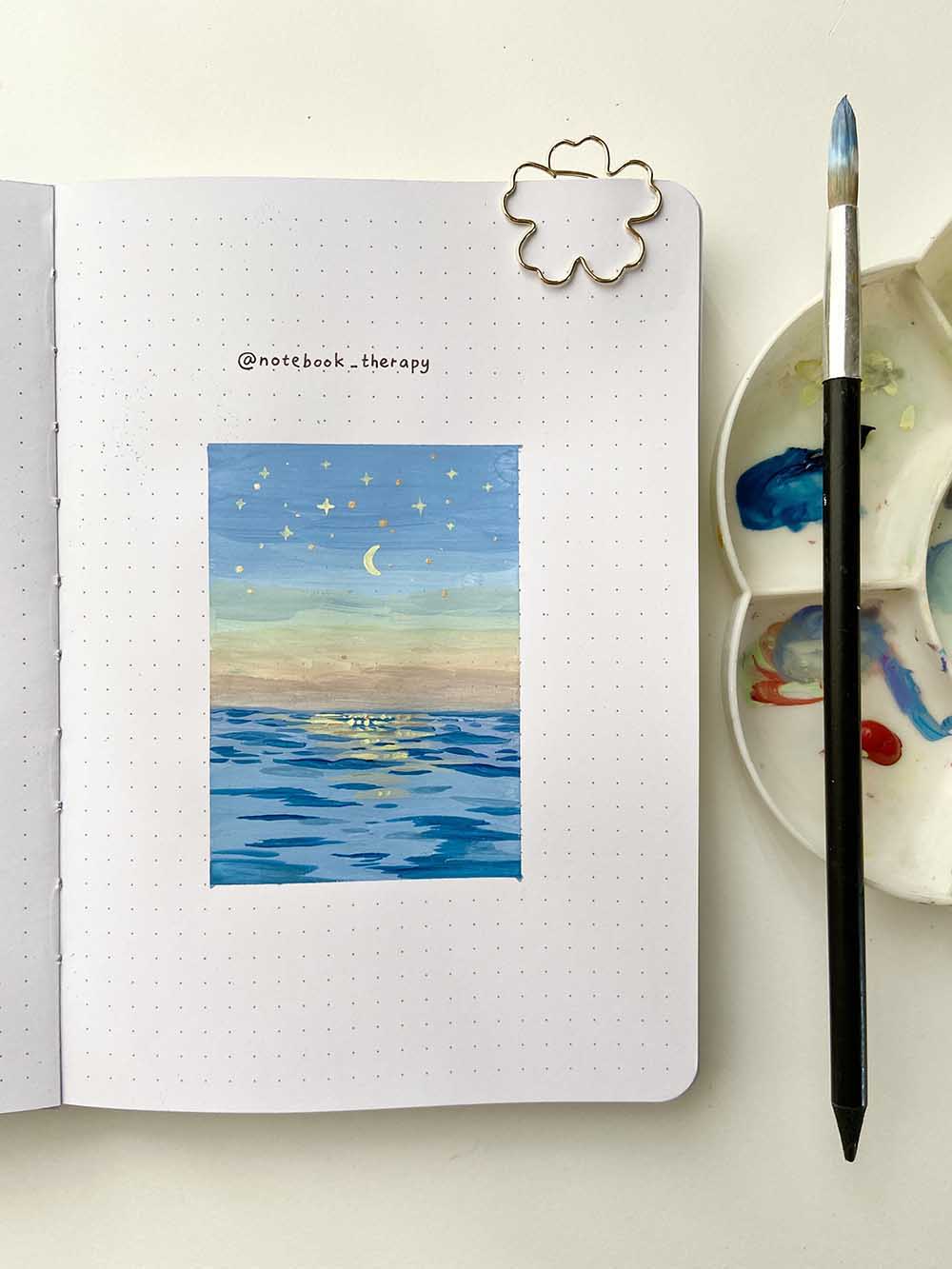 I love painting a scene like because I find it so therapeutic! 😌 You can use paintings like this to break up your pages or to do your monthly cover page. You can definitely get creative with it! I find painting skyscapes and seascapes so calming because you can't go wrong with the brush strokes.🎨 You can get as detailed or as abstract as you want. In this painting, I created a simple skyscape over the sea and I added some sparkly details on the water to show the reflection of the moon and the sparkling stars! ✨
---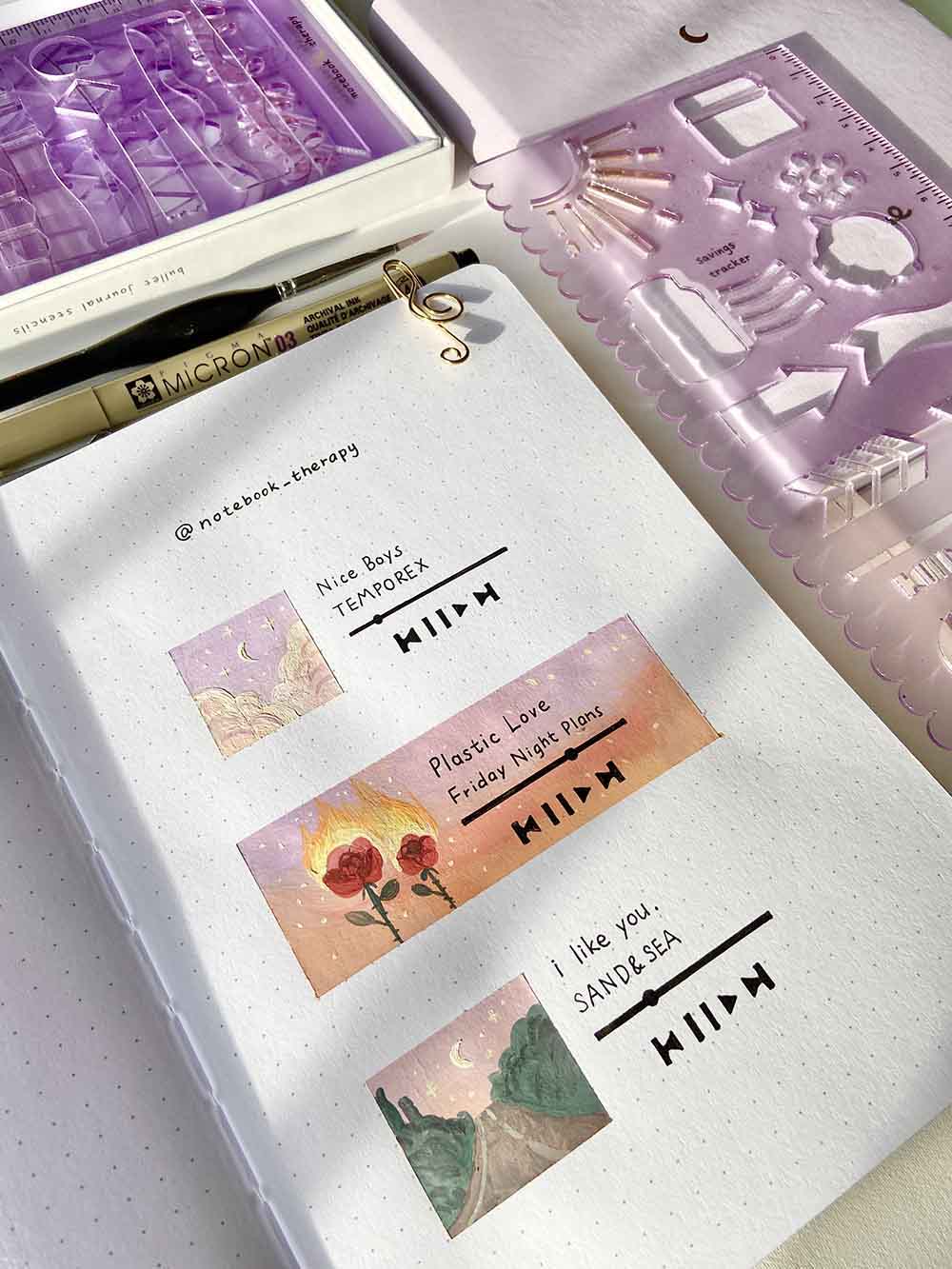 If you're like me and you like keeping track of your favourite songs and artists in your bullet journal then you will want to try this! I used gouache paints to paint the little "album covers" for each song. It's such a fun way to introduce yourself to gouache paints as well as you can work quite small with these.
---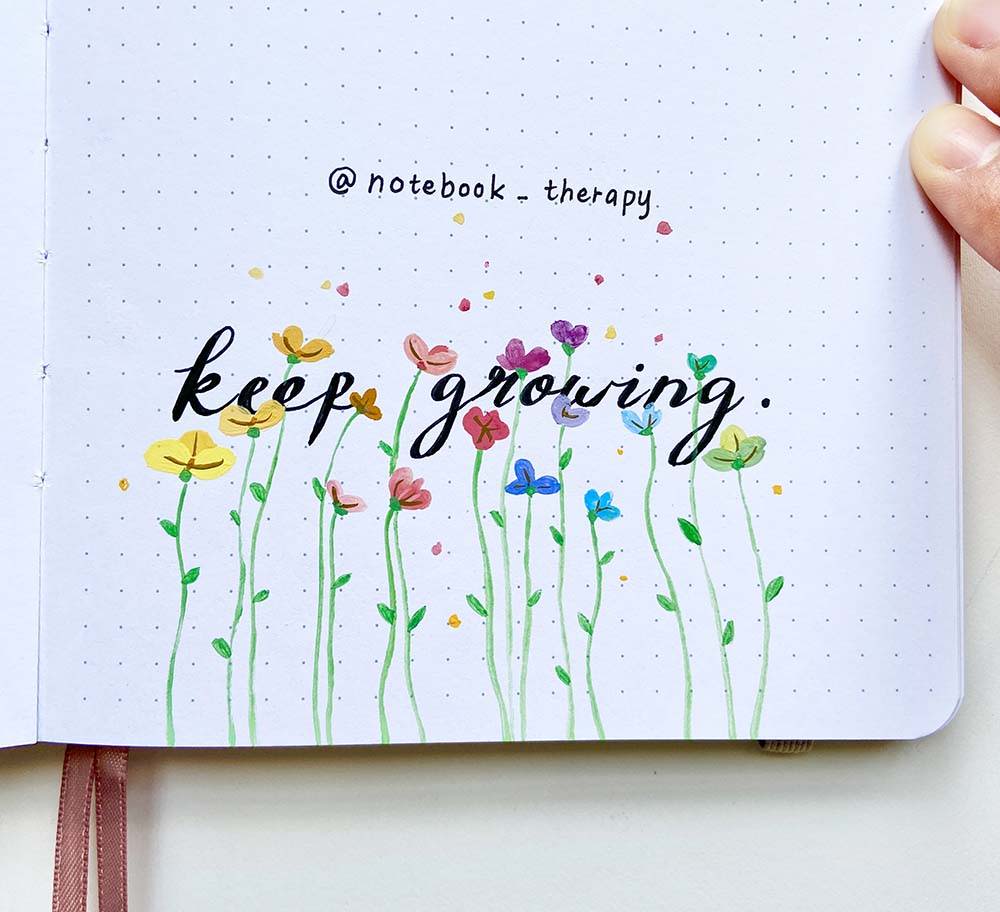 Another one of my must-have pages in my bullet journal is a quote page! It's so simple and it's a great way to break up your pages from all the heavy, loaded information you might have in it! It's also just another good excuse to get creative! For this page, I wanted to try out some simple flowers.
Flowers are one of the best subjects you can start off with as a gouache beginner as they are very simple and they're very forgiving even if you mess up the petals and the stems it will still look natural!
---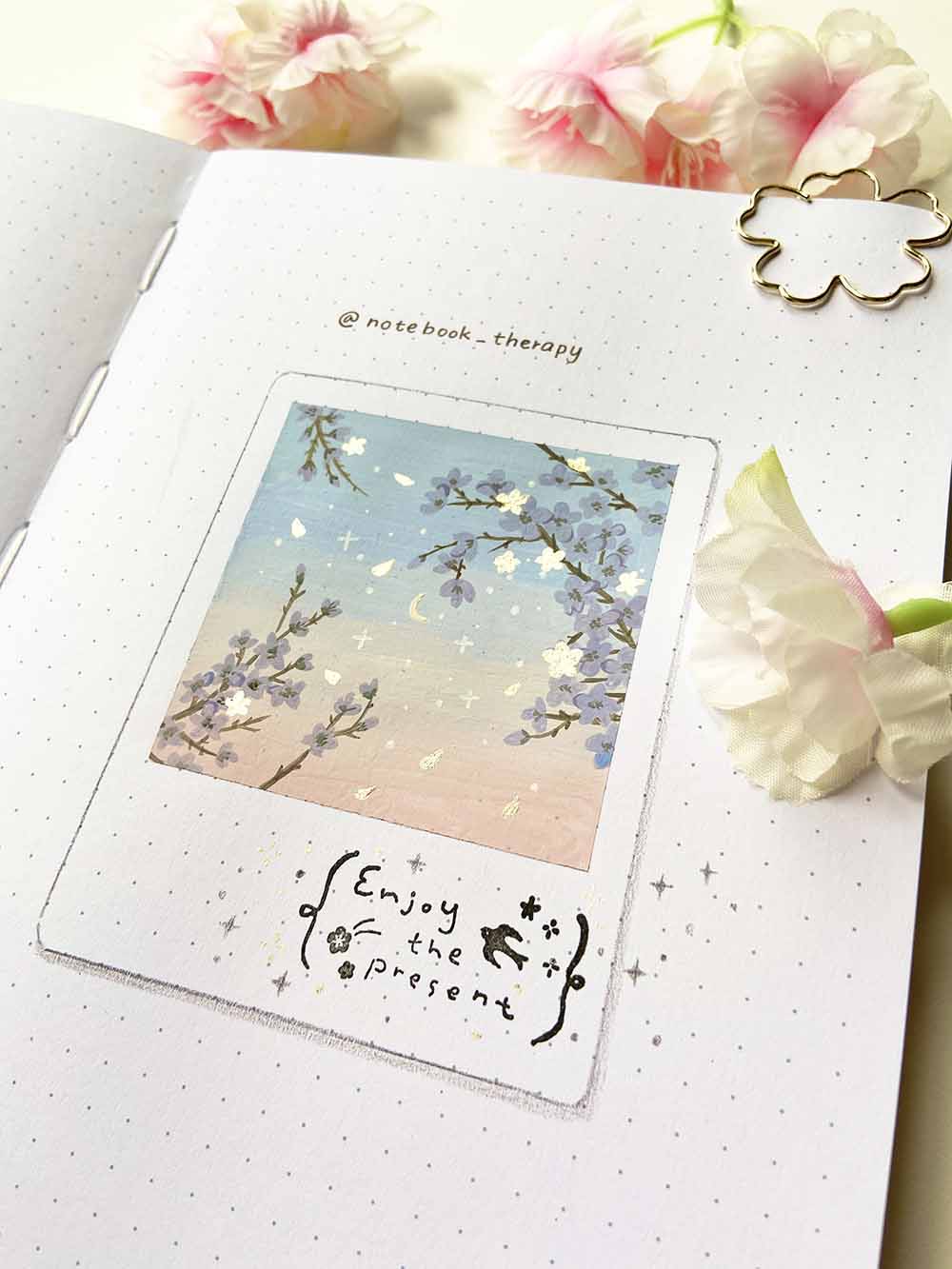 If you love taking polaroid pictures, you will love painting them as well! For this I painted a gradient sky, I love mixing blues and oranges together to create a sunset background. I then added some flowers in the foreground and some sparkles!
---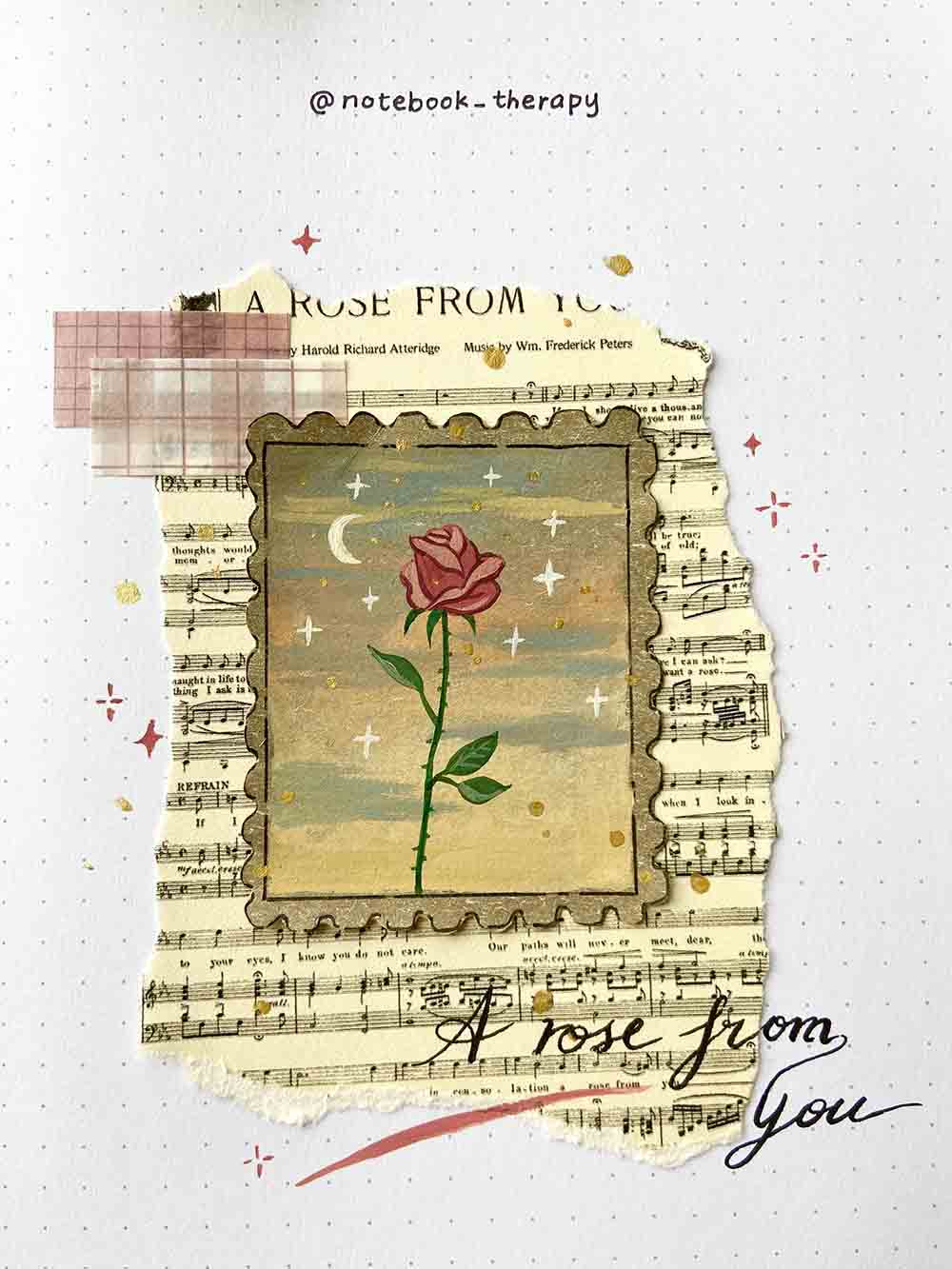 If you want to step it up even further, I would recommend incorporating some scrapbook paper for a collage effect! This is also perfect for those of you who might not have a 160gsm bullet journal yet, so you can paint on stronger paper and stick it on your bullet journal for a collage effect!
Those are my top 5 fun ways to use gouache paints on your bullet journal. I hope you found this helpful and inspiring!! ✨ If you're looking for more ideas, why not check out our top 10 rose themed bullet journal spread ideas?
---
---