Tips on How to Start a Successful Bullet Journal Instagram
Tips on How to Start a Successful Bullet Journal Instagram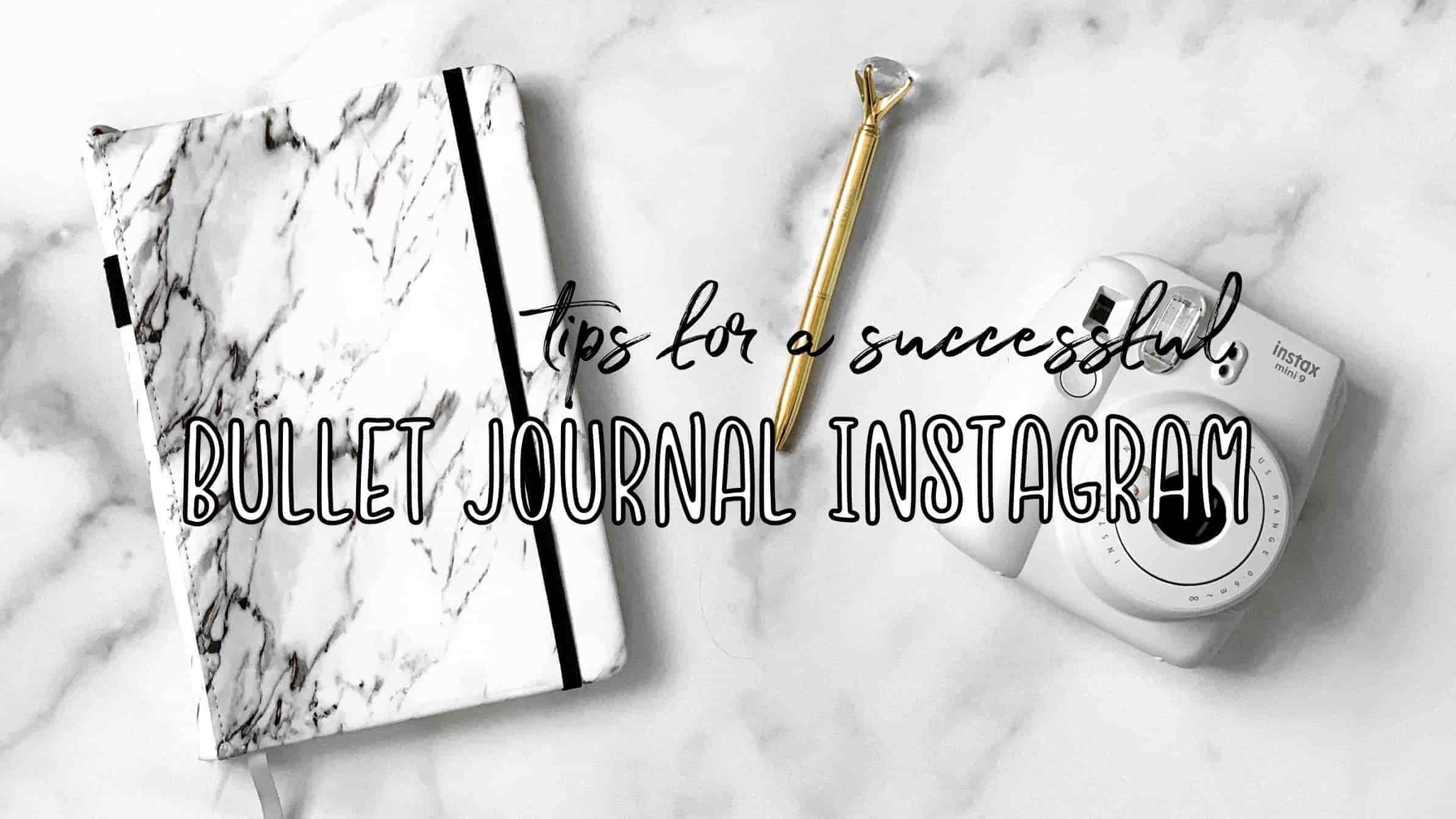 ---
You may have already heard about the many reasons why you should bullet journal, but have you ever thought about using bullet journalling to create your own social media following?
If you've ever wanted to start an Instagram page for your BuJo art or bullet journal spreads but had no idea where to start, then you're not alone. I was in that same position a year ago, and now I'm here to share my top 10 tips to having a successful art Instagram page. The Instagram algorithm can be a tricky thing to master, but following these few tips can help you reach your dream of sharing your art with the world and inspiring fellow artists.
---
1. Choose a Relevant but Unique Username
The key to attracting the right people to your Instagram page is to have a unique and relevant username. You want your handle to be unique but also let followers know what your page is about. If your username doesn't easily describe what your page represents, then people likely won't click on it. It's also best to have a username that isn't similar to anyone else's, otherwise your Instagram can get lost behind the larger pages that carry a similar handle.
Bullet Journal Name Ideas: For example, I chose "@bujo.by.lo" for my page because it's not only simple and straightforward, but most people who are interested in bullet journaling will immediately know that my page showcases bullet journal spreads based on the shortened "BuJo" acronym. Additionally, I added my name onto the end so people will know that everything I post is my own personal and unique content.
---
2. Follow Other Bullet Journal Instagram Accounts
It's highly important to do one simple thing in order to get more exposure within the bullet journal community on Instagram - follow other bullet journal accounts! Creating genuine relationships with other artists will help to increase your exposure to the right audience. Artists in the bullet journal community love supporting each other, so never be afraid to reach out to them! It can be a little difficult to find the right art community on Instagram, so the best way to find bullet journalists is to search bullet journal hashtags like #bujo, #bulletjournal, etc.
Bullet Journal Instagram Accounts to Follow
Everyone will have their own preference for BuJo accounts that they like to follow, but here are some that I absolutely adore! You can check them out for inspiration or just use them to find other bullet journal insta accounts that are more your cup of tea: @whimsical.doodles and @_coffeeandsarcasm_. And of course I always check out @notebook_therapy to not only see what cute spreads they create and their new product releases, but also see amazing reposts of other bullet journal artists.
---
3. Engage With Other Bullet Journal Artists
An effective way to build those relationships with other artists is to engage with their posts! Leave genuine comments on other bullet journal artists' pictures and share their art in your stories. Also be sure to respond to comments on your own posts. Interacting with your followers on your own posts shows them that you appreciate their support and will lead them to liking/commenting on more of your posts. It's important to engage with your audience on your own posts within the first hour of posting. This allows Instagram's algorithm to view your post as "important" and will push it to the top of your other followers timelines.
---
4. Keep Your Bullet Journal Images Simple
It's important to make sure your background or props don't take away from the main subject of your photos - your bullet journal spreads! You don't want to have a busy background or too many props around your journal spread, otherwise your photo will look overcrowded and it won't grab your viewer's attention. Alternatively, you don't want your pictures to be too empty because then they can end up looking too "boring". It's always best to use a background with a simple design and a few stationery props surrounding your spread. This way they won't steal the attention away from your spreads. You want your spreads to be the star of the show and not overshadowed by what surrounds them.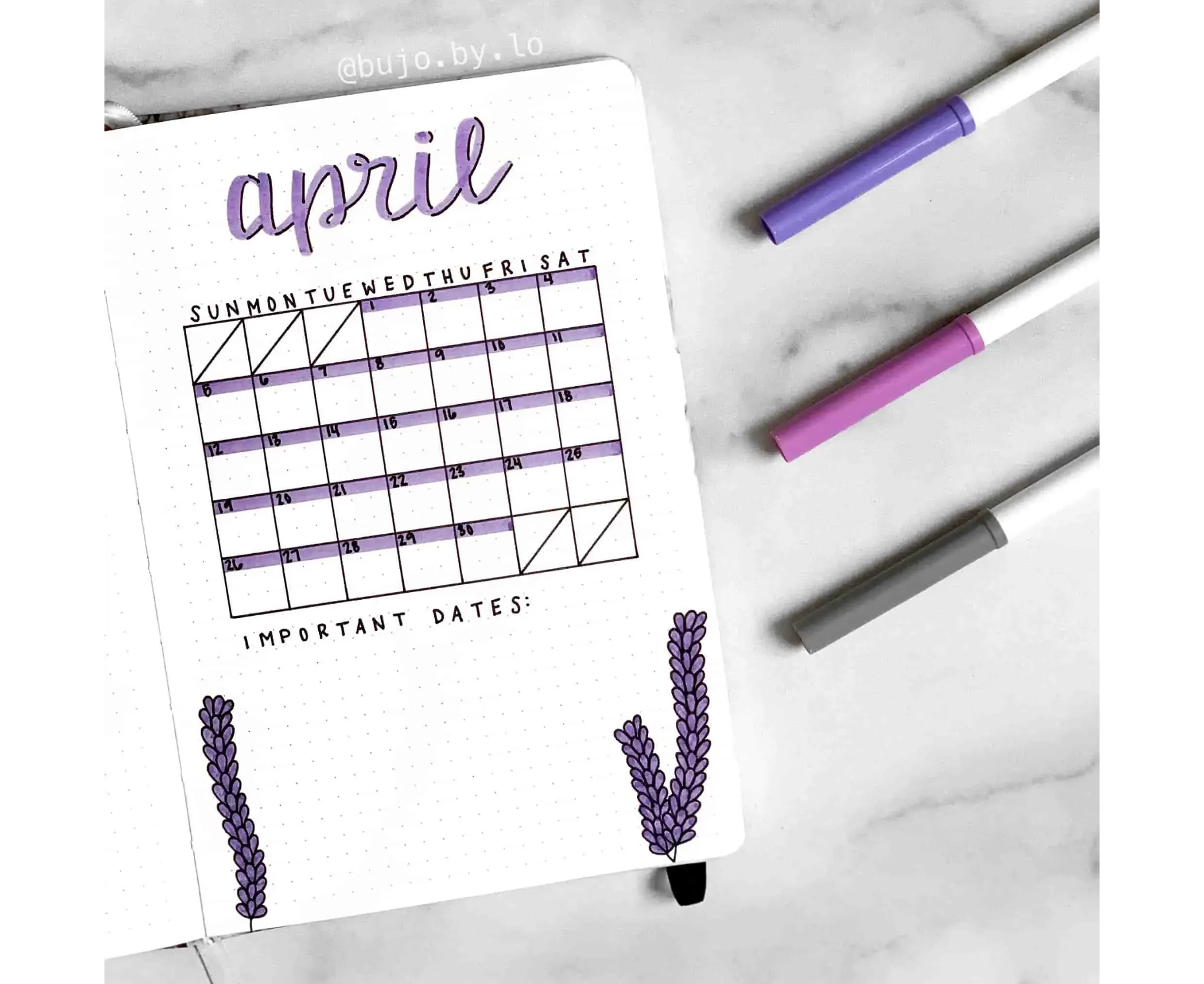 ---
5. Make Your Photos Bright and Captivating
Bright images tend to grab more attention and get more likes than their darker counterparts, so be sure to make your photos nice and bright. An easy way to get bright pictures is to use natural light. Natural light will make sure your photos don't end up looking artificial, which studio lights can often do. You also won't get those awkward shadows that can come up when using ceiling or studio lights. Utilize editing apps to brighten your photos even more! There are so many editing apps you can use to increase exposure, enhance colors, whiten backgrounds, and much more in order to make your photos more appealing.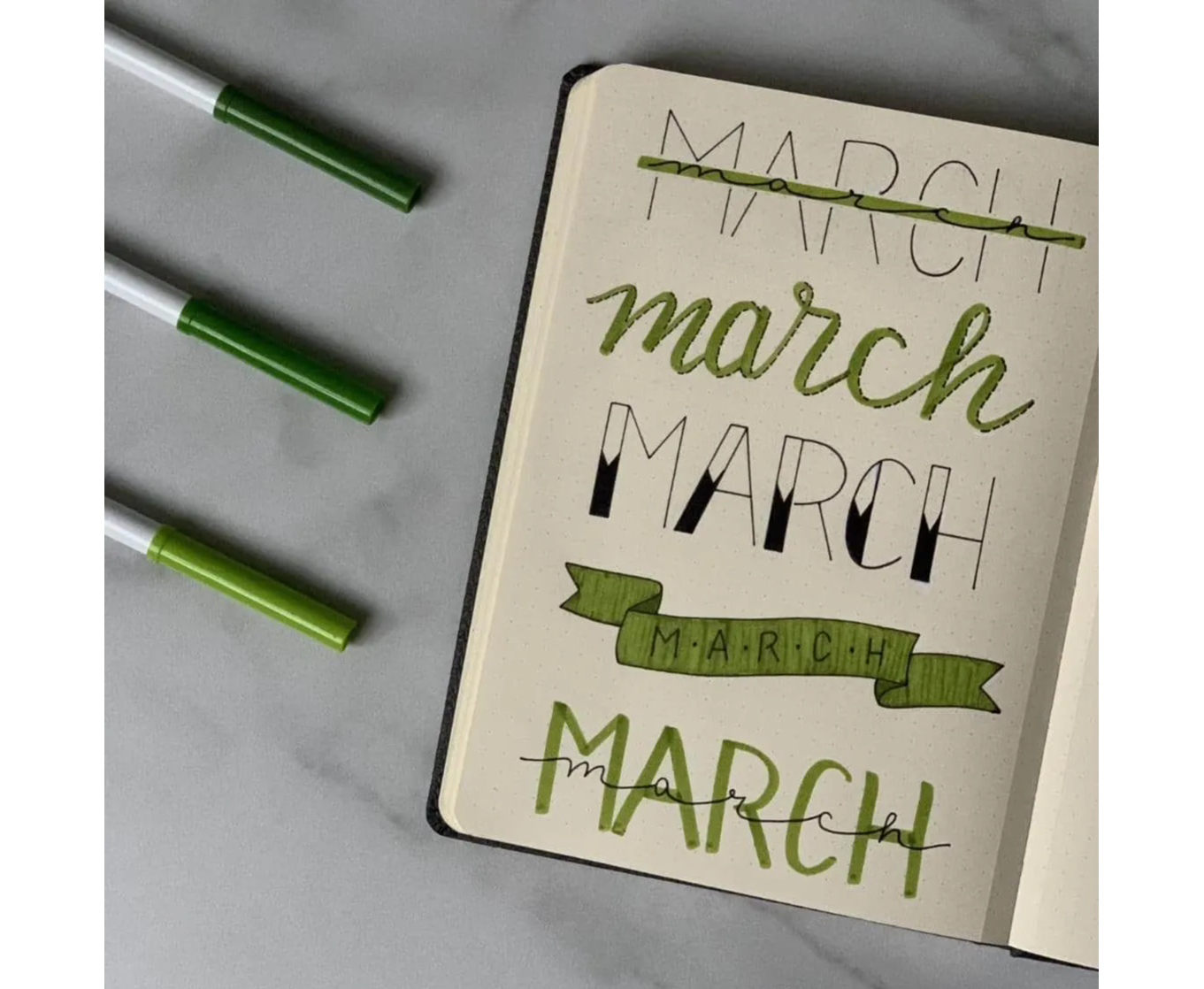 Increasing Exposure and Enhancing Color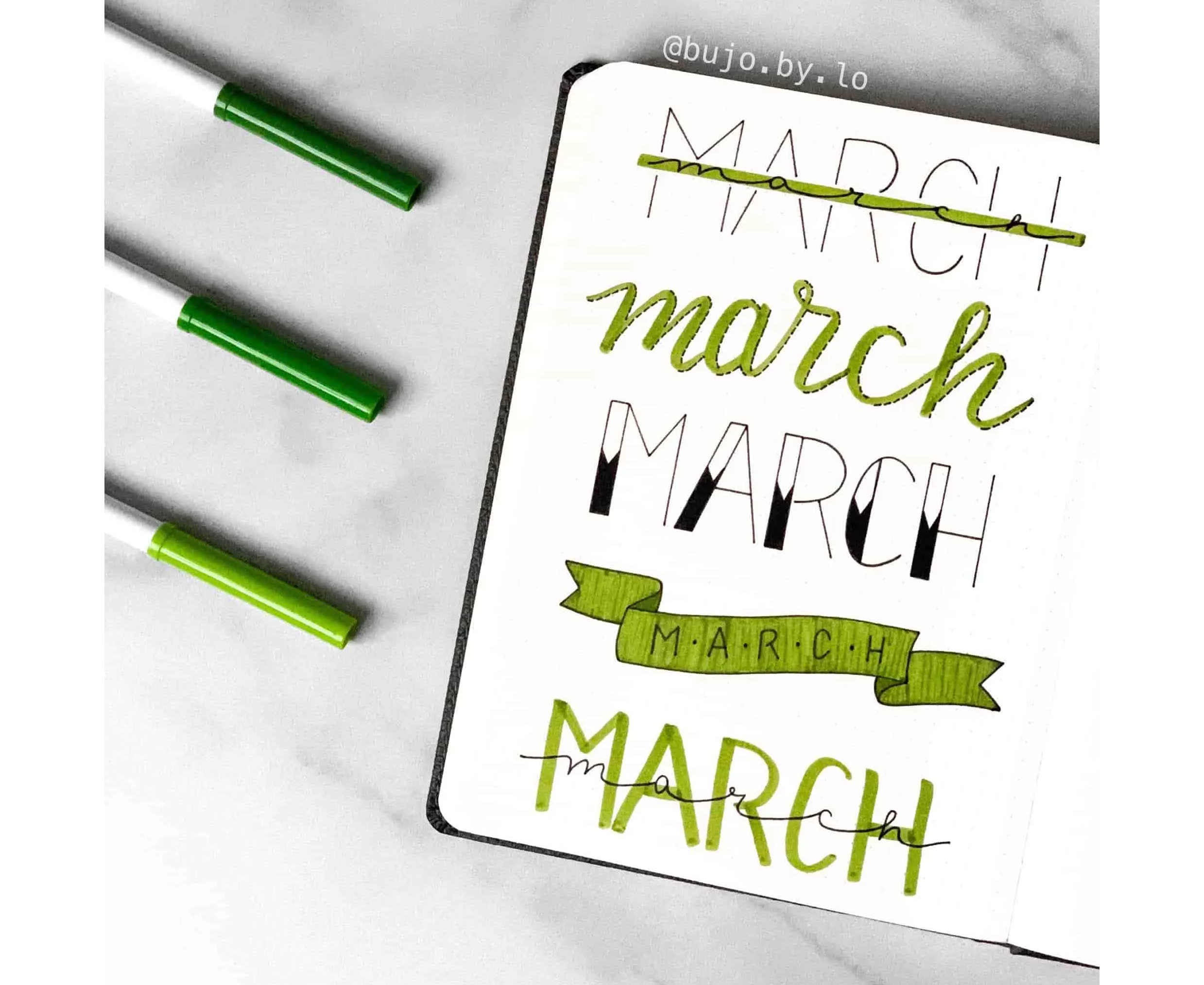 ---
---
The best way to interact with your followers and increase your engagement is to use captivating descriptions in your posts. Use captions that include a question to guide people to responding in the comments. Ask how your followers have been feeling, talk about your day, or ask your followers for ideas on new spreads. No matter what you talk about, just try to use a caption that will attract people to the comments section. Also try to keep your captions relatively short, otherwise people may not read through the entire post if it's too long. Lastly, you should try to keep the descriptions relevant to bullet journaling as much as possible. Keeping a theme throughout your captions is key to establishing a familiar voice that grows with your account.
---
---
7. Use Relevant Bullet Journaling Hashtags
Artists are always looking at bullet journal related hashtags to find inspiration or new people to follow, so be sure to use as many as possible in each of your posts. It's important to keep the hashtags relevant to bullet journaling, otherwise you won't attract the correct audience. You also want to make sure you are using a mix of hashtags in terms of its number of uses. Contrary to what you may think, it's not necessarily good to use all hashtags that have over a million uses because there's a good chance that your post won't be anywhere near the top of that page. Instead, use a few hashtags that have a lower number of uses to give you a better chance at being listed higher on those pages. This will allow you to have a higher chance at being found by other artists.
---
---
8. Post Often and Plan Ahead
In order to gain maximum exposure, you're going to want to post once a day or at least every other day. I have found that my views and engagement are worse on days I don't post than on days I do post (it's best to switch your profile to a business account so you will be able to see your audience analytics for each day). If you're going to post once a day, then it's wise to plan your posts at least a couple days ahead so you're not overwhelmed trying to get spreads and photos ready every single day. The best way to do this is to choose a day to take a bunch of pictures and edit them all at one time. This way you can eliminate that daily stress and have multiple posts ready for the entire week. I know it can be a bit discouraging when your posts aren't getting as much attention as you'd hope. But like I said before, your engagement will drop if you stop posting, so be patient and don't give up!
I've added a couple of ideas below that make planning content a lot easier. You don't have to use these, but they can be a useful way to start planning out a posting schedule!
Post Bullet Journal Weekly Spreads to Instagram
Posting weekly spreads to Instagram can be a great way to add structure to your account and keep your followers checking in with what you're doing. You can post weekly spreads that hit different goal-oriented themes like habit tracking and health tracking or you can look at different artistic themes such as seasons, colour palettes or settings. You'll keep your account fresh, give your followers plenty of inspiration and keep things exciting for yourself too!
Instagram Journal Inspiration
Finding other bullet journal instagram accounts that you use for inspiration can be a great source of content. Why not try replicating some of your favourite BuJo spreads and designs and sharing these with your followers. If you credit the artist that originally inspired you in your post, you're helping keep the community super positive too.
Ask The Bullet Journalist
Another awesome content idea is to have a regular 'Ask The Bullet Journalist' section in your story or as a post. You can give your followers the opportunity to interact with you by asking how you achieved a particular effect on your spread, how you keep on top of your bullet journaling, how you choose your colour palettes, etc.
---
---
9. Make Your Bullet Journal Page Cohesive
The successful pages are those that have an aesthetically pleasing, cohesive feed. Two important steps to take in order to achieve a cohesive feed is 1) use the same editing technique for each picture and 2) use the same background in every picture. Using the same filters and background in each picture will help them blend together nicely on your feed. If you don't have any nice floors, tables, or counters for your background, then go out and buy one! I purchased a marble background to help give my pictures a simple, elegant look. You'll want to choose a background that fits your style, but just make sure you get one that enhances your bullet journal spread and doesn't pull attention away from it.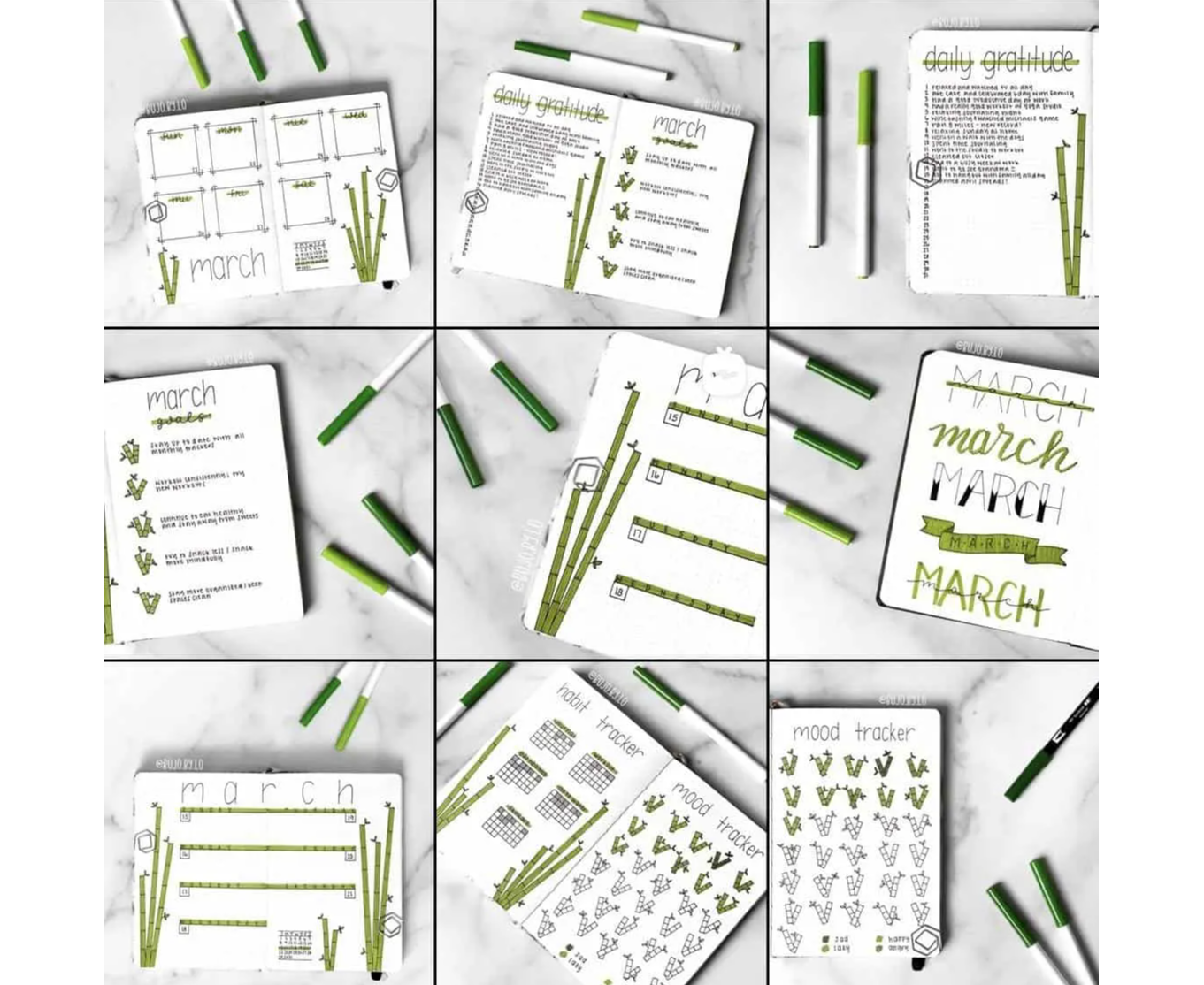 ---
---
10. Stay True to Yourself
While all the previous tips can help you have a successful bullet journal instagram page, always make sure you are staying true to yourself and your style. Don't change your art style just to gain more likes or followers because it will end up just being a burden and won't be enjoyable anymore. Also, if your only intention for starting an Instagram page is to get "insta-famous" then you won't have very much success, so make sure you're sharing your art for the right reasons. Sharing your art with others is supposed to be a fun hobby, so post whatever makes you happy! It's also extremely important to not compare your work to others. Everyone has their own unique style, so always remember that your work shouldn't look exactly like anyone else's.
---
---
About the author
Lauren Black is a 23-year-old American bullet journalist who discovered the bullet journal community back in late 2018. She started sharing her spreads on Instagram (@bujo.by.lo) in February 2019 which has allowed her to create new friendships, inspire other artists, and further develop her artistic skills.