Cute Japanese Stationery Must-Haves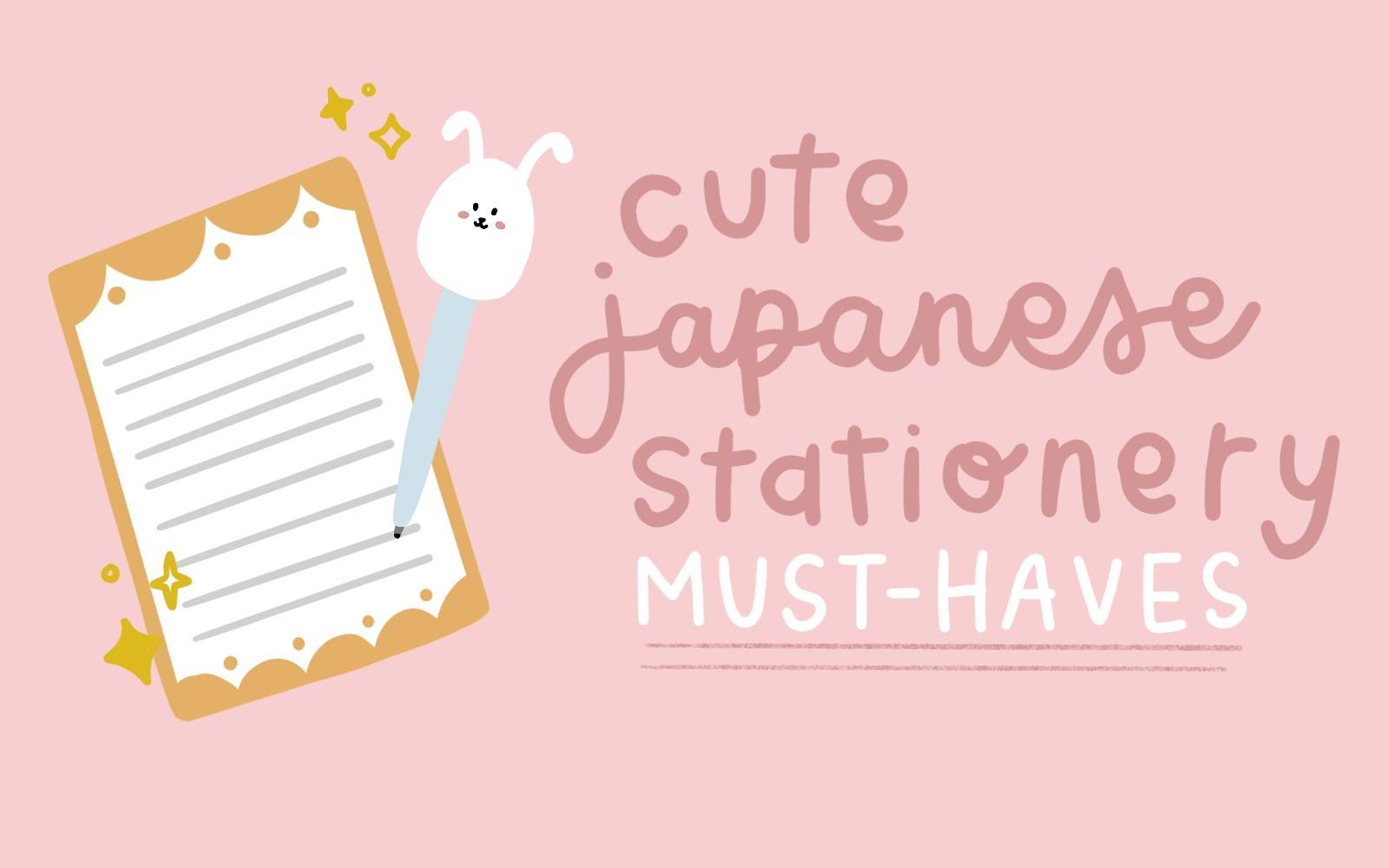 ---
The main reason why I love japanese stationery is very simple: it's just so cute! (and who doesn't love cute?!) Not only that, it's versatile in its styles and I truly believe there's something for everybody. And if you're reading this, it's probably because you love it too or you're preparing to dive into the wonderful world of kawaii japanese stationery.
Because there is so much out there, the number of options and items might be overwhelming but that's why I'm here to help! I'm going to be sharing some japanese stationery supplies with you that you absolutely must include in your collection! 📝💕
---
---
Cute Japanese Stationery Paper
This is a basic stationery item that everyone needs in their collection! Japanese stationery paper usually has some sort of cute doodle on the paper or some decorative design that makes it super fun to look at and use! So much better than standard lined paper. 💁🏻‍♀️ It's pretty paper you can write your class notes on or you can use to send cute letters to your friends or family - especially as you might be spending a lot of time apart right now.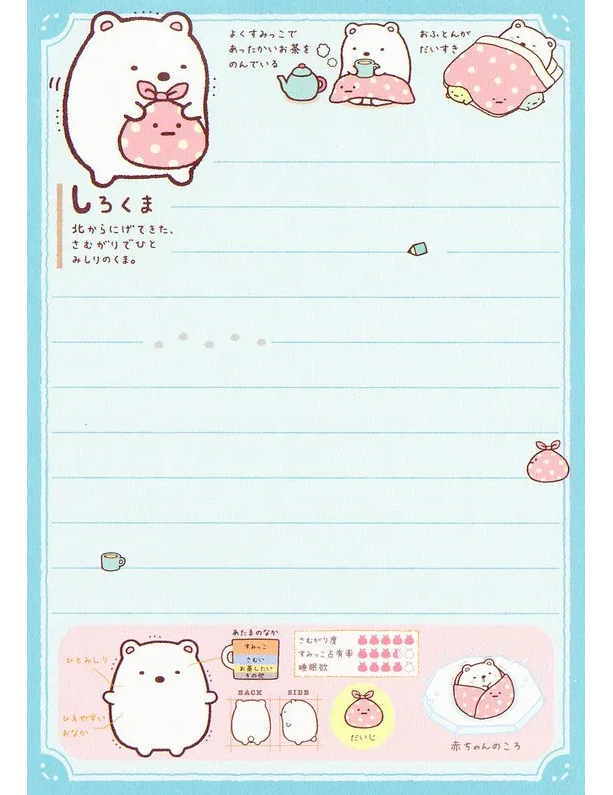 Credit: crazysugarbunny
San-X Sumikko Gurashi "Picture Book" Memo (Blue) - Do you see what I mean by cute doodles?! 🥰 This memo paper is everything!! I know there's not that many lines as regular lined paper but feel free to just ignore them and write how big or small you want to make use of all the space!
---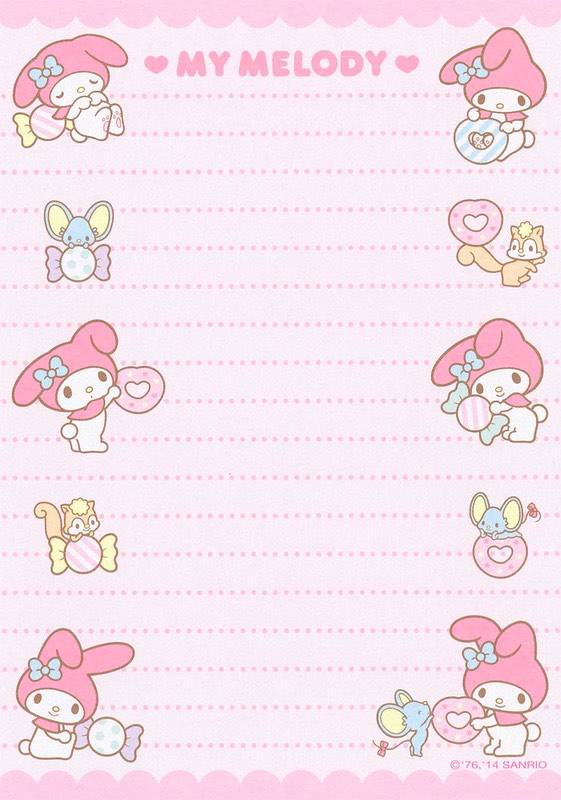 Credit: crazysugarbunny
Sanrio My Melody Memo (2014) - This kind of stationery paper seriously takes me back to my childhood. I'm sure that many people who were obsessed with Sanrio as a child are now Stationery junkies to this day!! But I would always use this paper to write cute notes and I sometimes just kept this kind of paper in my desk because I just loved having it in my collection!
---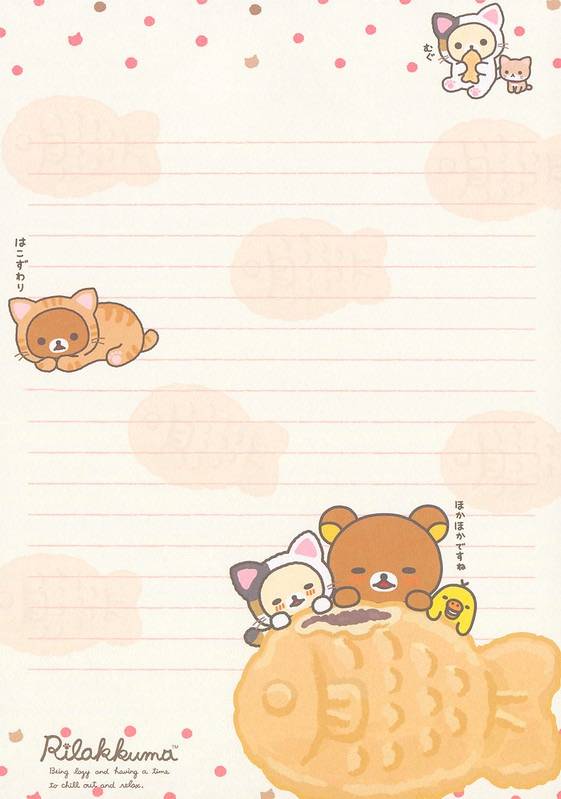 Credit: crazysugarbunny
San-X Rilakkuma "Cat" Letter Memo #1 - This is a great example of japanese stationery paper you could use to write letters to your friends. It just makes you so happy whilst writing on it and it will definitely give your pen pal some joy whilst they read your heart-felt message!
---
---
Cute Japanese Stationery Notebooks
If you're someone who prefers having notebooks, rather than just separate sheets of paper, there are lots of great options out there for you to choose from! I've often used a wide range of styles with simpler designs or some with cute animals and doodles. They have the power to instantly brighten up your day just by using them and give you the motivation you need to do your work. ✨ Something great about japanese stationery notebooks that makes them different from standard notebooks is that there's something for everybody, whether you're a fan of lined, blank, or dotted pages! I personally love using these cute notebooks for doodling, journaling or for note-taking, but you can use them for whatever captures your imagination.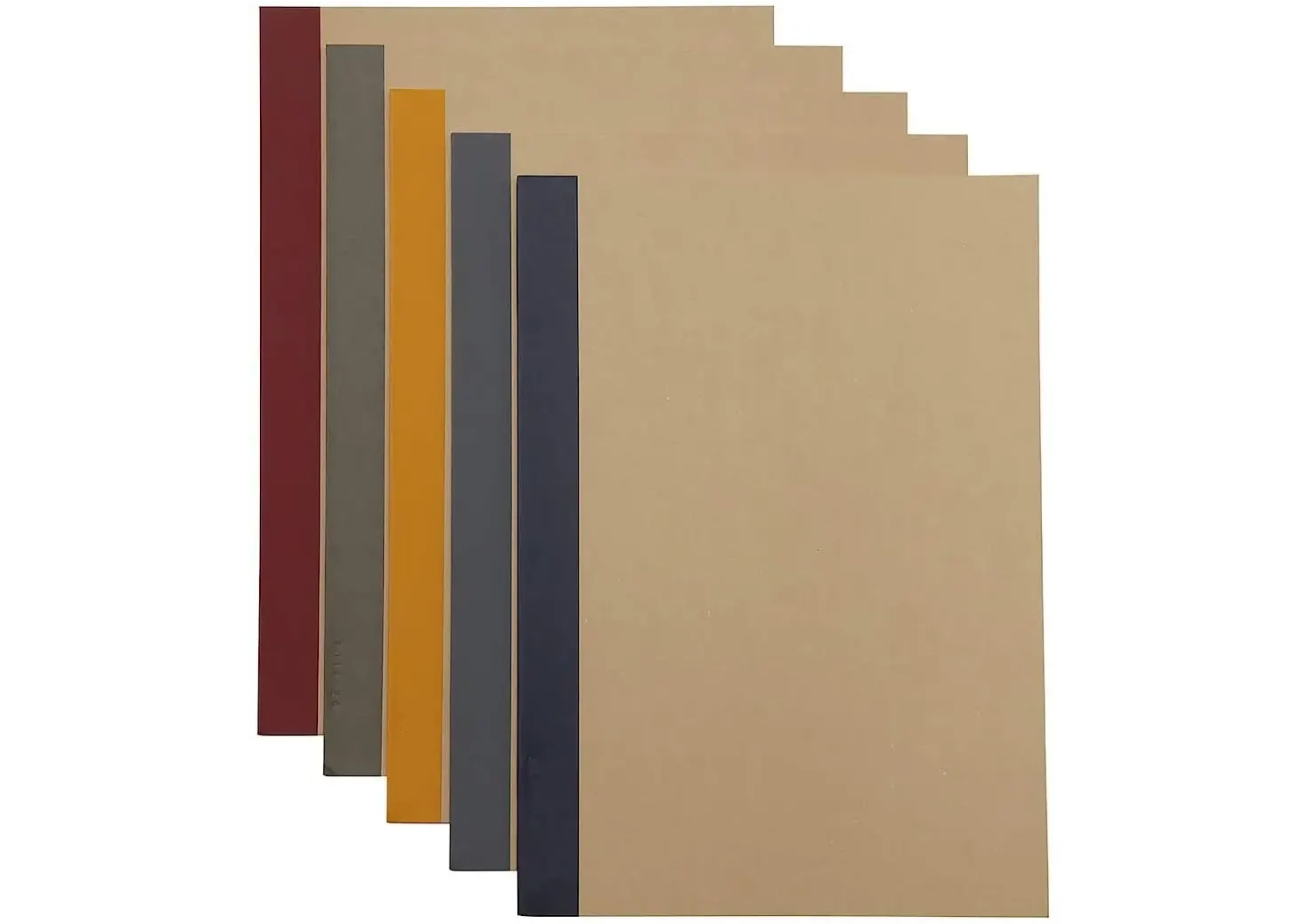 Credit: Amazon
MUJI Notebook A5 6mm Rule 30sheets - Pack of 5books - A simple and minimalistic aesthetic, these Muji notebooks were always my favorite to use for taking notes at school because they have great quality paper and are super lightweight and thin so your bag won't be so heavy.
---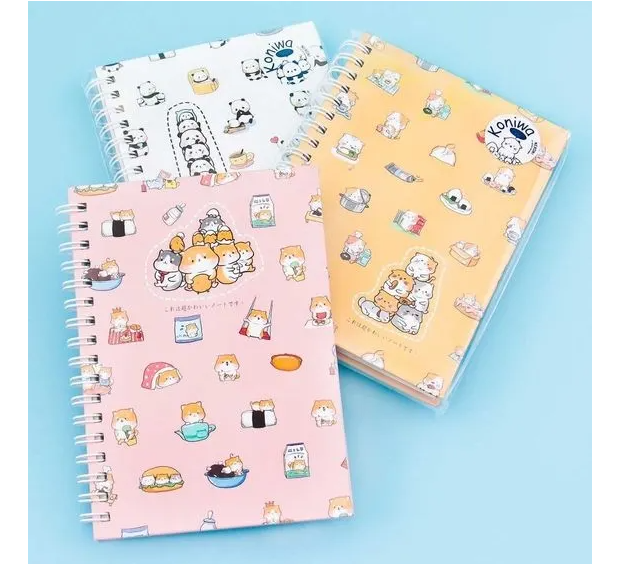 Credit: blippo.com
Nekoni Koniwa Kawaii Animals Notebook - If you're looking for something cuter, trying a journal like this would be perfect for journaling or doodling! I mean who can resist shibas, pandas, and cats?! Too adorable not to use 🙈💖
---
---
Cute Japanese Stationery Pens
The experience of journaling, doodling, or writing notes is highly dependent on what you're using as your writing tool! That's why japanese stationery pens are another must-have! I found that it's much more fun to write notes for school when I'm using a cute pen in the shape of a cat rather than some basic black ballpoint pen. Who else agrees? 🙋🏻‍♀️
The overwhelming cuteness of these pens isn't the only reason to use them though. The pens I pick up from japanese stationery stores usually write the smoothest and are great quality (because nothing is more irritating than when a pen is cute but writes terribly 😵).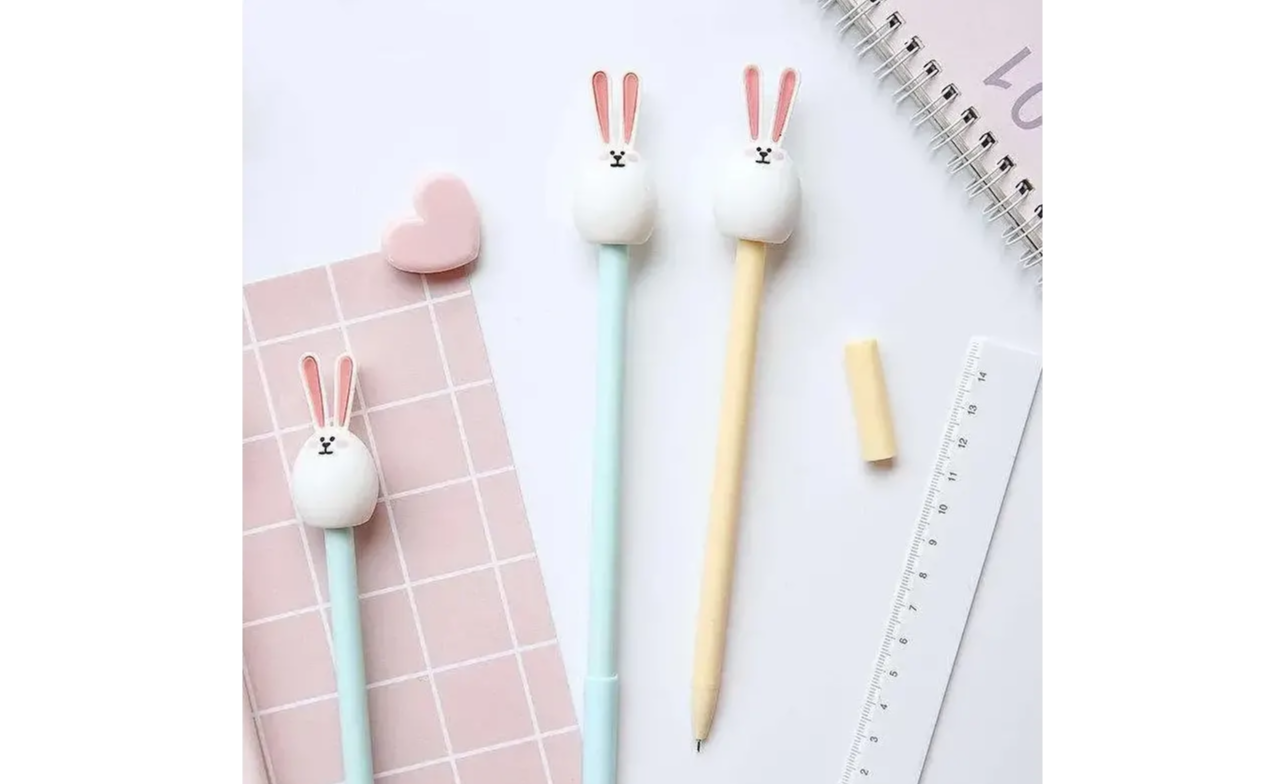 Chubby Bunny Gel Pen - Set of 3!- Okay seriously, aren't these the cutest?!! 😩✨ These pens also write beautifully and smoothly so you'll be able to achieve aesthetic penmanship with ease 😌
---
---
Cute Japanese Stationery Markers
The balance of quality and cuteness is also true of japanese stationery markers and highlighters too! They feel amazing to write with and they also come in the cutest range of colors that might be harder to find in the western market of stationery!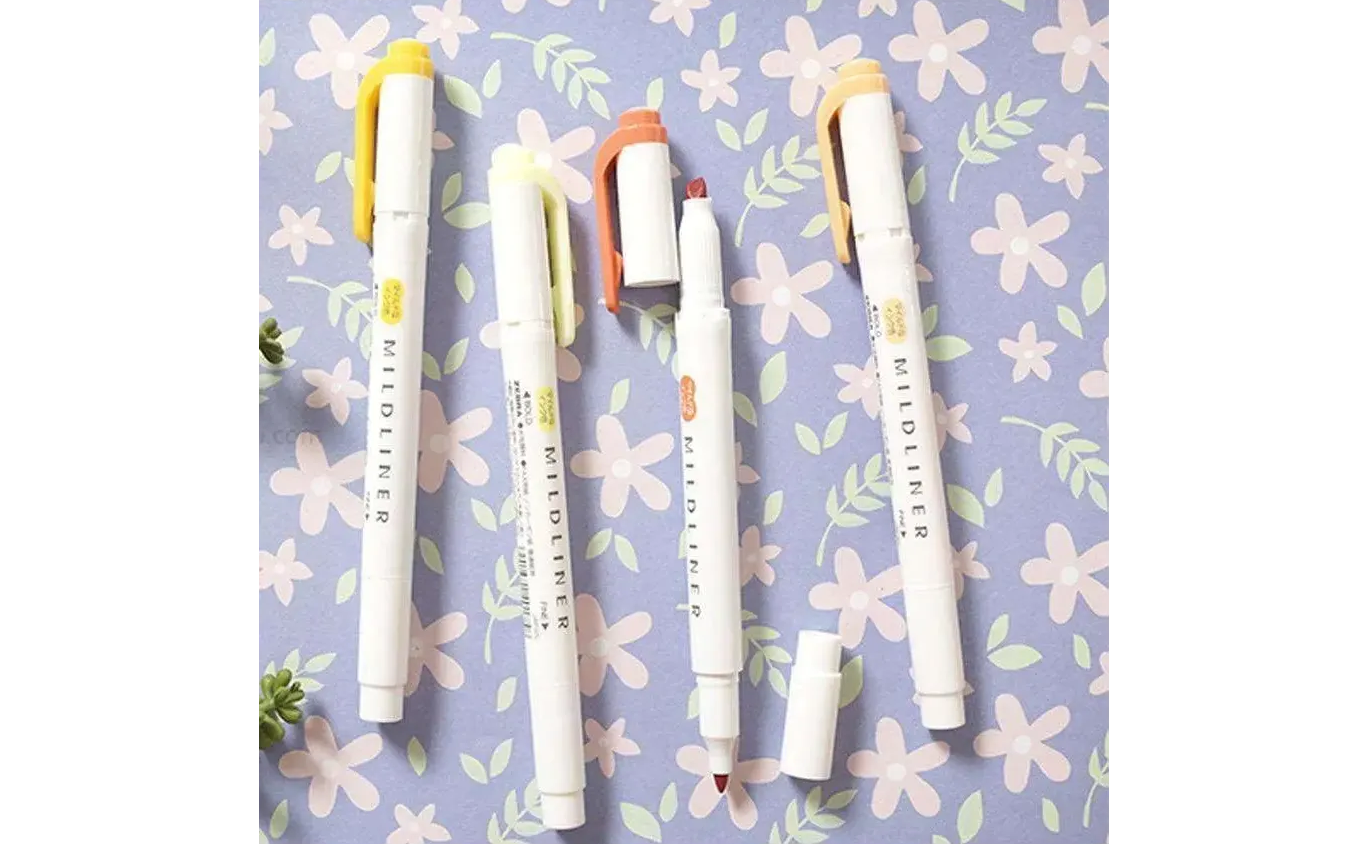 Zebra Mildliner Double Ended Highlighter - A must-have for your japanese stationery collection! Using these highlighters for my notes and in my bullet journal made them go from 0 to 💯 real quick! These are one of my favorite items and give color to my stationery collection. 🌈✨
---
---
Cute Japanese Pencil Cases
Don't forget that you're going to need a pencil case to carry around all those markers and pens! For those of you that can't get enough of the kawaii life there are plenty of extremely cute plush-like pencil cases available but there's also tons of simple and practical options out there as well.
I often find that pencil cases are either too small to fit much in or they're too short to house my longer pens and pencils. Either way, it's super annoying and can definitely take the satisfaction out of your new purchase. Make sure to look out for pencil cases that will be able to fit your most used and must-have items! I love my Notebook Therapy Tsuki pop up pencil case that has tons of room and even fits tombow brush pens.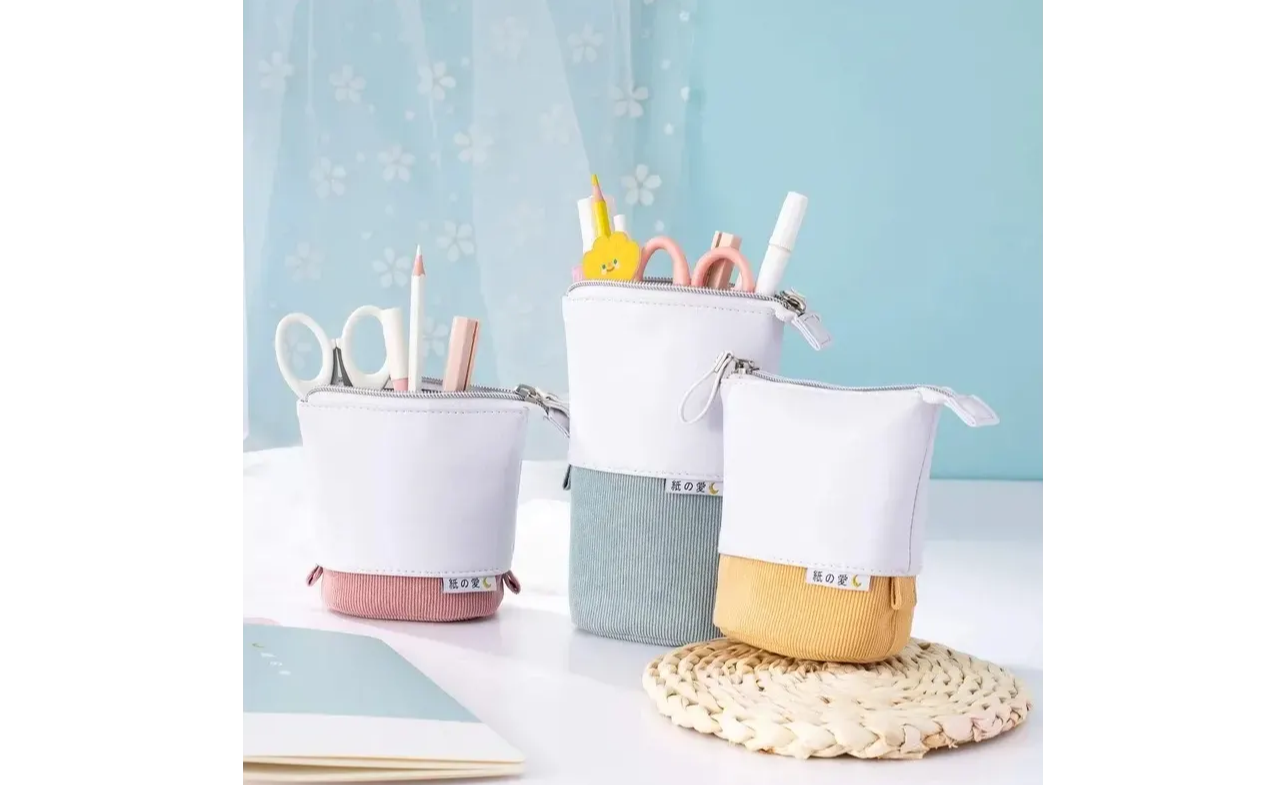 Tsuki Pop-up Pencil Case ☾ - I have this pencil case in lilac taro 💜 and I use it everyday! Like I mentioned before, it has great usability because it fits my tombow markers and it's also able to stand up on its own!
---
---
Cute Japanese Stationery Stickers
Spending money on stickers can feel a little extra sometimes, and maybe not so essential, but I think it's a fun and easy way to decorate and customize anything you own - from paper to journals to cases. If you don't want to spend the extra money on buying stickers, another alternative is to use free printable japanese stationery which you can glue or tape into your journals and onto anywhere you want. Lots of artists, bloggers or stationery companies have free printables available for you to print out and try. Just have fun with it!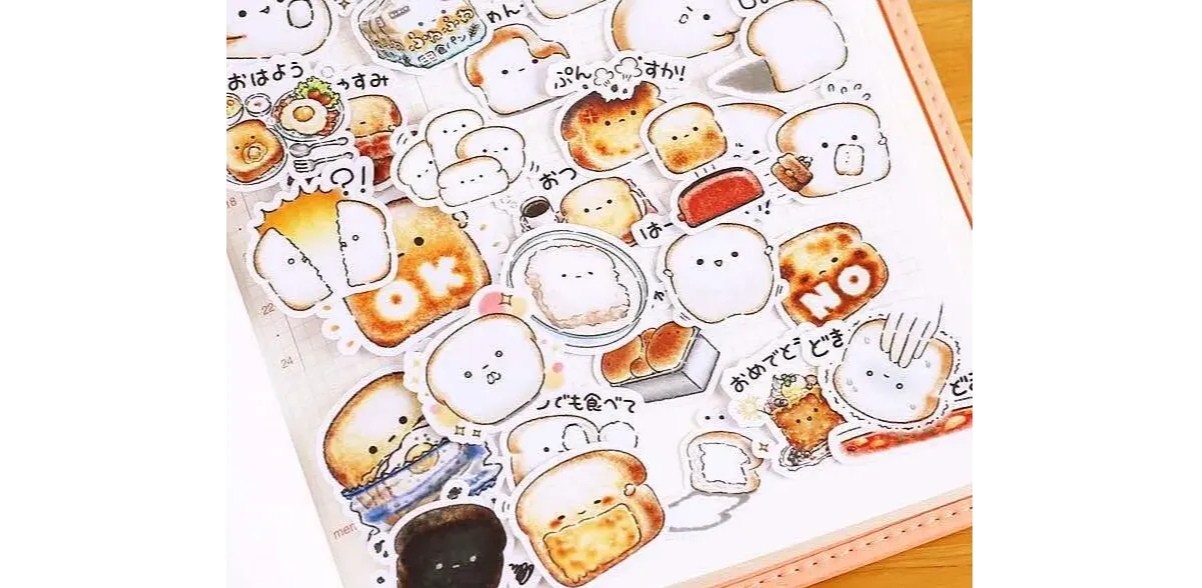 Happy Bread Stickers Set - I bet you weren't (b)ready for such cute japanese stationery stickers like this!! 🍞💕 You can be like me and go crazy by placing them on everything you own 😅 or if you think having a whole sticker set seems a little extra, share your stickers with friends!
---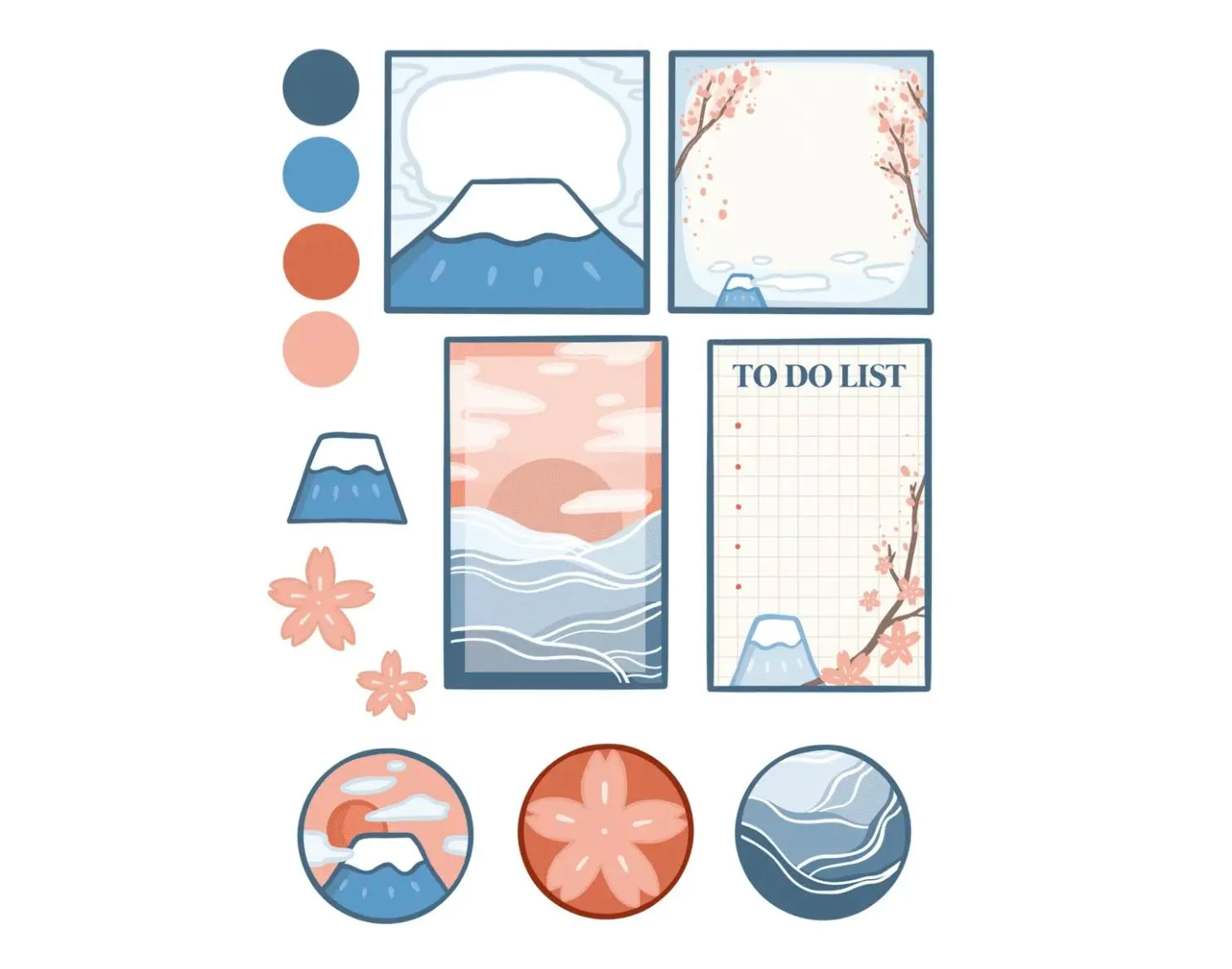 Free Fujisan Printable Set by Notebook Therapy - This Fuji-san themed printable is a free (🙌🏼!!!) way to dip your feet into the world of cute japanese stationery ✨ Fuji-san is one of the most popular landmarks of Japan and is a great way to bring in a touch of Japan into your bullet journal.
---
---
Cute Japanese Stationery Sets
If you don't want to search around for each individual item or you enjoy a more cohesive look to all your stationery, finding cute japanese stationery sets is a great way to go. Depending on the set, there will be different kinds of items included. Usually they'll include something like letter paper, sticky notes, a memo pad, stickers, and a pen or pencil. It's almost all the basics in one!
These were one of my favorite things to ask for as a gift growing up and are still such a fun gift to receive or give to someone. My collection of stationery started because I received a set as a birthday gift from a relative and that's when my love for all things stationery was born! 💖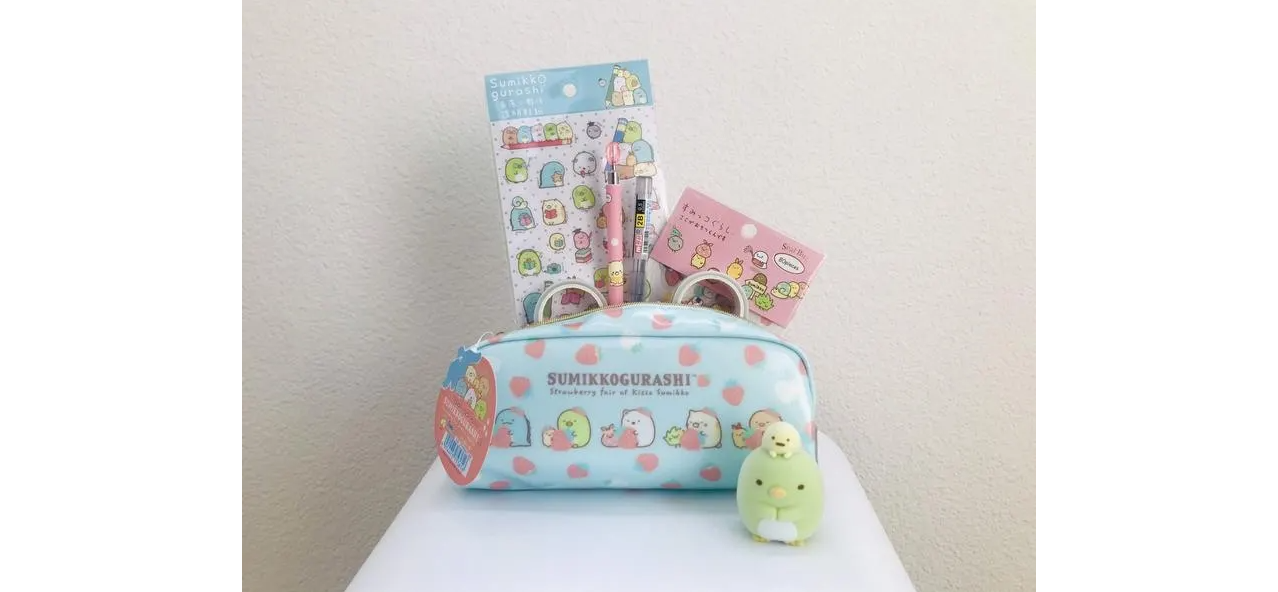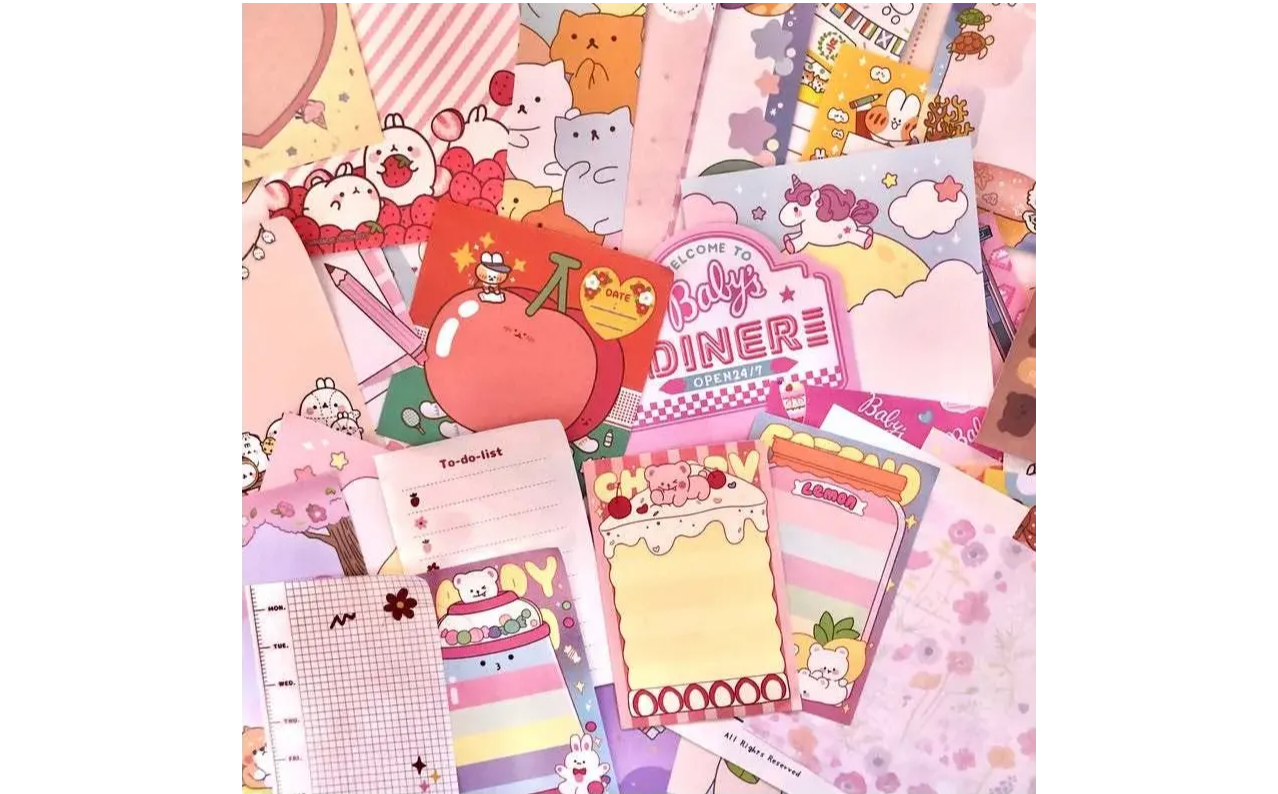 ---
---
Where to get cute stationery
Now that you're convinced cute japanese stationery is a must-have, the next question you're going probably ask yourself is where to get cute stationery. You can usually find it at stationery stores in your local mall but the best and easiest option is online! Simply looking up "cute japanese stationery" on Google will give you so many different options.
Of course, one of the best and personal favorites has to be Notebook Therapy! Check out their amazing collection of cute asian stationery. It has a huge, carefully curated collection of the stationery items listed above and so much more for you to choose from. Welcome to the world of cute japanese stationery. 😊✨