Bullet Journal Habit Tracker Ideas 💡
Bullet Journal Habit Tracker Ideas 💡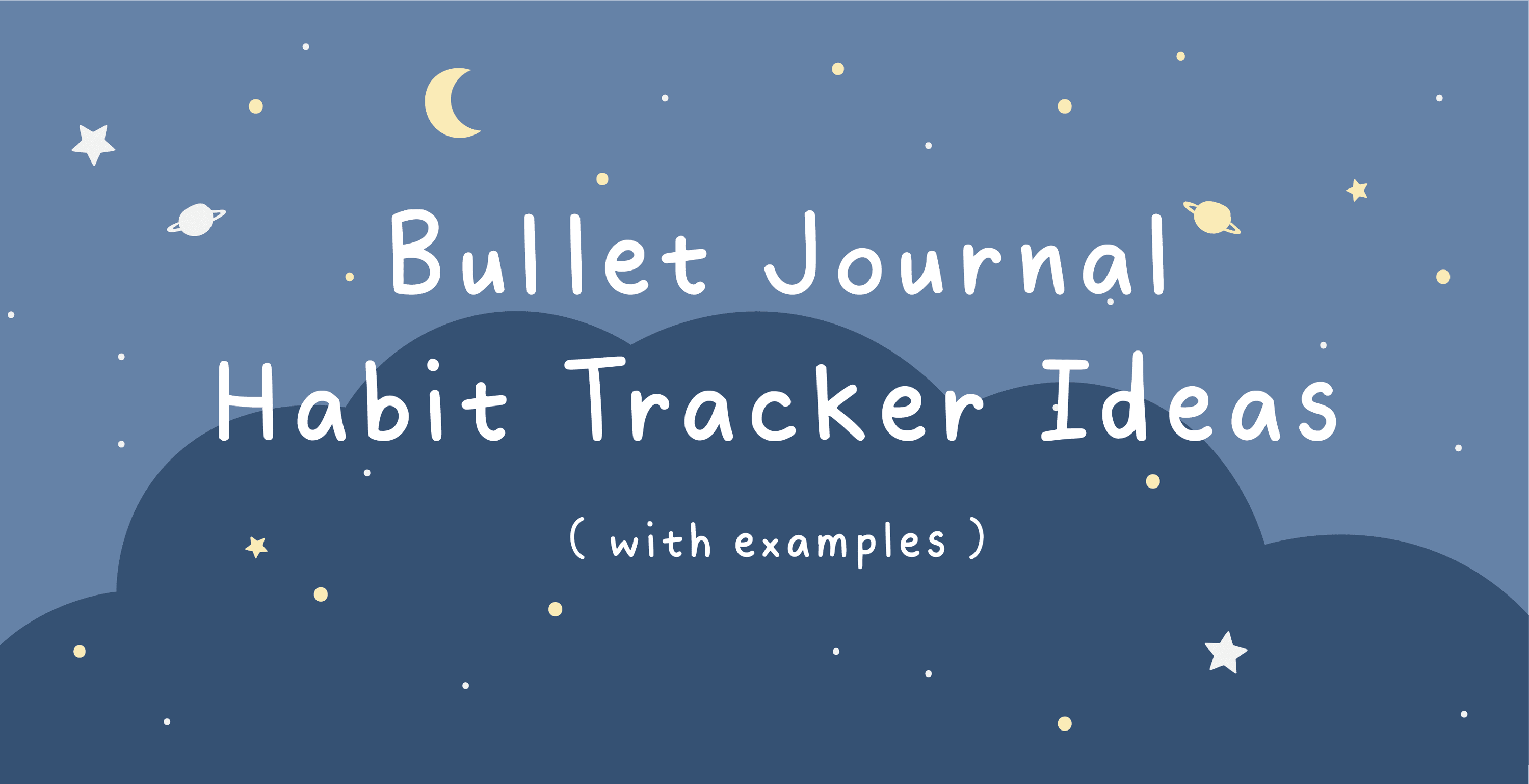 The Best Bullet Journal Habit Tracker Ideas + Layouts (with examples)
---
---
Bullet journal habit trackers are among the most popular bujo spread ideas... and for good reason!
Whether you're using it to build better habits, inspiration to reach your goals or simply to track your progress, they're an amazing productivity tool.
The best part? You can track ANYTHING: mood, sleep, diet, exercise, study, exams, movies, podcasts, Netflix shows!
We've also made a free habit tracker printable for you to download and get started right away!
Looking for bullet journal tracker examples? Look no further 👇
---
---
---
Bullet Journal Mood Trackers
---
In our busy lives, it's easy to get stressed, overwhelmed and focus on the negatives over the positives. Create a bullet journal mood tracker to feel more in control of your mental health, appreciative of those good days and prepared when a bad mood strikes.
There are tons of ways to add a bullet journal mood tracker Here are some of our favs.
---
We love with this adorable bullet journal mood tracker by @julia.pezowicz! Combine cute grizzly bears, polar bears and pandas to keep track of your mood. Hello we bare bears fans! 🐻👋
Credit:@julia.pezowicz
New to the world of bujo and looking for a place to start? @the_bujoist bullet journal mood tracker is an easy fun page to add to your bujo.
Credit:@the_bujoist
Planets and stars make for one of the most striking bullet journal mood trackers we have ever seen. This one from @janplansthings is no exception: just look at the mystical colour and design.
Credit: @janplansthings
Peaches and… dream! This bullet journal mood tracker by @littleolivebujo is so cute. Use any fruit you like for a fun way to track your happy days.
Credit: @littleolivebujo
The combo of flowers, colours and layout on this bullet journal mood tracker by @origamate are so beautiful. Proving circles make great trackers layouts too!
Credit: @origamate

We love this unique year in pixels bullet journal mood tracker from @sashimi.notes. The pastel vibes are a key way of tracking your yearly mood for self-reflection or improvement. This will look awesome when all filled out!
---
---
---
Enter your email and download your free habit trackers printable HERE 👇
and keep reading for more tracker examples!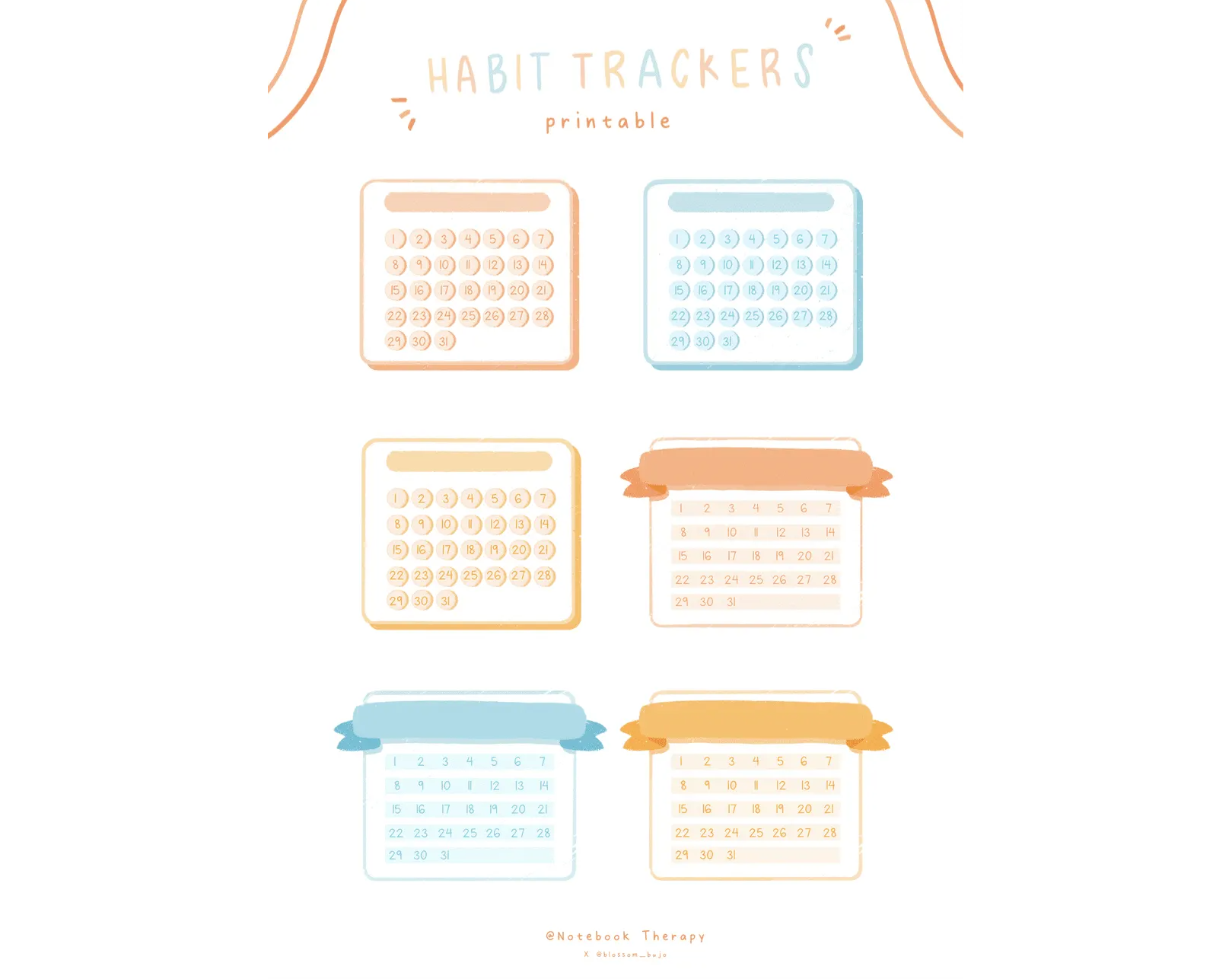 ---
---
---
Bullet journal health trackers
From planning meals to reducing screen time, bullet journal health trackers are great at highlighting improvements and help us make daily, weekly and monthly changes to benefit our health.
---
Bullet journal meal tracker
Planning to eat healthier or need to track your meals? @nohnoh.studies suggests the perfect daily bullet journal meal tracker to keep tabs on your eating habits.
---
Bullet journal exercise tracker
This diet bullet journal health tracker by @sheylara_shen is such a cool idea: such a simple way to keep everything in one place.
---
Bullet Journal weight loss tracker
If you want to watch your weight, a bullet journal weight loss tracker is a great way to check your eating habits. This one by @haleh_days cleverly combines weight, habits and mood- we love how it's all linked!
---
Bullet journal period tracker
Tracking your period cycle can be super useful- from health reasons to ensuring you are prepared. Use this bullet journal period tracker from @splendidscribbles in your bujo to remain one step ahead.
Credit: @splendidscribbles
---
Bullet journal sleep tracker
This bullet journal sleep tracker by @grace.journals makes tracking how much rest you get easy. Get creative like Grace and use Mildliner pens to colour in your doodles.
---
Bullet journal phone tracker
We all know too much screen time is bad, so track your phone usage with this bullet journal habit tracker by @bulletjournal_veronica. You may be surprised!
Credit: @bulletjournal_veronica
---
Bullet journal symptom tracker
We love this bullet journal symptom tracker by @healthyfitbujo…such a clever idea! She uses it to keep tabs on Crohn's, but you can use it for any health issue from dietary requirements to a winter cold.
---
Bullet journal energy tracker
Feeling zapped of energy? If like @journal_with_mel you are happiest when energised, this bullet journal tracker is perfect for spotting anything draining your energy.
---
How about keeping tabs on your skincare routine? @ashtyn_plans keeps it fun but proves how enlightening + helpful writing down your routine in this bullet journal habit tracker is.
---
---
Bullet journal goal trackers
Attempting something new is easier with a bujo. Take @hellobonjournal who used a bullet journal goal tracker in preparation for a 13k run- so useful for training!
---
Learning a new language can be tricky, but your bujo is your best friend for tracking development. @ashtyn_plans beautiful habit trackers are not only great motivation but also help track weekly language learning habits and new skills.
---
Bullet journal Study Tracker
Need an efficient way to keep track of exams? Try this bullet journal study tracker by @anouksbulletjournal to stay ahead of the game.
Credit: @anouksbulletjournal
---
Make your 'to do' list fun!
Make your bullet journal habit tracker or to-do list more motivating by combining with something you love, like this fun bubble tea-inspired tracker by @birdybujo.
---
Be more efficient at house chores
Using your bujo to document your chores means you will get them done quicker and maybe even have fun too! We love that doodles are included in this bullet journal chores tracker.
---
Bullet journal assignment tracker
It's overwhelming when you have studying to do and little time! Keep productive with this bullet journal assignment tracker from @fruitbobba. Make it personal by adding cute doodles- loving the colours in this one.
---
Fitness tracker bullet journal
Who needs an Apple watch when you have a bujo! @jashiicorrin shows us the perfect way to track daily steps and get active with this motivating fitness tracker bullet journal.
---
---
Bullet Journal Finance trackers
Hey big spender! Need to keep a track on spending your pennies? The bujo is perfect for that. Just look at these great bullet journal finance tracker examples:
---
Bullet journal savings tracker
Add a bullet journal savings tracker like @nohnoh.studies to keep tabs. We love the use of washies and stickers to reflect the amount saved. So Kawaii!.
---
Bullet journal expense tracker
It's scary how much you can spend in a day/week/month without even realising! Not with this bullet journal expense tracker by @bujo.by.lo sure to keep track on where money goes.
---
---
Bullet Journal Trackers for fun!
Remember we said you can use a bullet journal habit tracker to track anything? Well here is proof! From your fav movies to a personal countdown to birthday month.
We are in love with these fun bullet journal tracking ideas!
---
Bullet Journal Instagram Tracker
Calling all Totoro fans! You need to add this cute bullet journal Instagram tracker to your daily pages asap!
---
Bullet journal movie tracker
From Pokemon to Lion King so many cool movies have been released this year already. Keep track of all future releases with this bullet journal movie tracker by @nohnoh.studies.
---
Bullet journal TV show tracker
Want to keep an eye on your Netflix habits? Use your bujo like @deeps3a with this perfect bullet journal TV show tracker.
---
Bullet journal birthday tracker
Excited for your birthday month? Of course! Use a bullet journal birthday tracker like @julia.pezowicz as a countdown to the big day.
---
Bullet journal weather tracker
Come rain or shine tracking the weather in your bujo can help predict if you need a brolly! @plansthatblossom offers a great layout for a detailed bullet journal weather tracker. She has helpfully added step by step doodles too if you want to make your own!
Credit: @plansthatblossom
Great… but which set up should I use?
---
---
Bullet journal habit tracker ideas super list
Like all things bujo, there is no right or wrong bullet journal habit tracker layout. Some examples are super creative some are minimal - it's whatever works for you. If you are new to bullet journal habit trackers we recommend experimenting with a few different bullet journal habit tracker layouts to see what keeps you organised- you can even download printable layouts if you are short of time.
But when should I start my bullet journal habit tracker?

No time like the present! If it all seems a bit daunting at first, or you feel like you have nothing to track, we recommend giving it a go by picking a couple of things TODAY you can track in your bullet journal- by the end of the month you will have a list!

Here's our super list of bullet journal habit tracker ideas: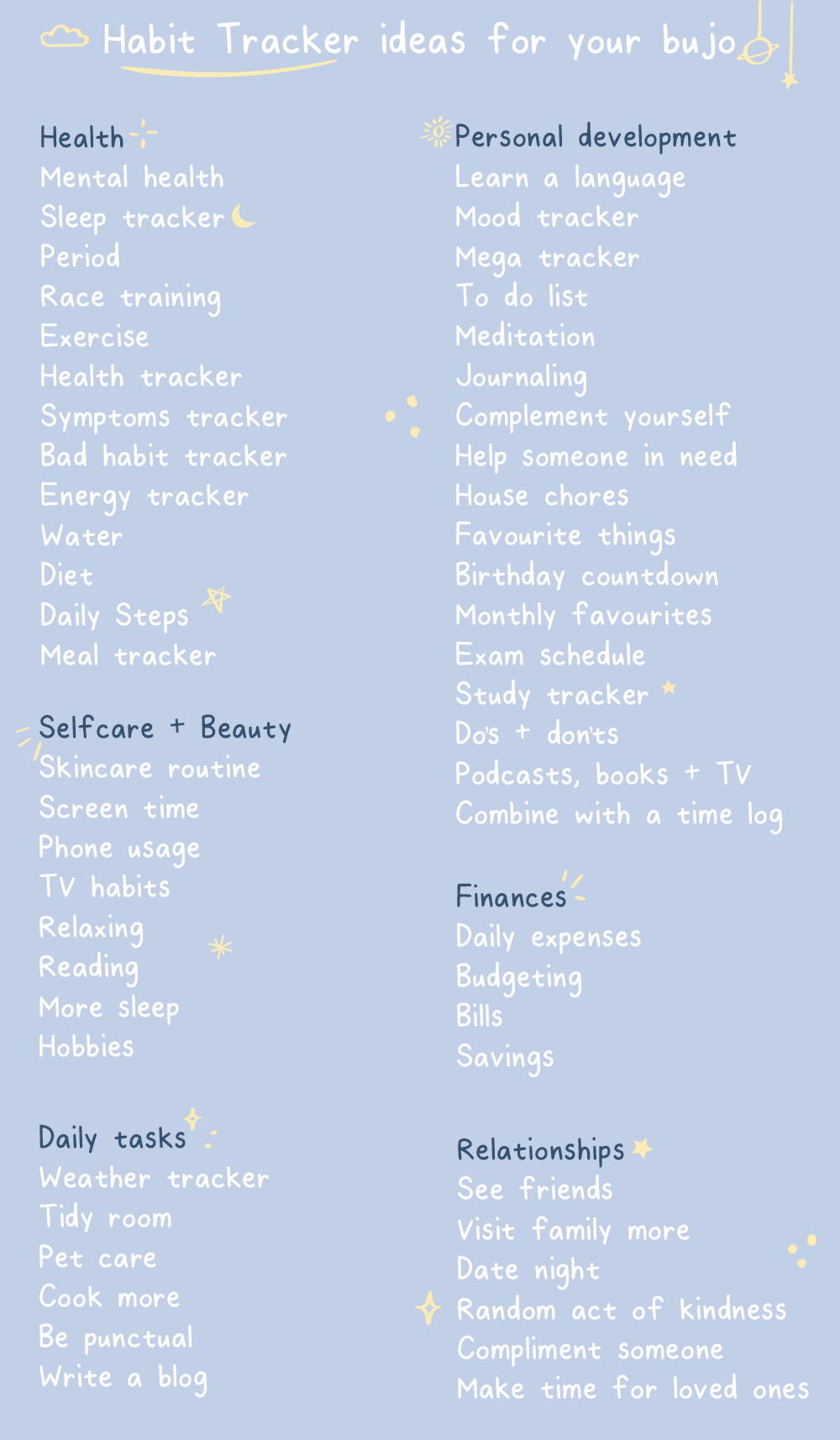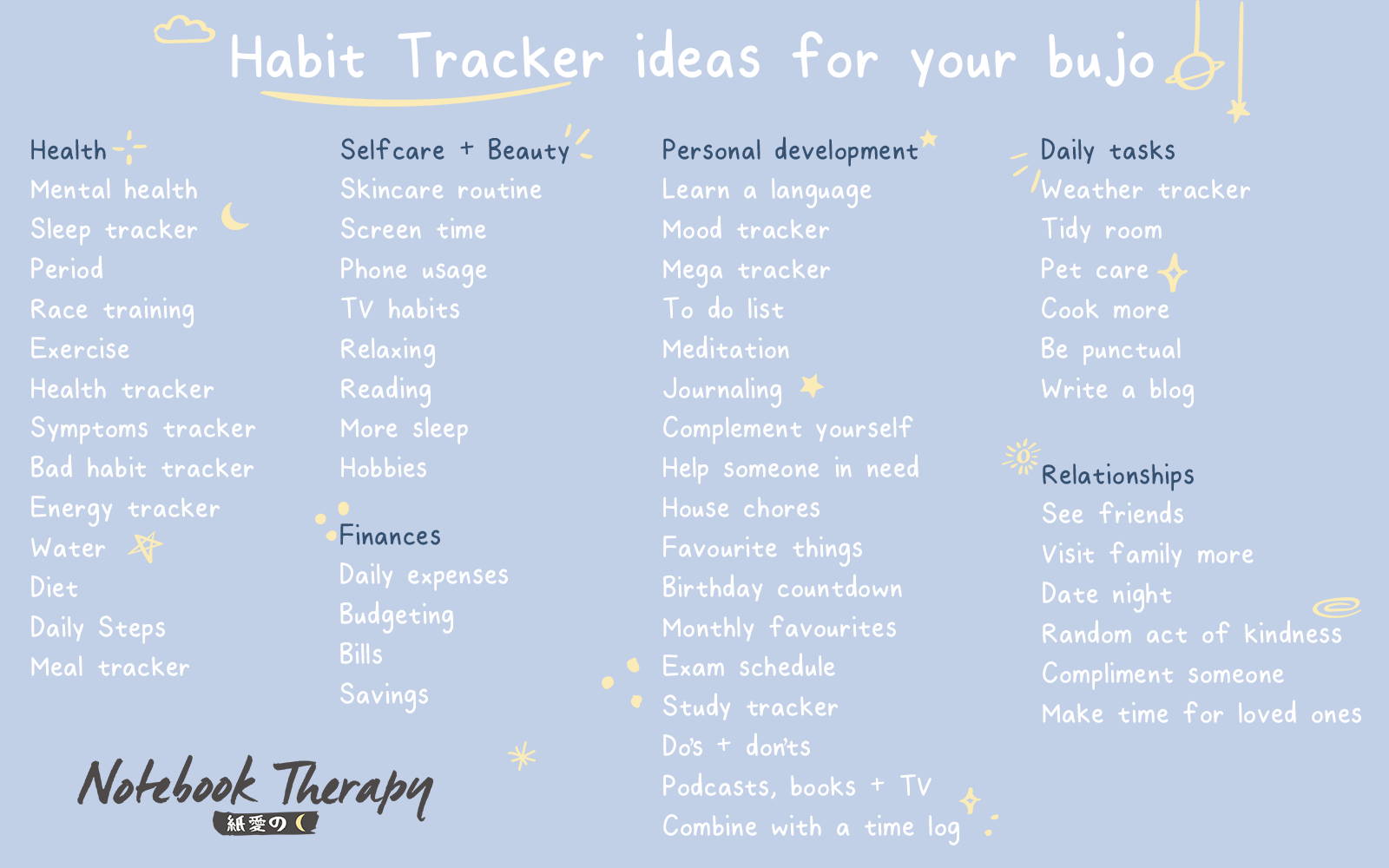 ---
---
---
Enter your email and download your free habit trackers printable HERE 👇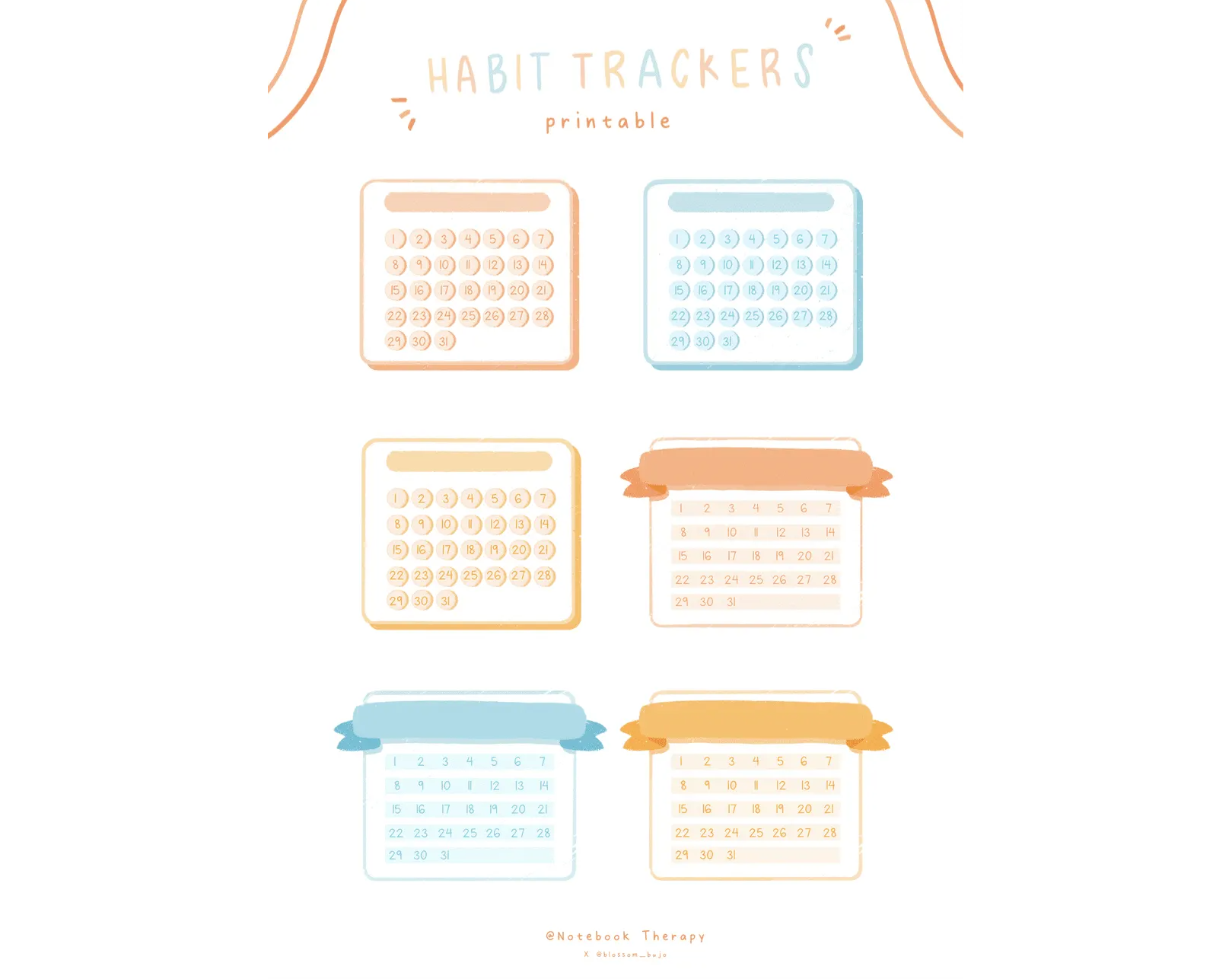 ---