Key & Colour Code: Bullet Journal 101 📔
Key & Colour Code: Bullet Journal 101 📔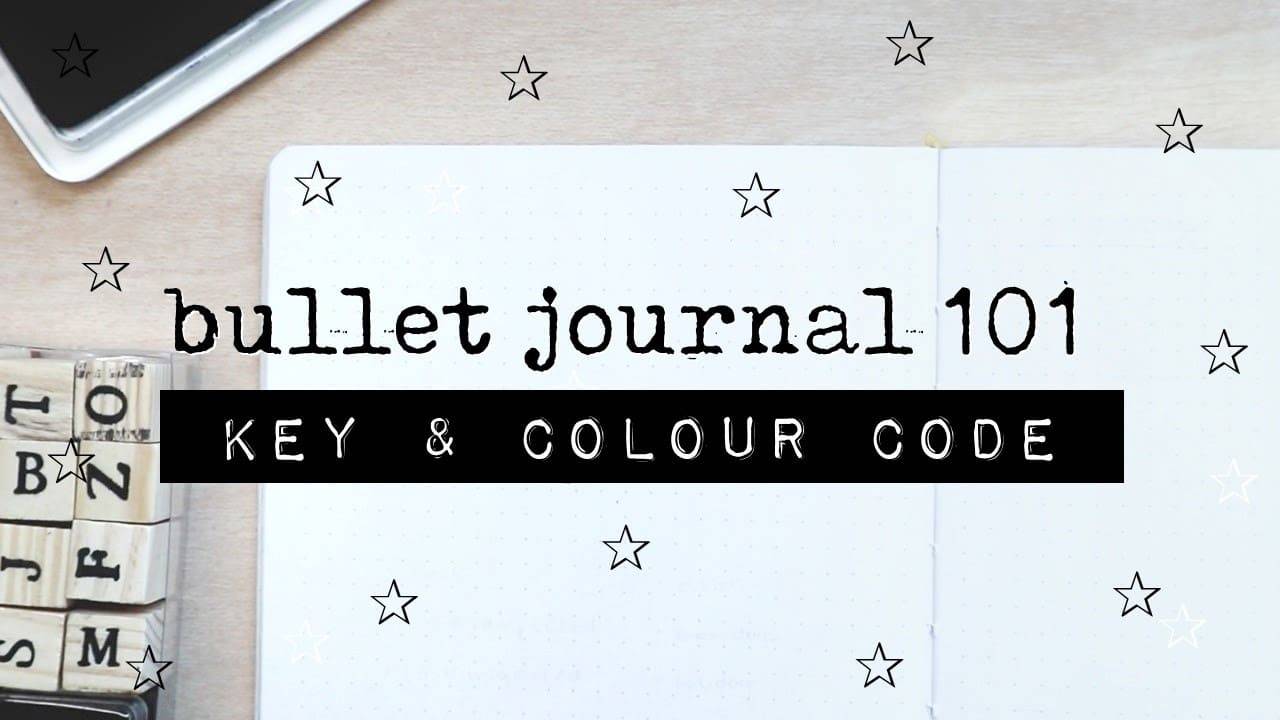 by Catarina Mateus (@catsplanner)
---
If you have a bullet journal or want to start one, there are some basic tips for how to set up your new bujo. You might have seen in other bullet journals that some of them contain a "key" or "colour code" section at the beginning of it. In this post, I will be explaining what these sections are for and how to use them.
---
---
---
What is the Key in a Bullet Journal?
The key section is where you keep all the symbols with their respective meaning, that you use on a daily basis in your bujo. This will help you to distinguish whether a task in your weekly spread is done or in progress.
You can customize your key for your bullet journal however you want. One of the most common keys in the bullet journal community is similar to the one below.
My Key & Color Code for 2020.
Credits: @catsplanner
---
Your key is 100% customizable, so if you would like an empty circle for your tasks and a coloured circled for your completed tasks, you can! Here are some other examples of keys in the bujo community:
---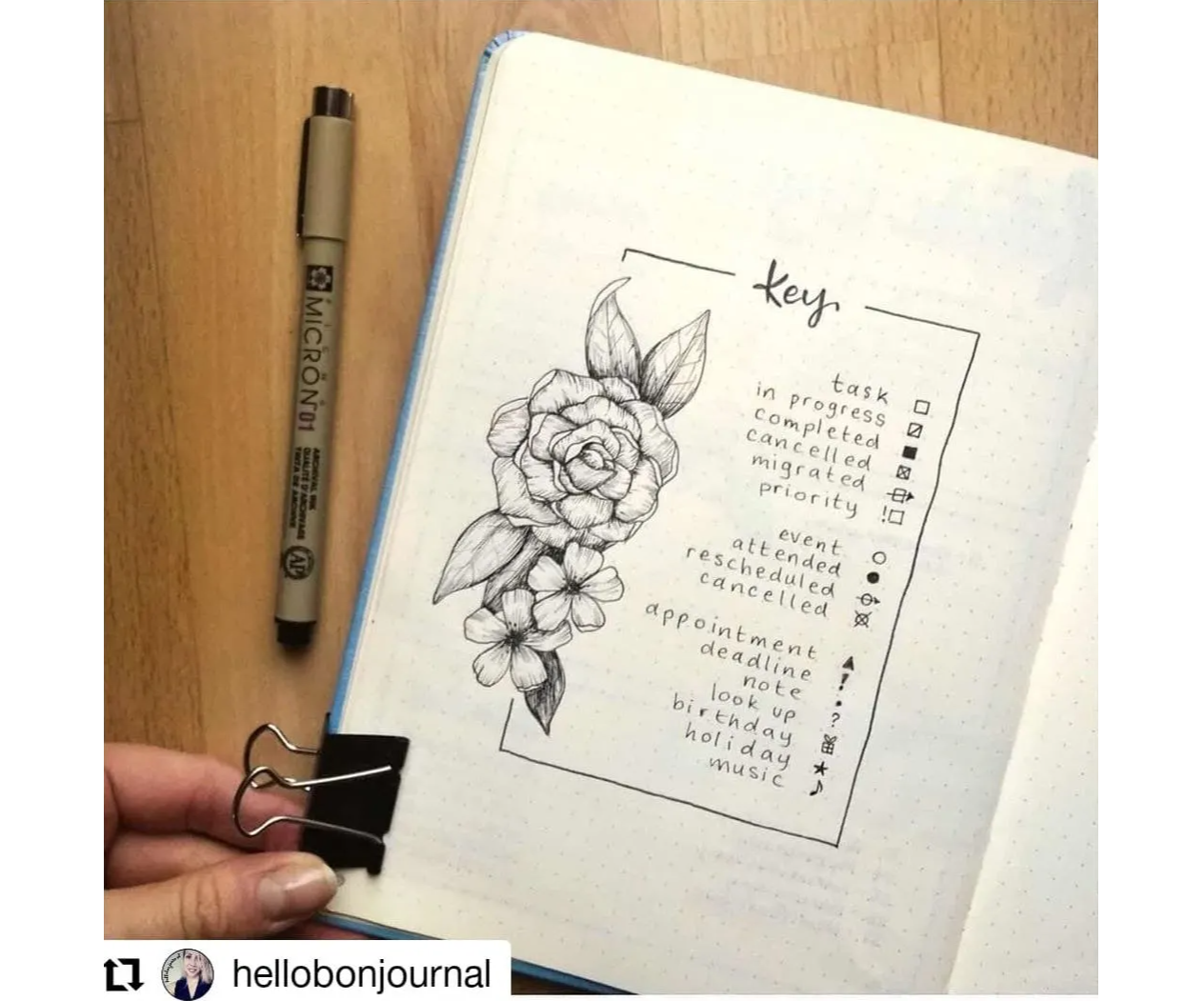 ---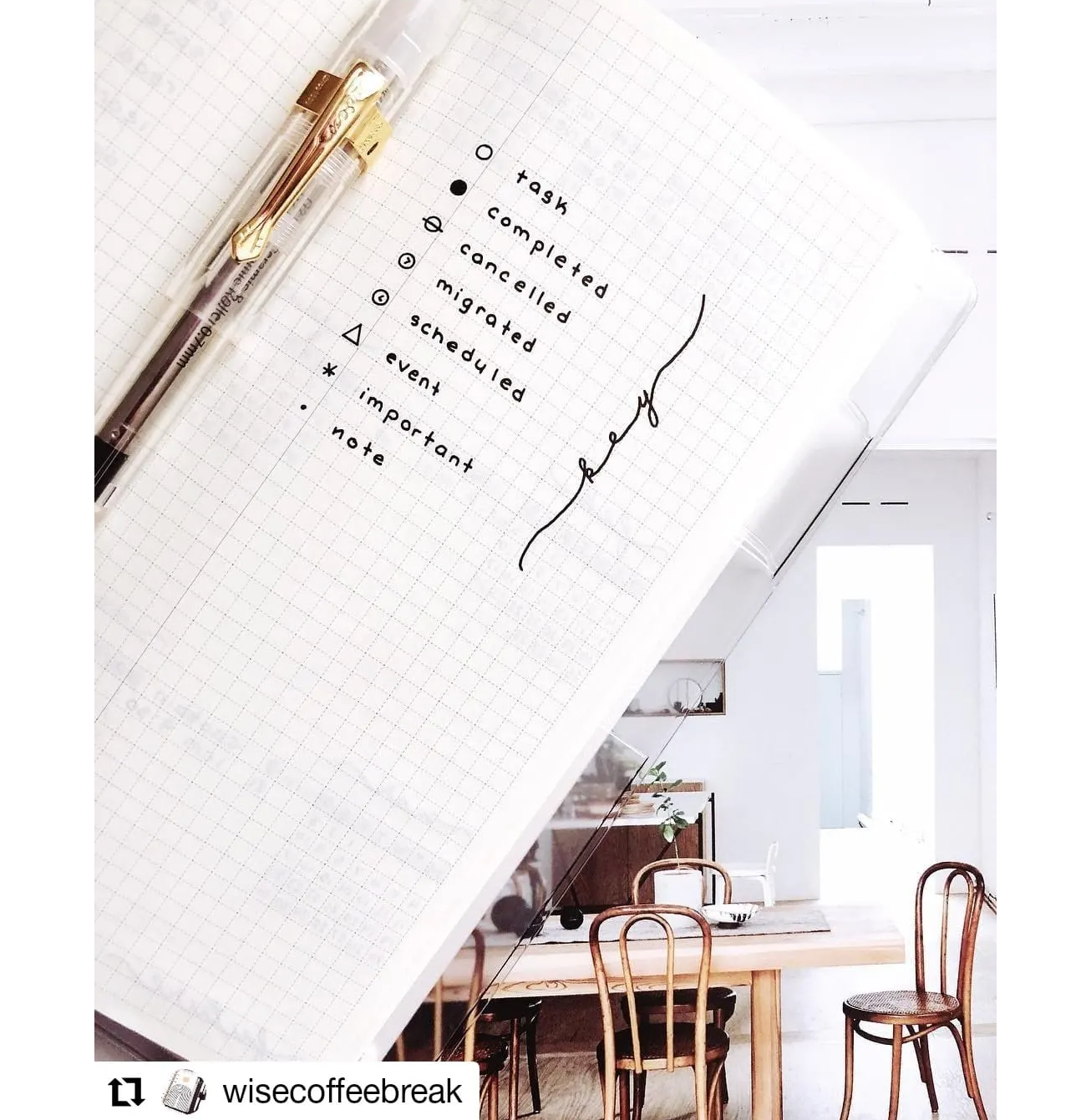 Key page examples.
Credits: @hellobonjournal and @wisecoffeebreak
---
---
In order to have a key legend on your bullet journal, you need to try different keys and color codes so you can find the one that works for you. You can follow the one that Ryder Carroll, the creator and author of "The Bullet Journal Method" recommends:


---
---
How to use the Colour Code
Some bullet journalists like to add a colour code to compliment the key in their bullet journals. I personally use my key to track the progress of my tasks on my weekly spread, and my colour code for events and birthdays, and to know what I have coming up on the month.
I like to use a colour code with a key in my bujo so I can easily see what I have planned and what is more important because the different colours of the colour code on my weekly spread pop up a lot more than my tasks.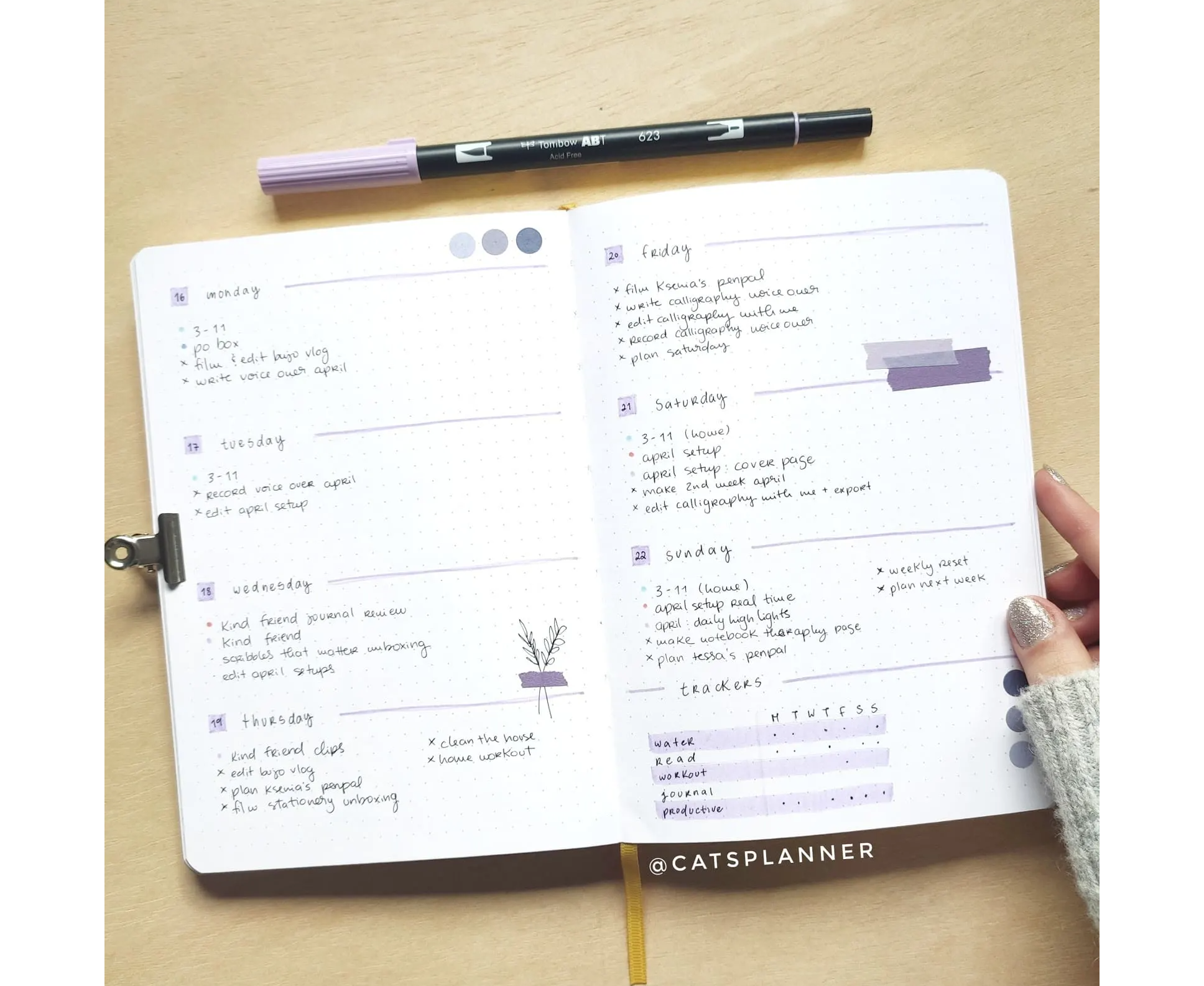 ---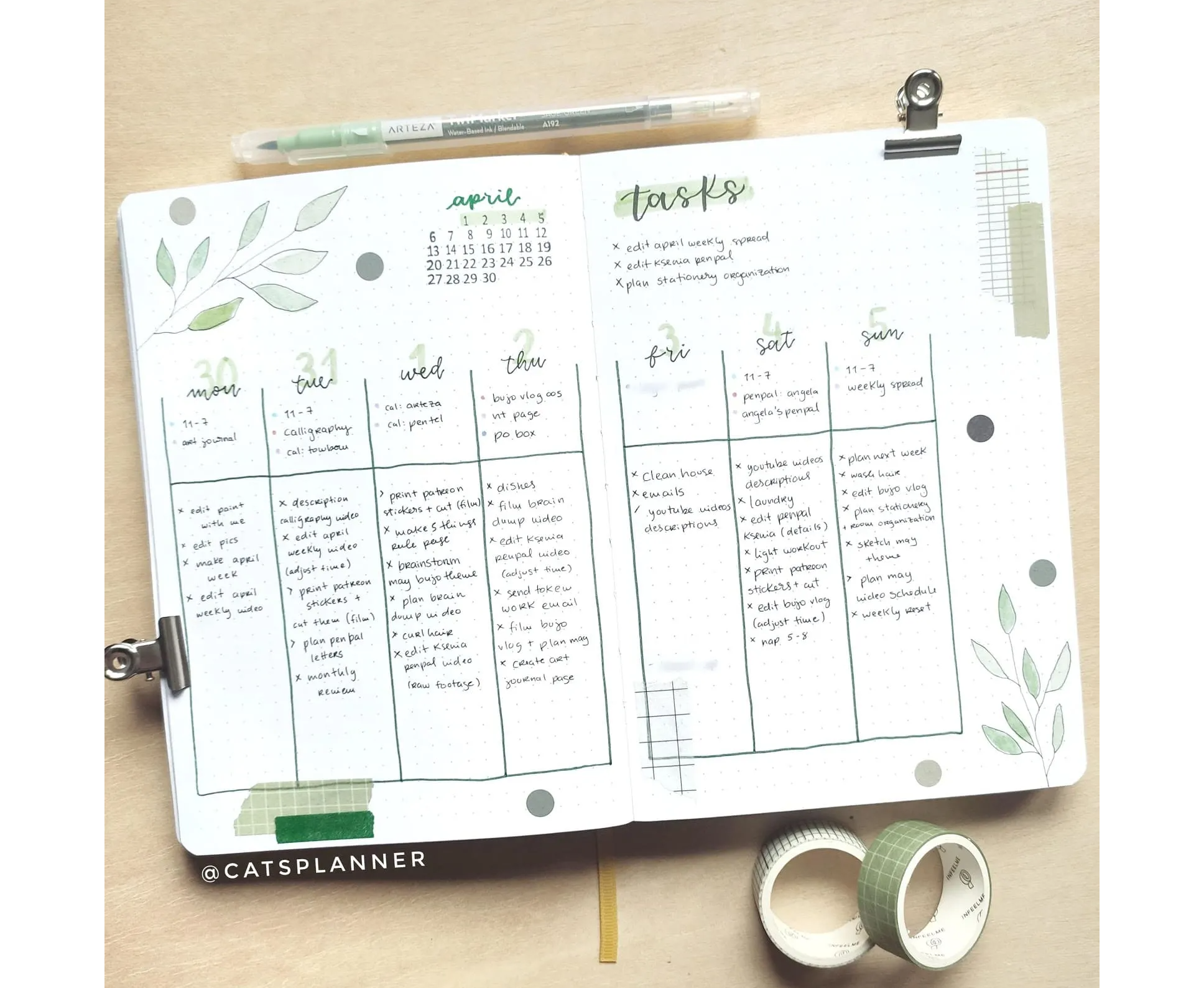 My March and April weekly spreads filled in.
Credits: @catsplanner
---
---
How To Create a Key and Colour Code in your Bullet Journal
When you start a bullet journal, is important to have a page where you keep your key and colour code so you know which symbol means what and to be more organized in your own bujo. Some notebooks already come with a section to fill in with your key and colour code at the beginning of it, but if yours is not the case, you can do it wherever you want.
It's easier to do it on the first page of your notebook before the yearly sections, or in the white page right after the cover page so you don't need to flip through your notebook to find it. It is also better to keep it simple, not more than 6 symbols are enough to create a simple functional key. For the colour code, try to think about what different things you add to your yearly and monthly spreads and create a colour code for them.
For example, you can track birthdays and appointments in your future log, so you can have a colour for each of them. Another colour for events, and another for holidays. But if you don't really need to distinguish a holiday from a birthday, you can have a colour for both of them, making your colour code simpler.
---
---
---
About the author
Catarina Mateus is a 19-year-old Portuguese bullet journal artist who developed a love for drawing since she was very young. She started to share her art and bullet journal spreads on Instagram (@catsplanner) in April 2018 which allowed her to expand her art skills and inspire others.