Introducing Our Tsuki 'Midnight Edition' Black Page Bullet Journal
Introducing Our Tsuki 'Midnight Edition' Black Page Bullet Journal
---
We are so excited to finally launch our brand new Tsuki 'Midnight Edition' Softcover Black Page Bullet Journals!! I've always been a massive fan of writing and drawing on black pages and we're FINALLY bringing you our very own black page notebook!
We know not everyone has a pen that works on black paper so we wanted our Midnight Edition Tsuki bullet journals to come with pens we're sure you can use on the black pages! After countless searches and much testing, we finally found our favourites and we hope you'll love them too!! You can choose between 2 bundles:
1. Tsuki 'Midnight Edition' Black Page Bullet Journal + 1 White Gelly Roll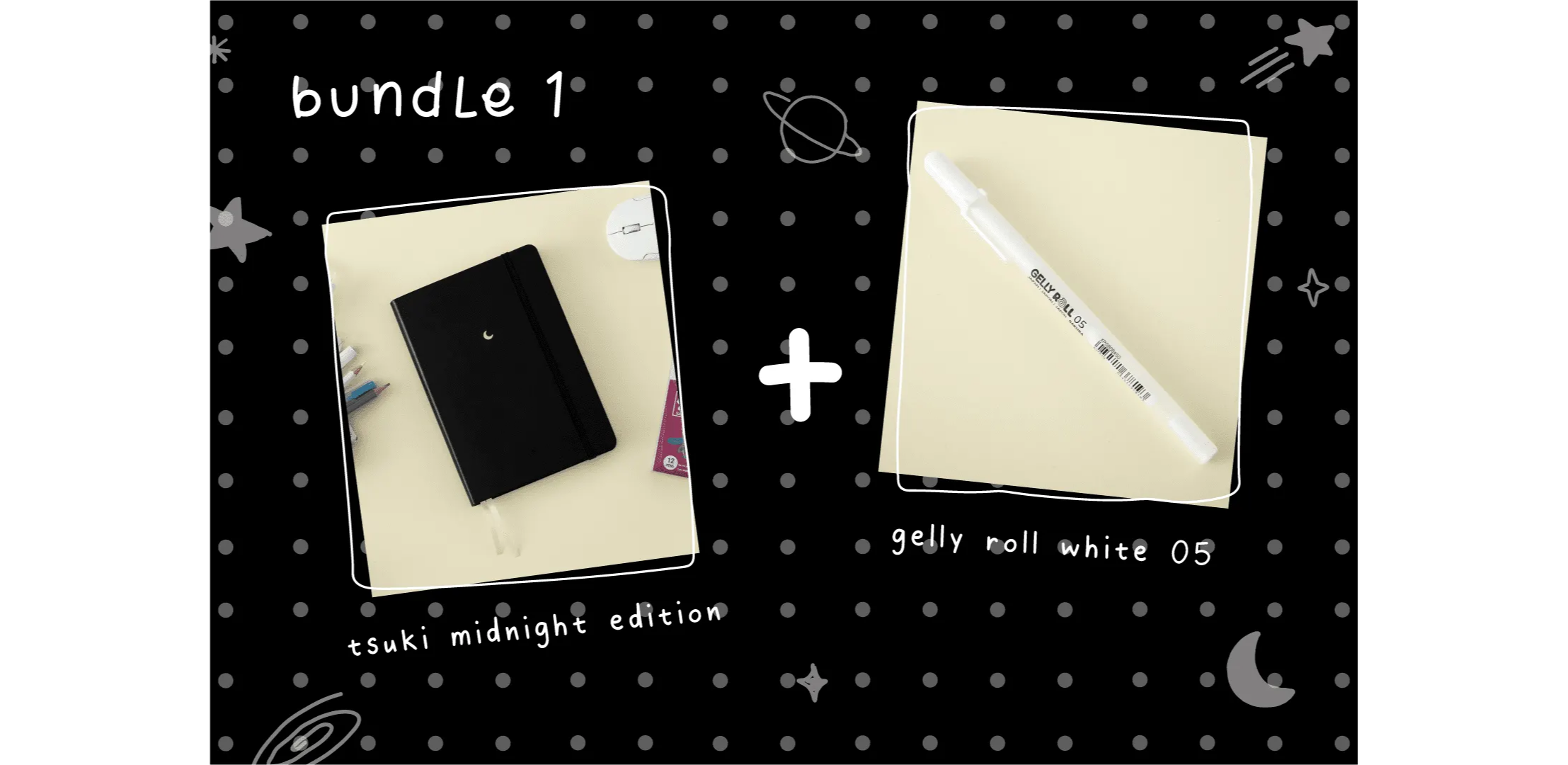 ---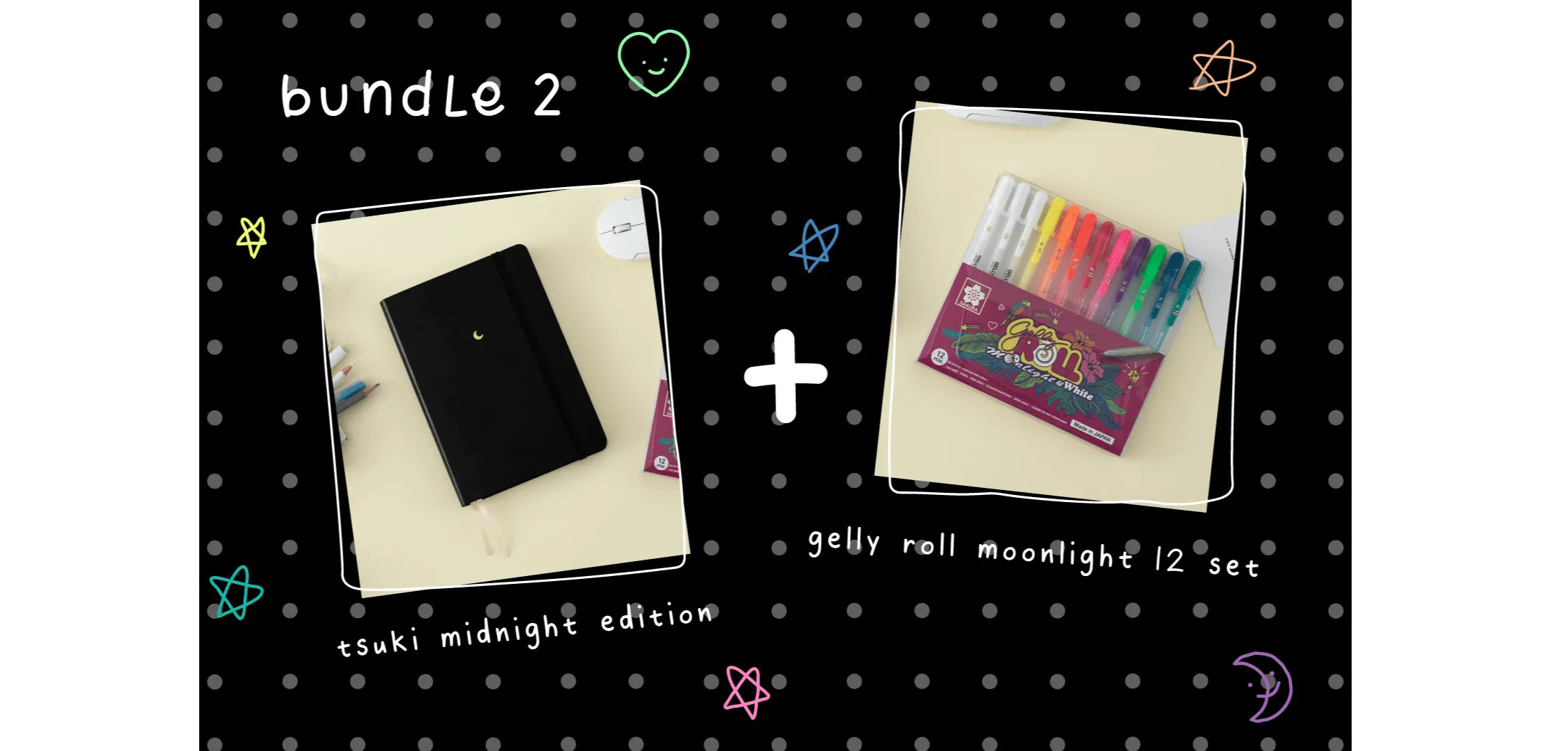 ---
---
What Pens Work On Your Black Page Notebook?

If you're worried about not having enough materials to use in your black page bullet journal, I'm here to tell you that you have nothing to worry about! You don't have to use gelly rolls forever. You can also use pens like metallic markers and colouring pencils! The paper quality is still very thick 150gsm paper so you can even use acrylic and gouache paints to add more colour to your spreads!
---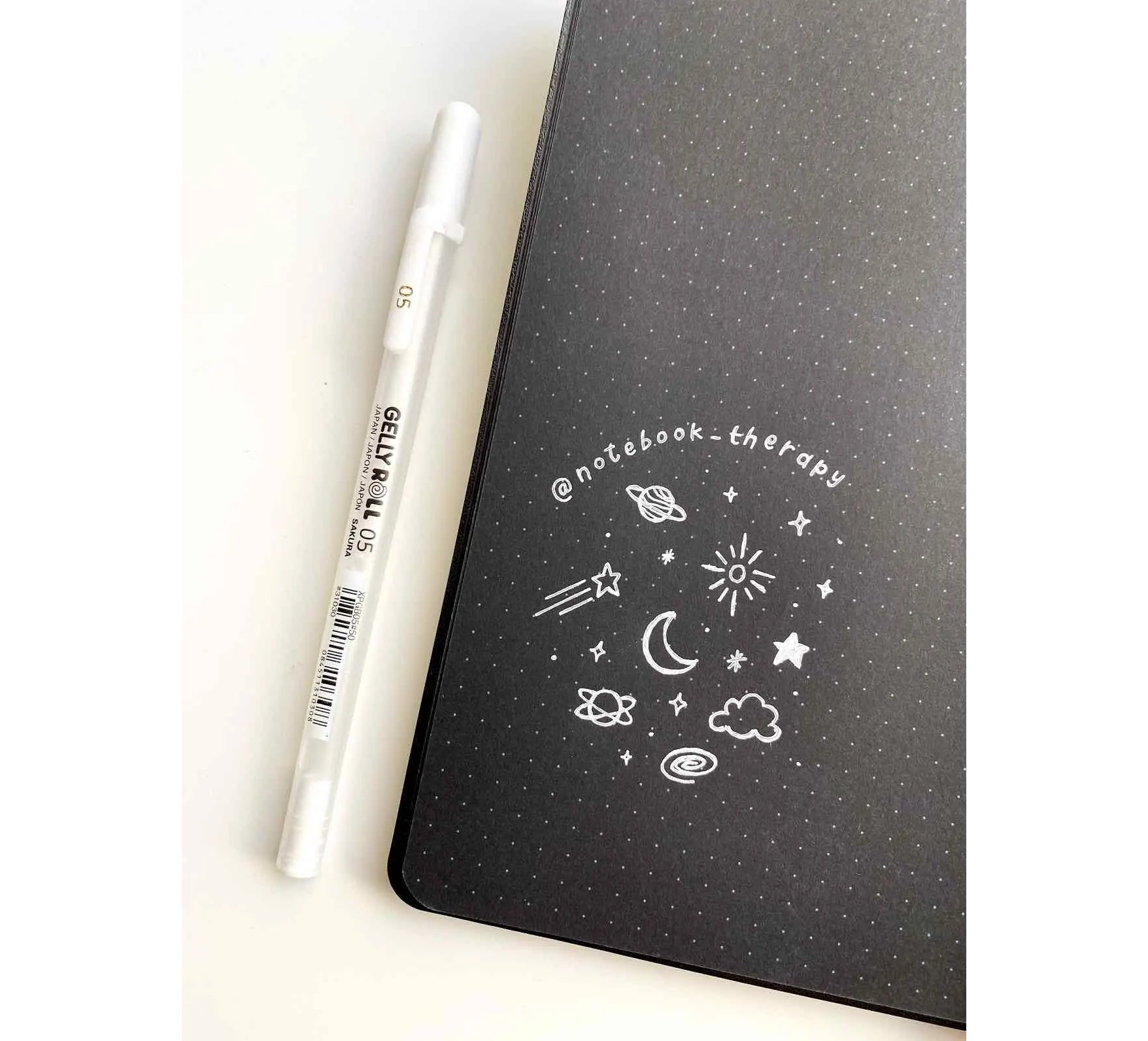 Our smaller bundle come with a Tsuki Midnight Edition bullet journal and a white Gelly Roll 05. We chose to include this pen because it's one of our favourite pens to use on darker paper! The white ink is so nice and opaque and the brightness of the gelly roll really stands out on the black paper!
---
---
Moonlight Sakura Gelly Roll on Black Paper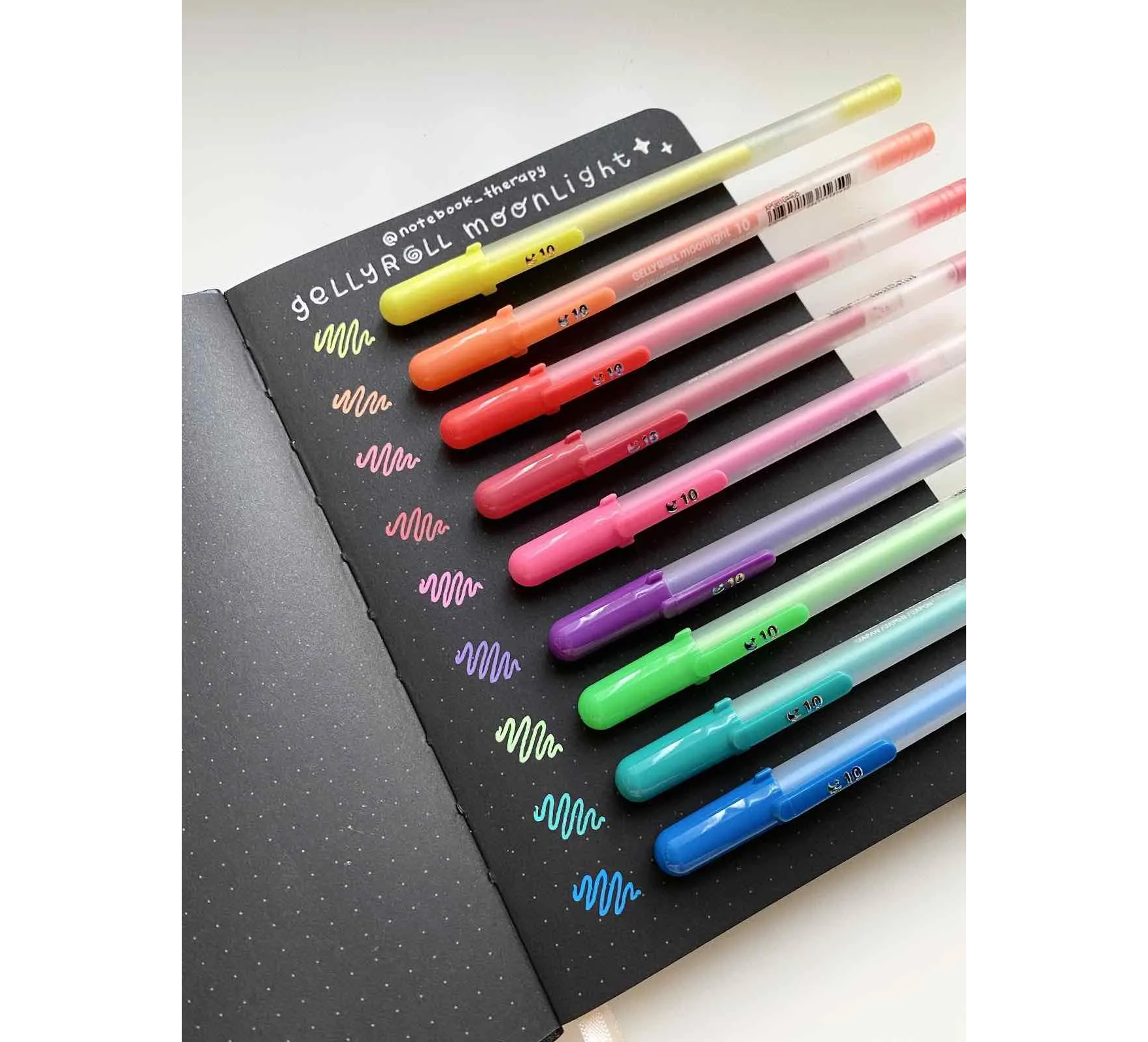 We've also chosen to include a set of Moonlight Gelly Rolls in one of our bundles because we absolutely love how good the fluorescent colours look on black paper. This moonlight set also comes with 3 white pens in 05, 08 and 10 nib sizes! Some gelly roll pen sets don't actually work as well on black paper but these fluorescent moonlight pens look stunning on black paper!
I really love the colour selection too! If you're worried about not having that much option with black pages, don't worry! With these colours you can come up with so many different themes for your spreads!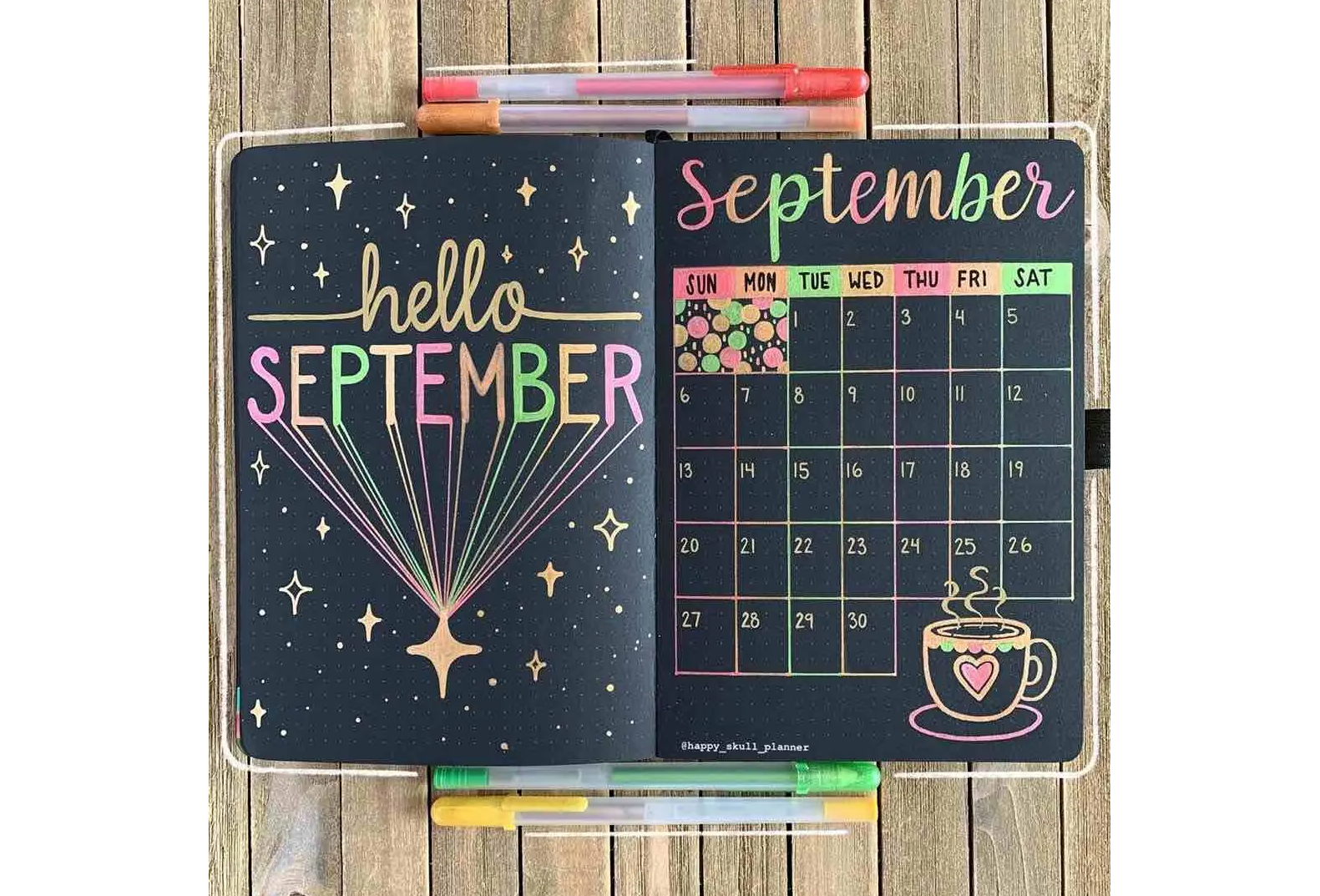 Credit: @happy_skull_planner
I love @happy_skull_planner's use of cosy, autumn colours on black paper. It definitely gives a more exciting twist to your regular autumn theme!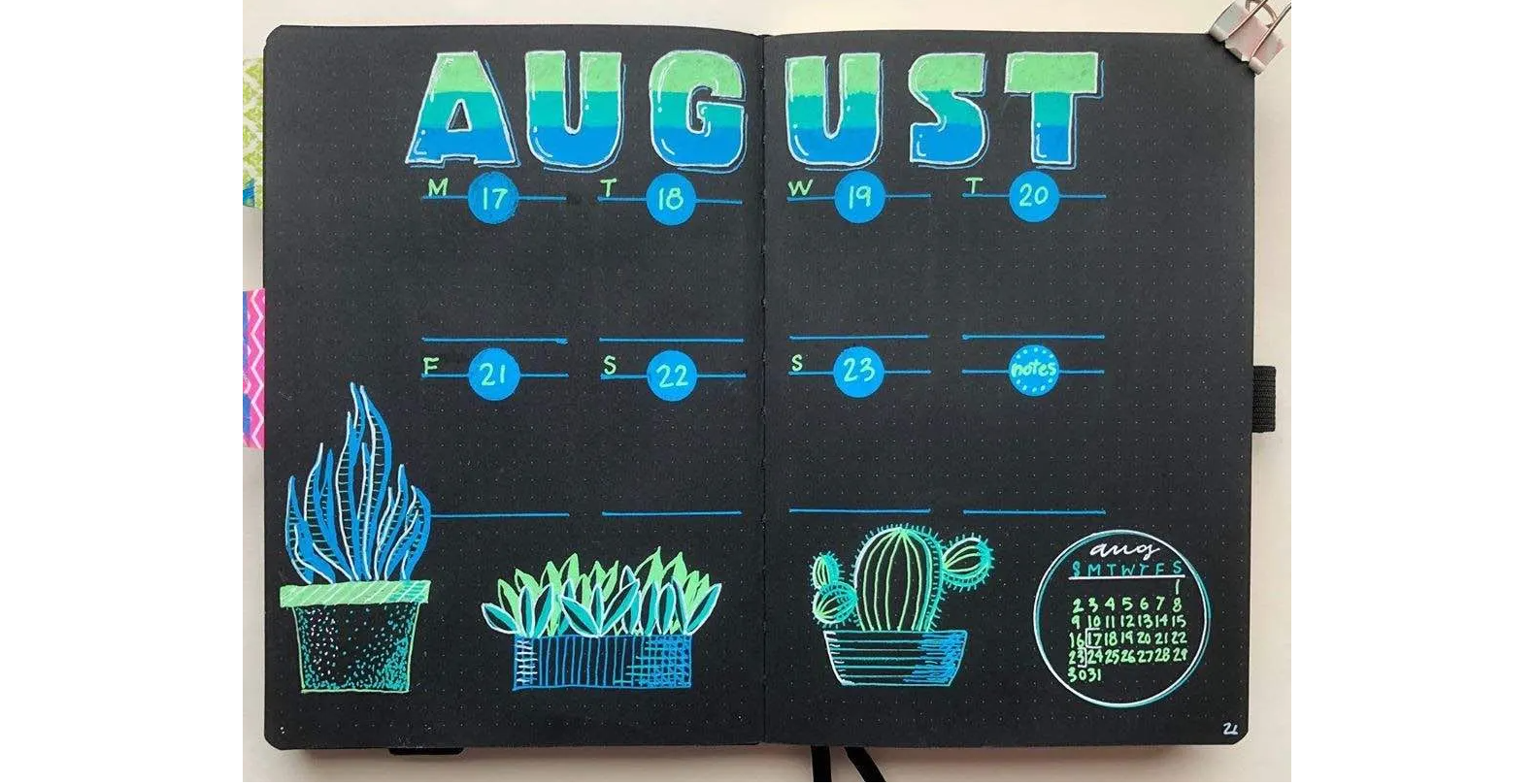 Credit: @adriennelovesletters
You could also use cooler colours like this! @adriennelovesletters theme gives me such cool "plant mom" vibes and I'm here for it.
Credit: @teacity_bujo
You could also blend your gelly rolls to achieve this beautiful ombré effect! I love the combination of pink and orange but you can definitely play around with other colours and you can also blend more than 2 colours if you want!
---
---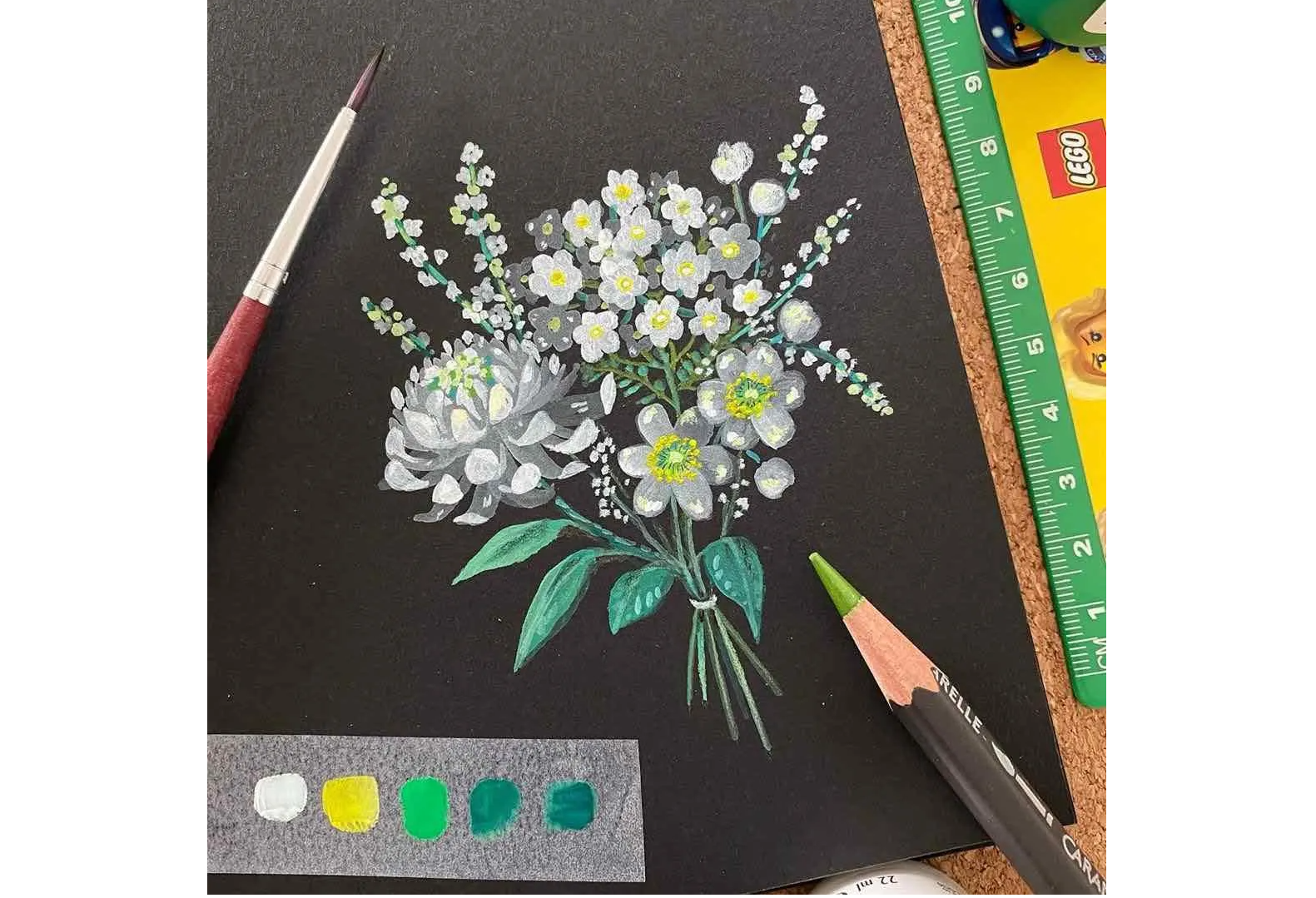 Credit: @alicelovesdrawing
Okay, this isn't on a bullet journal page but it's the same thing! I love how @alicelovesdrawing used watercolour pencils on black paper and the effect is amazing! It makes the bouquet really stand out! If you like using watercolour pencils and other colouring pencils on your bullet journal, you won't be missing out!
---
---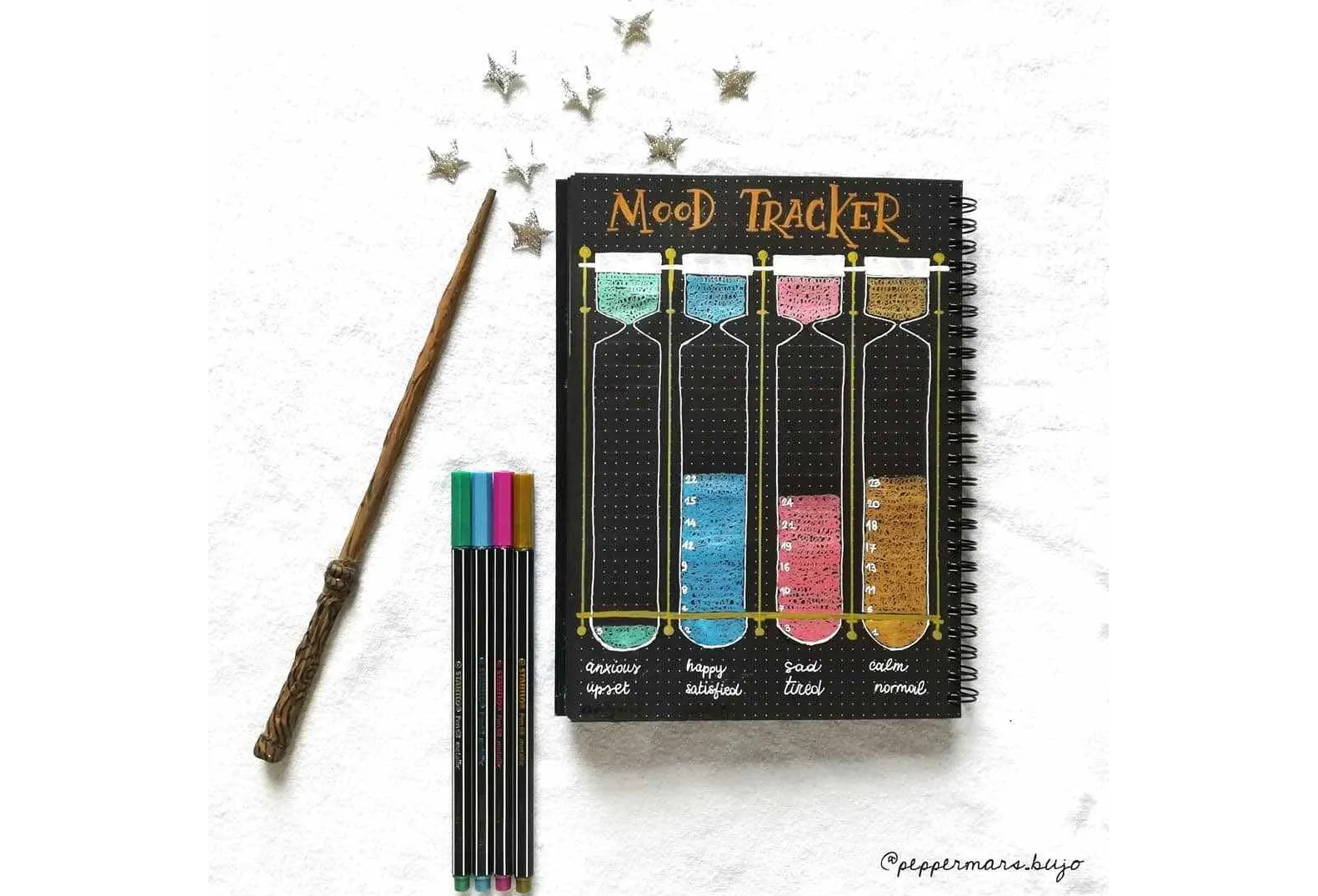 Credit: @peppermars.bujo
I love this mood tracker by @peppermars.bujo using metallic pens in a bullet journal with black pages! The black page really brings out the colours of the metallic pens which makes it perfect for magical spreads like this one!
Honestly, I recommend keeping a swatch page in your blackout journal for different pens that you can use! You'll definitely be surprised by the options available to you.
---
---
Decorate with paper cut-outs!

Want to decorate with more than just pens? I find that adding kraft paper and paper cut-outs really make a spread look super artsy. I definitely really enjoy that nice collage/scrapbook feel too!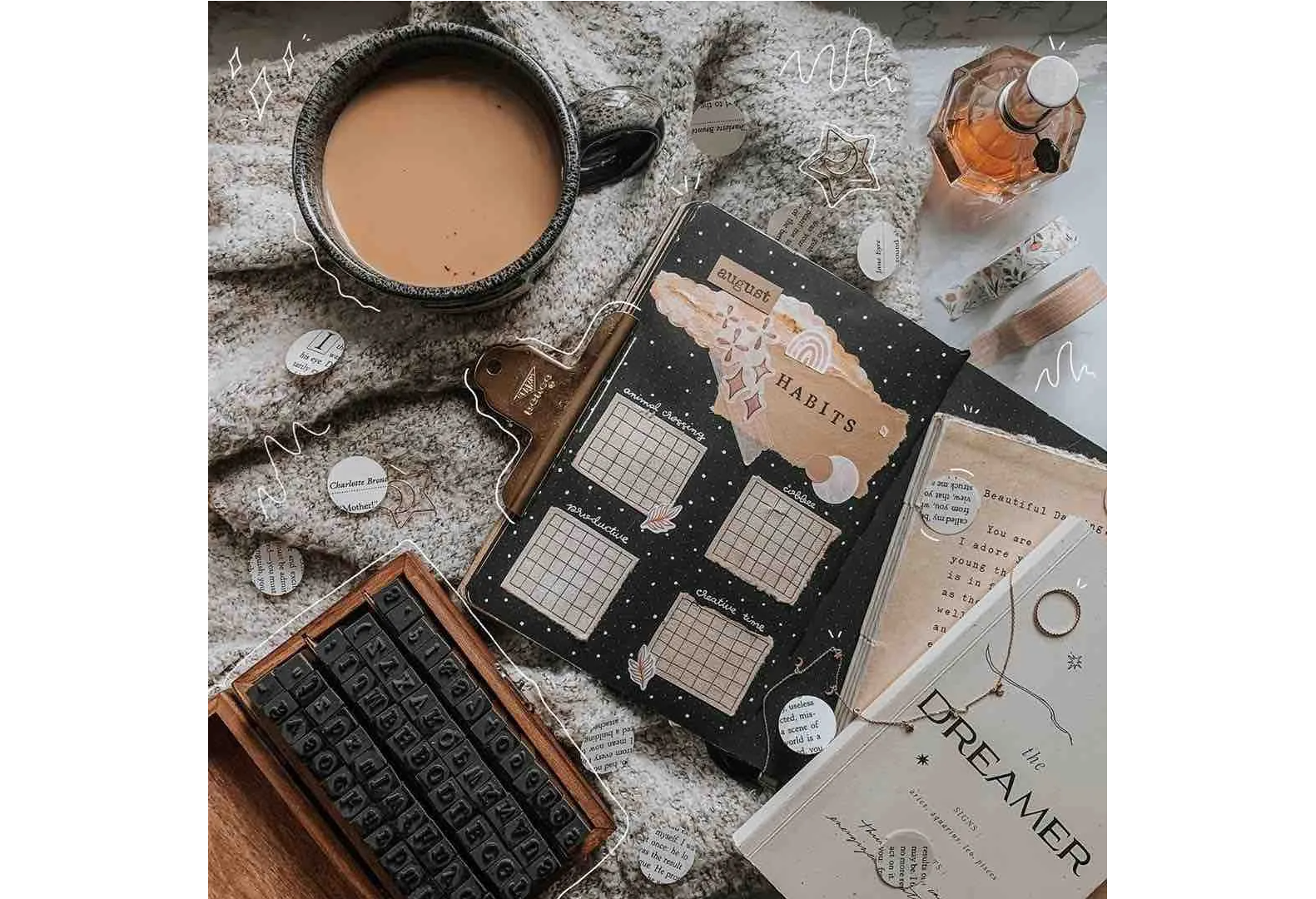 Credit: @savannahfscribbles
I am obsessed with the idea of decorating your bujo with kraft paper, paper cut-outs, washi tapes, stamps and stickers! This spread by @savannahfscribbles looks so amazing and gives off a really cosy rustic vibe!
I hope this has inspired you to come to the dark side or at least give black page notebooks a chance! With all the effects you can achieve with black paper, you definitely won't regret it!
Shop our Tsuki 'Midnight Edition' Black Page Bullet Journals now!
---